Inspiring Young Futures helps to turn young lives around in one of the best ways possible: by sending them into the wild. Neil Ratley takes us on a journey to where the wild things are inspiring
By Neil Ratley, Venture Trust
It looks like the track of a bear. A large pad, some toes and even the hint of claw marks. But we are in the Highlands of Scotland and there are no bears. After spotting the perfectly formed tracks in the snow, a group of young people from the suburbs of Glasgow look about them in wide-eyed wonder.
I am standing in the clearing of an ancient Caledonian pine forest in the hills above Loch Rannoch. With me are five young Glaswegians (16-21) taking part in a programme designed to help disadvantaged Scottish youth. The Inspiring Young Futures (IYF) programme is run by UK charity Venture Trust. It is one of several programmes where time in wild places is at the heart of helping people to gain life skills, stability, and confidence to succeed for the rest of their lives.
J is a habitual cannabis user. This will be the first time he has not used cannabis daily in years. L will not be able to have a drink for a week. And for others it is a chance to be away from the stress of living in supported housing and being around influential peers.
Young people referred to the Inspiring Young Futures programme – funded by The Big Lottery Fund and Inspiring Scotland – are often dealing with one or more of the following: alcohol and drug addiction, poverty, poor family relationships, mental health issues, learning, housing issues, and involvement with the criminal justice system. The majority also have had little or no work experience.
Each young person is asked to say goodbye to their mobile phones. Disconnecting from their digital world proves much harder than surviving any arctic blizzard
The programme supports disengaged young people to develop sustainable lifestyles and reach a point where they can apply and get a job, engage in education, training and volunteering. The programme consists of community-based support both prior to and after a journey in a wild landscape, all aimed at helping participants to develop the skills necessary to work towards those positive destinations.
Scotland's spectacular wild places are inherently challenging. These environments challenge individuals to focus on actions and their consequences – encouraging the discovery of new skills and talents, and helping participants to become more self-reliant. The sense of space and the distance from everyday life give individuals time to reflect on their lives and plan the changes they'd like to make.
The 'Beast from the East' – an arctic weather bomb – has gripped Scotland in its frozen embrace of snow, ice and blizzards. But with a slight slackening of the Beast's icy grasp, the five young people are braving the elements and challenging themselves to gain the skills that will enable them to change their futures.
The frozen ground, pine trees, and toilet shovel are a far cry from the suburbs they come from. There's a mix of wide-eyed bewilderment, fear and (for some) excitement when they are told the small snow-covered tents would be their home for the next few nights.
That morning the Venture Trust development team had gathered at Stirling railway station to meet the individuals arriving on the Glasgow train. It was a grey day, a constant drizzle was falling and five young people all with their hoodies drawn up shuffled along the platform. Confidence and self-esteem are often in short supply for the young people engaging with Venture Trust.
The first time the group come together, they collectively committed to a 'social contract' of behaviour to create a safe learning environment for all involved. Initially it takes coaxing from the team to get responses and contributions from the members of the group while they continue to adapt to their new surroundings and the people they will spending the next week with.
The next task elicits a strong reaction. Each young person is asked to say goodbye to their mobile phones for the duration of the weeklong journey. Disconnecting from their digital world proves much harder than surviving any arctic blizzard.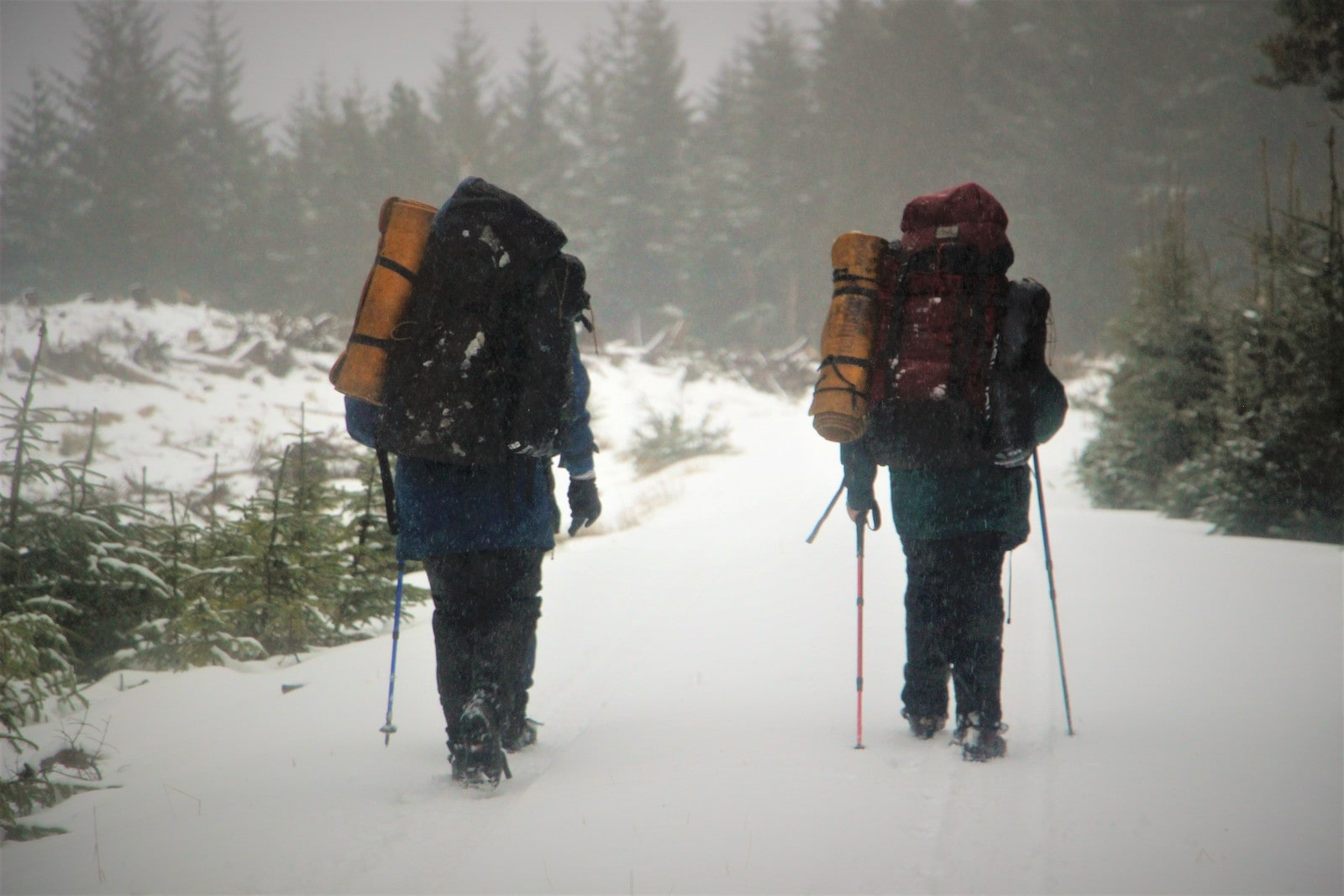 Dusk approaches at base camp and the first real task for survival is cooking food in the freezing conditions. On the first night, this involves boiling water and cooking pasta. The staff have pre-prepared the spaghetti bolognaise but for the rest of the journey each person will have to carry and cook their own meals.
I'm given my Trangia stove, cooking pots and a fistful of pasta. Helen, one of the development team members, takes us through the process of setting up and using our stoves. Tasks like this – along with setting up tents, effectively using the clothing and equipment we are issued – are aligned to experiential learning.
The hardships these young people are facing now, and the learning and development strategies they are being asked to complete in the great outdoors, will help them back in their communities
The wilderness provides a great setting for experiential learning – 'learning through reflection on doing'. After being shown how to do something, participants need to self-evaluate the effectiveness of their own actions in future. None of us starve, and the Beast's bite seems less intense with a belly full of hot pasta. Before crawling into the tents for the night, we go for a short walk and then return for a group session working on some personal development skills. There is also a call to fill various roles – camp leader, navigator, time-keeper, energizer, morning meeting and end-of-day review facilitators.
It's sleeting and close to zero degrees when the development team wakes us at daybreak. The smell of bacon is wafting on the morning mist. Complaints about the hard ground, damp and cold sleeping conditions and early start come out in foggy breaths from some of the group. But with a warm cup of tea or coffee and a bacon roll in their belly, talk turns more positive to surviving their first night in the wilderness together. There are also the first real signs of the group beginning to bond and coming to accept and respect each other as individuals. But so far no one outside of the staff has come to accept using the toilet shovel. These early morning calls will help prepare individuals for establishing a routine back home to get to work, college or training.
As the sleet slowly turns to rain the order comes to break camp. We are given a demonstration of how to take down our tent, roll away our sleeping bag, and pack our backpack. When I have stuffed in my sodden tent, damp sleeping bag, cooking equipment, clothes and food into my pack, I heave it onto my shoulders. There is a mix of silent stoicism from some participants under the strain; others bear a grimace of glum acceptance, and from others there is audible shock at the burden they are being asked to carry.
After several hours of trekking we take shelter under the creaking bows of the Caledonian pines. The soft green moss and pine needles are a comfortable seat to rest weary legs.
When it's time to get moving, it's difficult going. The snow lies thick on the ground, at times the path climbs steeply up among the trees, and it's cold. The worst of the Beast from the East may have passed but there is still a whip in its tail. The hardships these young people are facing now, and the learning and development strategies they are being asked to complete in the great outdoors, will help them back in their communities and in the face of the challenges back home.
Individuals work on problem-solving techniques, explore positive and negative habits, choose effective behaviours, and identify how to recognise and overcome the 'triggers' that make them react negatively in challenging situations at home. Each person – including myself – develop our abilities to review and evaluate the strategies that we were using, getting better at thinking through actions and consequences in different situations.
With the whiteout turning to a murky darkness and temperatures plummeting we find a clearing above a stream to set up camp. The deep snow means we need to dig out an area to pitch our tents. Armed with the skills we have already learnt we work fast to put up our shelters before cooking a warm meal and completing more activities.
The complaining heard from many at the start of the journey is gone. There is chatter in the air, laughing and words of support for each other
It's another frozen start to the day. But spirits in the camp seem bright. The sun has come out, adding a sparkle to the blanket of snow on the ground and in the trees. There is a sense of pride and determination among the young participants. They've survived an overnight blizzard and whatever creature left its strange footprints in the snow. In the regular morning meeting, new goals are set and there is encouragement and animated discussions between individuals. A far cry from the silence and reluctance to talk to each other on the first day.
On the banks of a small stream deep in the Black Wood of Rannoch our expedition stops for lunch. The wilderness journey is drawing to a close. The development team members gather the troops together and hand them each a sheet of paper. Armed with their parchments, they are sent off to read the sheet in private. It's a moment I'll never forget.
There is a shimmer in each individual's eyes, a smile on their lips and a visible puff of pride in their stance and demeanour. For some the shimmer turns to tears and there is a slight quiver on their lips. These are the reactions from the positive praise they have just received. For many young people who participate in the IYF programme this kind of praise, the receiving of compliments or encouragement, has been very rare or non-existent in their lives.
As we descend from the higher ground along a gorge towards the shore of Loch Rannoch, the sun escapes from clouds. The light dapples and dances through the branches of ancient pines and reflects off the moss on the forest floor. The complaining heard from many at the start of the journey is gone. There is chatter in the air, laughing and words of support for each other.
"It [the Venture Trust course] was hard but it was good. We saw some beautiful things in the wilderness and the activities were fun. Everything we did had something behind it though, something that we could learn." – J
The wilderness journey has come to an end but each participant will be supported to design an action plan for their future, ensuring they can continue on their personal journey when they return to their community. Here, the Venture Trust's outreach teams will continue to support them through regular meetings. The outreach teams help participants continue to develop and apply their new skills, access other specialist support services, and work towards employment, training, education or voluntary work. Each one of the young people I shared this journey with has a greater chance to make and sustain positive changes in their lives.
The wilderness is a catalyst for change.
Neil Ratley is Communications and Marketing Officer at the Venture Trust.
For more information about Venture Trust visit: http://www.venturetrust.org.uk/
Where to hike and walk: Black Wood of Rannoch