Daniel Start, author of the new Wild Guide to Wales, shares his favourite slate quarry ruins in Northern Snowdonia, and talks about how to explore them safely
Be safe
Always carry backup torches.
Always tell someone where you are going.
Always wear a helmet – a single small rockfall can kill.
It is dangerous to enter any mine tunnel without an experienced guide. You can always peer in from the outside!
Mine tunnels that are propped with wood are more risky than tunnels hewn through sheer rock.
Rotten false floors may be concealing deep voids; these false floors could give way at any moment. Partially flooded tunnels, with water underfoot, are somewhat safer as the void is already filled.
Those new to caving and keen to go under should join a guided tour. Go Below and Corris Mine Explorers in Snowdonia offer some of the most exciting trips.
Slate mines through history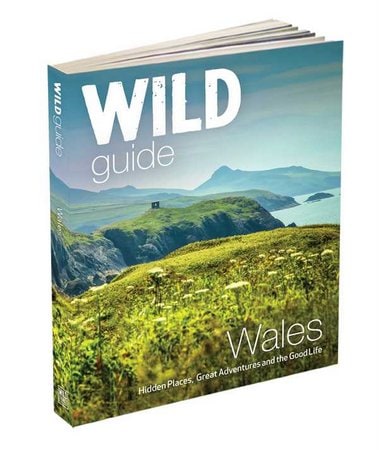 North Wales was home to hundreds of great slate quarries which roofed the world. Love them or hate them, it's difficult not to be awed by Wales's incredible abandoned slate quarries and mines, the product of awe-inspiring industry and immense physical labour, now returning to nature. Some of the biggest in northern Snowdonia exist at Dinorwig, Dorothea, and Blaenau Ffestiniog, but there are also plenty of smaller caverns and quarries.
Some of the earliest slate mines were simply huge cathedral-sized caverns hewn out of the slate-rich hillsides, such as Clogwyn-Y-Fuwch above the beautiful Llyn Crafnant, which operated in the 18th century. The slate was worked and dressed from within stone huts (waliau) built inside the caverns but the danger of collapse soon led to safer designs with honeycomb-like structures, and a network of smaller, more stable chambers.
Blaenau slate mines
The beginning of the industrial slate era began in the late 18th century above the then-tiny village of Blaenau. Quarrying was started here in the 1760s by Methusalem Jones, who claimed he was instructed by God in a dream to come and dig in the area. He made a fortune and his quarry, Diffwys, became the mam-chwarel or 'mother quarry' of Blaenau, and all Wales, as it later inspired the opening of many more slate mines. Its ruins now make for excellent exploring and are mixed up with the modern ruins of Maen-offeren. Above, an old mountain tramway leads past wild lakes and over the plateau to Cwt-y-Bugail and Rhiwbach, with other derelict quarries along the way. You will find giant caverns, old underground ghost trains, tunnels and ruins.
As demand soared more slate mines were opened on the other side of the valley at Cwmorthin above Tanygrisiau, but here the seams were underground and over 60 miles of tunnels were eventually dug. Experienced cavers can borrow the key to the mines and explore by themselves (lamps and helmets obligatory). Casual visitors can admire the ruined terrace of cottages by Llyn Cwmorthin shore, and the hardy can take a dip.
Climb higher for Rhosydd, another Hades-like labyrinth of tunnels, and the haunting, misty remains of a ruined quarryman's town high in the mountains. This slate quarry complex is one of the most extensive and atmospheric ruins around, with abandoned barracks, mills and old engines scattered across the high mountain plateau, often shrouded in mist. The route up passes the ruined lakeside Rhosydd Chapel and Plas Cwmorthin. There is a network of over 20 mountain lakes here, some natural and some old reservoirs, all within a couple of miles of each other.
Llanberis slate mines
Some of the greatest slates mines of the 19th century developed on the other side of Snowdon. Magnificent Dinorwig consumed an entire mountainside above lake Padarn. At its peak it employed 3,000 men on over 30 levels, creating pits over 250m deep. With names such as California, Australia and Tasmania, these are a mecca for climbers. The rite of passage is the 'snakes and ladders', an extraordinary route between the various pits accessed via climbing rockwalls on old iron ladders and descending through tunnels into the Lost World. In places – such as the huge shed with 100 circular saw tables, or a caban where workmen's coats still lie waiting – time stands still. Take care if you enter these sites, as each winter frost sees another collapse. Access issues also flare up here from time to time, so be respectful.
Dorothea in Nantlle is less visible, but covers a similar area. The many pits have now amalgamated into one giant lake, over 100m deep in parts, unofficially used by divers but open to swimmers too. Swimming near to the cliff face wearing goggles is a vertigo-inducing experience. The quarry wall plunges down to a lunar landscape of moraine and boulders that appears far beneath. The village of Talysarn was moved west as the quarrying expanded, and today the remains of the old village and many fascinating ruins, including a Cornish beam engine and the overgrown remains of the chapel at Plas Talysarn, can be found. Only the baboons of Angkor Wat are missing.
There are more amazing slate ruins in southern and western Snowdonia, central Wales and even Pembrokeshire, and many more details can be found in the Wild Guide to Wales, but this collection should keep you busy exploring for a while.
About the author and book
Daniel Start is author of Wild Guide Wales and the Marches: Hidden Places, Great Adventures and the Good Life (1st May 2018, Wild Things Publishing, £16.99). The book details over 600 secret adventures and 500 wilder places to eat and sleep in Wales, Shropshire and Herefordshire.
http://www.wildthingspublishing.com/wales
How to get there
Clogwyn-Y-Fuwch
Signed Llyn Crafnant opp The Fairy Falls inn in Trefriw B5106; follow road past LL27 0JZ to forestry car park and toilets ½ mile further R. Cross road and take forestry track up. At first bend bear off L to find ruins at base of mine, and first level entrance. 10 mins, 53.1396, -3.8560
Diffwys Casson
Park at the very end of Manod Rd, past LL41 3DQ. Climb steeply E following the yellow footpath posts, bearing L at top. Once at the crag and a wall with tramway, bear L up slag heaps to find Diffwys Casson ruins. Return down and continue on footpath up mountainside past two tiny and lovely tarns (refreshing cool down after the climb). Continue on to Cwt-y-Bugail. 25 mins, 52.9970, -3.9217
Cwt-y-Bugail
From Diffwys Casson tarns continue on footpath across mountain wall and boggy ground to reach the Rhiw-bach mountain tramway. Follow E around Llyn Bowydd (good swimming, 53.0028, -3.9047) ½ mile to mine. Above the derelict mill a tunnel leads into the main pit. On the far wall another cavern contains a tramway with rolling stock and the remains of a carbide generator. 60 mins, 53.0048, -3.8886
Rhosydd Quarry
From Tanygrisiau follow narrow Ffordd Dolrhedyn steeply up, take dead-end Rhesdai Dolrhedyn R on bend at LL41 3ST, and park in the car park at the road end. Follow path up to lake and ruined houses. Continue along L shore of lake, then follow the old tramway up valley, past chapel ruins on L, through Conglog quarry ruins (Plas Cwmorthin is just off to the R at 53.0009, -3.9816) and climb to finally reach plateau and many ruins. The upper caverns are up ½ mile S at 52.9886, -3.9888. The fabled (and wet) Level 9 adit tunnel can be found just behind Rhosydd. Driven in 1870 and known as Piccadilly Junction, it continues for over ½ mile into the mountainside, leading eventually to several huge chambers, internal inclines and a network of railway junctions with tracks and points still in place. 60 mins, 52.9963, -3.9901
Cwmorthin Mine
Park and walk to lake as for Rhosydd quarry (see above), but follow shore to R for the mine entrance. Keys can be checked out from Go Below office behind Conwy Falls café (LL24 0PN, 01690 710108) by those with caving experience and a £20 cash deposit. Or join one of their guided tours. You must have proper lighting (including backup) and helmets. There are many pitches and traverse possibilities in the mine, but also plenty on level ground requiring no rope work. Wet in parts. 15 mins, 52.9963, -3.9676
Dinorwig, Dali's Hole Level
Climb up from Anglesey barracks (see entry) or park at the bus stop layby car park (300m N of LL55 3ET) and follow track from SW of circle. Pass the huge derelict building after 600m and turn L through gate. Climb over metal field gate where the public path turns R. A tunnel on far side of Dali's Hole (53.1232, -4.1007) leads into California and 50m N of tunnel, in corner, is a tight squeeze down through a jumble of fallen boulders into long tram tunnel leading into bottom of Australia pit. (Enter at your own risk; many climbers use this approach and it has been stable for some time). On far side of the massive pit is a ladder network up the far face to reach G'day level about 150m above. 10 mins, 53.1233, -4.1007
Dinorwig, G'day Level
From Dali's Hole (see listing) climb up to the level above (from here you can begin to look down into Australia) and then take slate steps on R, up, up, up to G'day level (Blondins and cabans, 53.1244, -4.0981), and up 2 more short levels, and SE, to dressing shed. The deep pits below, W are the Lost World and Mordor. Allow 30 mins Dali's Hole to dressing sheds direct. 40 mins, 53.1217, -4.0935 79Uvw6
Dorothea Quarry lake & ruins, Nantlle
Park near the roundabout at the far E end of Talysarn (LL54 6AF). Follow access track E: after 70m a stile R leads to a swimming lagoon in fields, 100m on is a new security gate. Continue on main track 700m to reach the parking for the main dive/swim location (open to vehicles) at listed lat long. But bear L on footpath for ruined Talysarn Hall and barracks on R at 53.0559, -4.2439. Beyond the lake dive site, detour off E along the deep tramway cuttings, and find many more ruins to the N and E. Circumnavigate lake to find to find the magnificent Cornish beam pumping engine at 53.0542, -4.2435, with a second lake to the SW with tall island. 15 mins, 53.0561, -4.2393