In the heart of the West Highlands, with Ben Nevis on the doorstep, Fort Bill easily lives up to its claim to be the UK's 'Outdoor Capital'   
Various places have vied over the title of 'Outdoor Capital' of the UK over the years, or some variation on it, but with 'Fort Bill' it's hard to quibble. Although famously overlooked by Britain's highest lump of rock, the town's position – huddled around the edge of a sea loch in the heart of the West Highlands – means there is an almost limitless world of adventurous opportunities within striking distance.  
Lochaber is arguably the heartland of Scottish hillwalking, and just reeling off the names of the surrounding ranges is enough to send a shiver down the spine of any lover of Scotland's mountain landscapes; the Mamores, the Creag Meagaidh group, Glen Coe and (of course) Ben Nevis itself are all within easy reach. Between the summits lies a complex cartography of deep lochs, glacier-carved glens, towering crags and rugged coastline that offers something for hikers, climbers, kayakers, mountain bikers and runners alike. Fort William really is spoiled.  
Is the town itself as inspiring as its surroundings? This is as much a working town with a history of fishing, shipping and industry as much as a tourist hub (although in summer, those tourists do throng the town in force), which can lend it a slightly utilitarian feel. A recent crop of new cafes and shops has brightened the main street, though, and there is a large community of local outdoors enthusiasts who come together for events like the Fort William Mountain Festival (Feb 19 – 23).    
DID YOU KNOW 
Fort William gets its name from William of Orange, who ordered that a fortification be built on the site in the 17th century to 'pacify' the Highland clans. Two other forts were built at strategically important locations along the Great Glen: Fort Augustus and Fort George.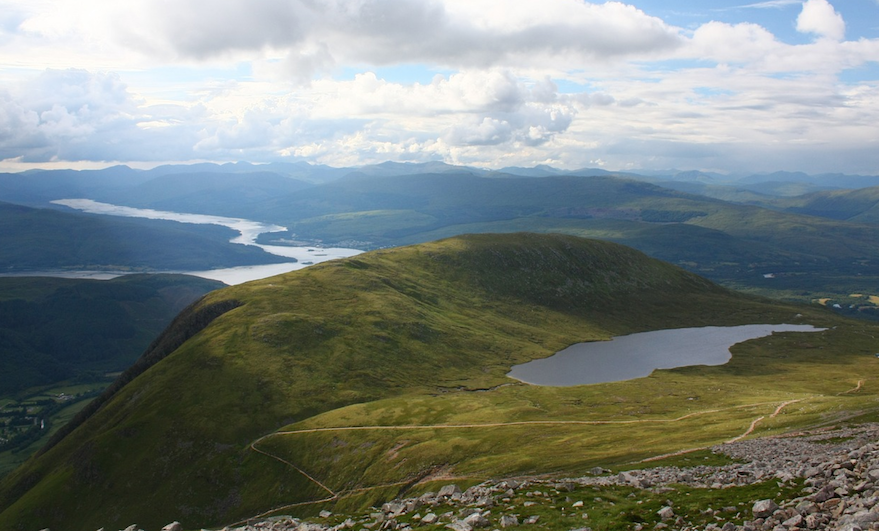 WALK HERE 
 1: Ben Nevis  
The main way up Ben Nevis, taken by about 100,000 walkers a year, used to be known as the 'tourist path', but it is a misleading description. While it might a slightly workaday walk, it is still a serious proposition which shouldn't be taken lightly, particularly in winter. For fit and experience mountain walkers, the lesser-known Càrn Mòr Dearg Arête is the best way up the Ben.  
2: The Ring of Steall 
One of Britain's coolest-sounding mountain walks (although it's actually pronounced more like 'shtell'), this classic and tiring round in the Mamores, the range to the south of Ben Nevis, takes 10 miles, four Munros, almost 5,500 feet of ascent, and a lot of easy scrambling – but on a clear day it is unbeatable. If you're looking for an easy stroll instead of a big mountain walk, the Steall Gorge (the last section of the Ring of Steall) is one of Scotland's most spectacular strolls.   
STAY HERE 
BUDGET: Fort William Backpackers 
A laid–back hostel for hikers and travellers with colourful dorms, free wi-fi, free tea and coffee, a firelit lounge and a drying room for soggy kit.  
BUDGET: Glen Nevis Youth Hostel  
A classic, well-equipped SYHA hostel. Some miles from the town, but a great base for walkers, right at the foot of the Mountain Track up Ben Nevis and the spectacular Steall Gorge. 
MID: Nevis Bank Inn 
Good value mid-range hotel with a well-stocked bar and one of Fort William's most popular restaurants attached.  
EAT HERE 
Ben Nevis Inn 
Cosy restaurant in a big wood-panelled room with long tables evoking the spirit of a communal gathering, and excellent locally-sourced food.  
Deli Craft
A great, well-stocked delicatessen on the high street which does handmade takeaway sandwiches and fantastically doughy pizzas.  
DRINK HERE 
The Crofter 
Down-to-earth community pub with occasional live music.