It's "Socktober" on Scafell Pike…
Sock brand Smartwool has launched "Socktober", a charitable project that will raise funds to help repair and restore England's highest mountain, Scafell Pike.
Scafell Pike is located in the Lake District National Park, Cumbria, and is part of the Western Fells. The iconic mountain is visited by thousands of pairs of walkng boots each year to experience the views, the atmosphere and the sense of achievement gained from reaching the summit of this spectacular mountain.
But the mountain paths are badly eroded and in dire need of repair.
For every pair of Smartwool socks purchased during the month of October at any of the following UK retailers, Cotswold Outdoor, Snow+Rock, Ellis Brigham & George Fisher, £1 will be donated to Fix the Fells.
"Repairing and restoring Scafell Pike is Fix for Fells' number-one priority because of the worrying levels of erosion and sheer numbers of people visiting each year. Therefore, it is Smartwool's priority too," says Genevieve Peterson, brand and sales director at Smartwool EMEA.
Fix the Fells is a partnership programme between the National Trust, the Lake District National Park, Natural England, Friends of the Lake District and the Lake District Foundation. The aim of the Fix the Fells partnership is to protect the spectacular Lakeland fells from erosion and damage by repairing and maintaining the upland paths of the Lake District.
The project
Weather dependent, the repair and restoration for Scafell Pike will take place in early summer 2019.
The work will involve stone pitching new sections of popular paths on Scafell Pike from Wasdale in the Brown Tongue and Lingmel Col area. These paths are rapidly spreading erosion, creating deep gullies and are showing serious signs of wear and tear. Due to some sections being originally stone-pitched in the early 1990s, these paths are now too narrow and rough to walk on.
The work will be carried out by the teams of National Trust Rangers, who are highly skilled in upland path repair and maintenance. These teams are renowned for their knowledge and expertise in this field and will abide by all the best practice principles for this type of work. They will be assisted by an army of over 100 dedicated and enthusiastic volunteers called 'Lengthsmen'.
They will:
Stone-pitch new sections of path.
Remove old, failing stone pitching and replace it with new, higher-quality stone pitching.
Rebuild drains and waterbars along the length of the paths.
Construct additional drains to ensure more water is taken off the paths.
Reinforce edges and stabilise the surrounding areas including through re-seeding.
Landscape the whole work area to encourage walkers to stick to the path and blend the work into the surrounding environment.
This work will help protect the paths from erosion, reduce the erosion that has already occurred and ensure a more pleasant experience for those accessing the mountain.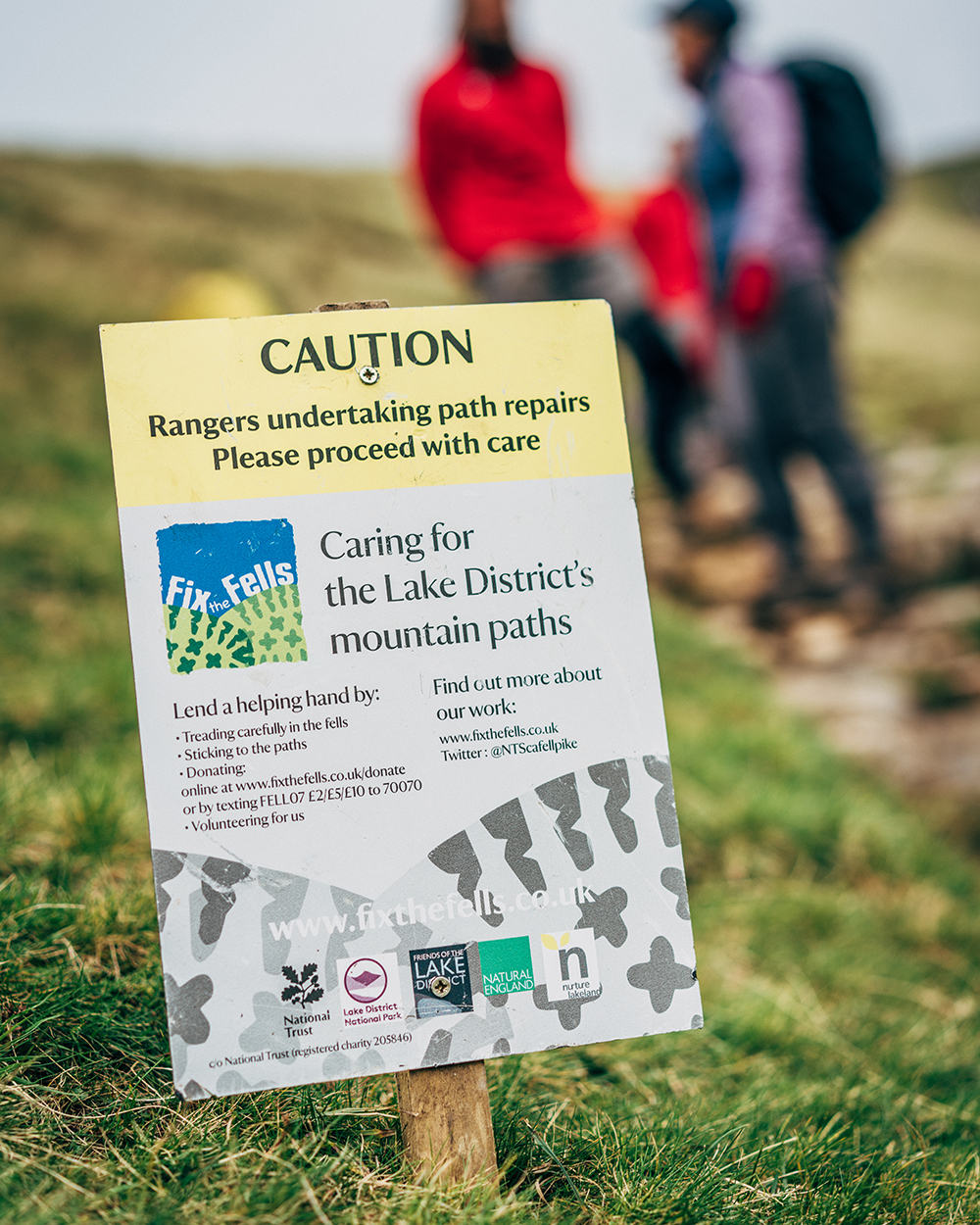 Smartwool on advocacy
In early 2018, Smartwool joined the EOCA, (European Outdoor Conservation Association) becoming part of a group of businesses in the European outdoor industry who have come together to raise funds to put directly into conservation projects worldwide – to give back to the great outdoors.
"One of Smartwool's core values is Advocacy: we will always protect what we love. Joining EOCA enables us to take action to sustain and preserve our beautiful wild landscapes. We are excited to be part of – and contribute to – the EOCA community," says Genevieve Peterson, brand and sales director at Smartwool EMEA.
This October, you can take part in "Socktober" by purchasing any Smartwool pair of socks from Cotswold Outdoor, Snow+Rock, Ellis Brigham and George Fisher. £1 will then be donated to Fix the Fells' Scafell Pike project.
If you'd like to donate more than £1, head to www.fixthefells.co.uk.
smartwool.com