Bursting with amazing imagery, route inspiration and rare wildlife encounters, the November issue of The Great Outdoors has arrived to inspire your seasonal meanderings.
Main image: James Roddie on An Teallach (credit: James Roddie)
What do you love most about autumn hillwalks? Is it the wildlife spectacles – rutting red deer, foraging red squirrels, salmon leaping upstream en-route to their spawning grounds? Is it the promise of snow in the air? Or is it the prospect of waking up from a wild camp to a sunrise cloud inversion?
In our November roundup of the best autumn hillwalks, we celebrate all of these seasonal highlights and more. And if you can't make it to the mountains in person this month, James Roddie's jaw-dropping photo essay on cloud inversions is the next best thing.
In this colourful issue:
James Roddie showcases his years of photographing cloud inversions in the Scottish Highlands – and gives you some tips on how to experience them yourself.
Roger Butler comes face to face with a pine marten in the Lake District.
Alecs Forss explains how he grew to love Sweden's mountain forests.
James Forrest describes walking 500 miles in 17 days to set a new national Three Peaks record.
Hanna Lindon traces the remarkable career of unsung alpinist Lucy Walker.
PLUS: your in-depth guide to walking the Fairfield Horseshoe, Jim Perrin's ode to Ladhar Bheinn, gas stoves reviewed, 5 fabulous wild walks and plenty more.
How to get a copy
Order a single copy of this issue and get it delivered with free postage.
Take out an annual subscription and take advantage of our new subscriber offer (£15 for your first 6 issues).
Download the digital version to your tablet or smartphone and start reading straight away.
Take advantage of our special lockdown offer (3 issues along with the accompanying digital editions for just £9.99 plus free postage, with no ongoing commitment to subscribe.)
Buy it in shops across the UK.
Read more: a look inside the issue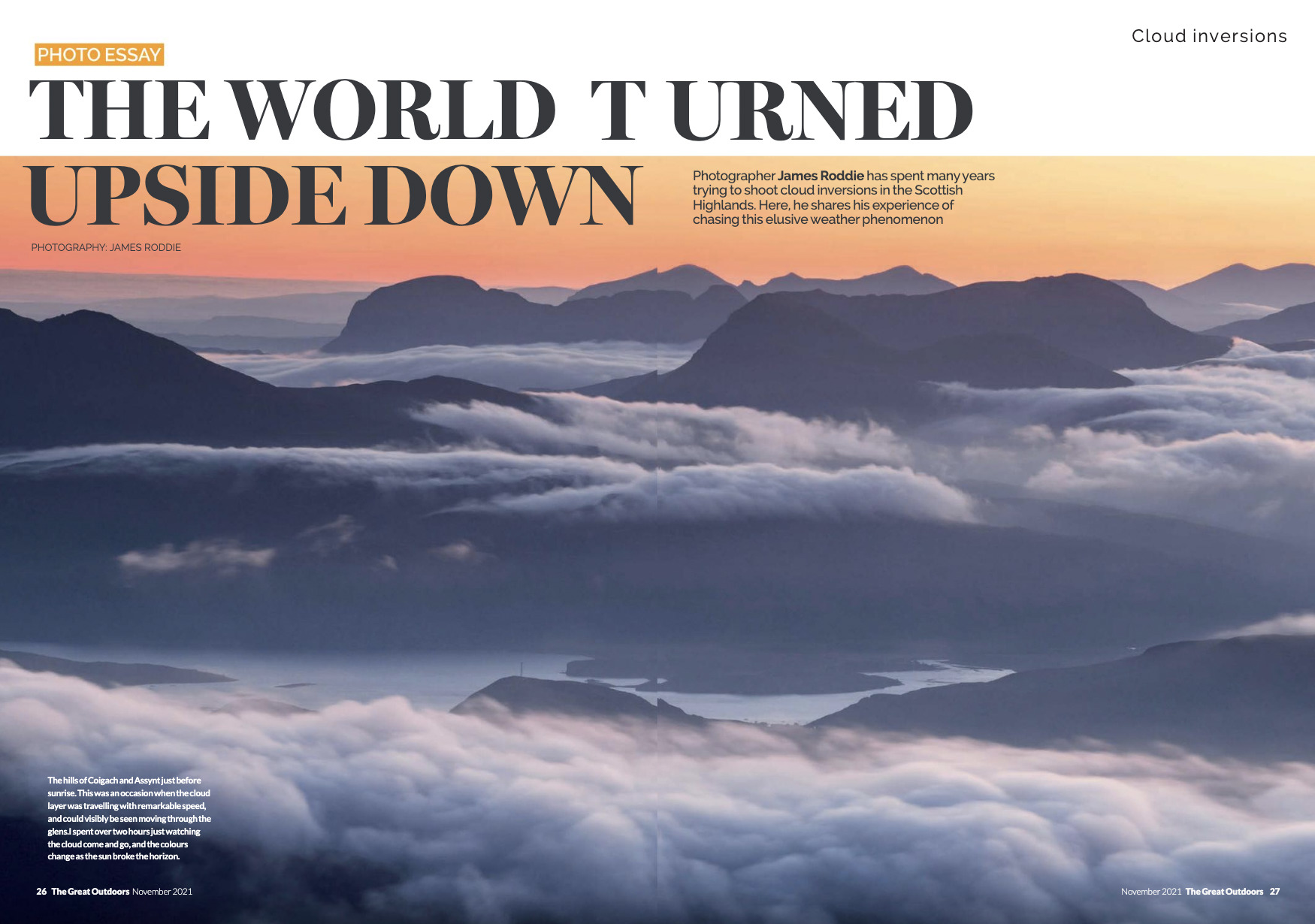 The world turned upside down: Photographer James Roddie has spent many years trying to shoot cloud inversions in the Scottish Highlands. Here, he shares his experience of chasing this elusive weather phenomenon.
"There is almost nothing that excites me as much as cloud inversions. On paper they don't necessarily sound thrilling – a reversal of the normal pattern of decreasing temperature with altitude, trapping a layer of cloud in the glens and beneath the summits. To witness a cloud inversion for yourself, however, is one of the most wondrous experiences you can have in the hills."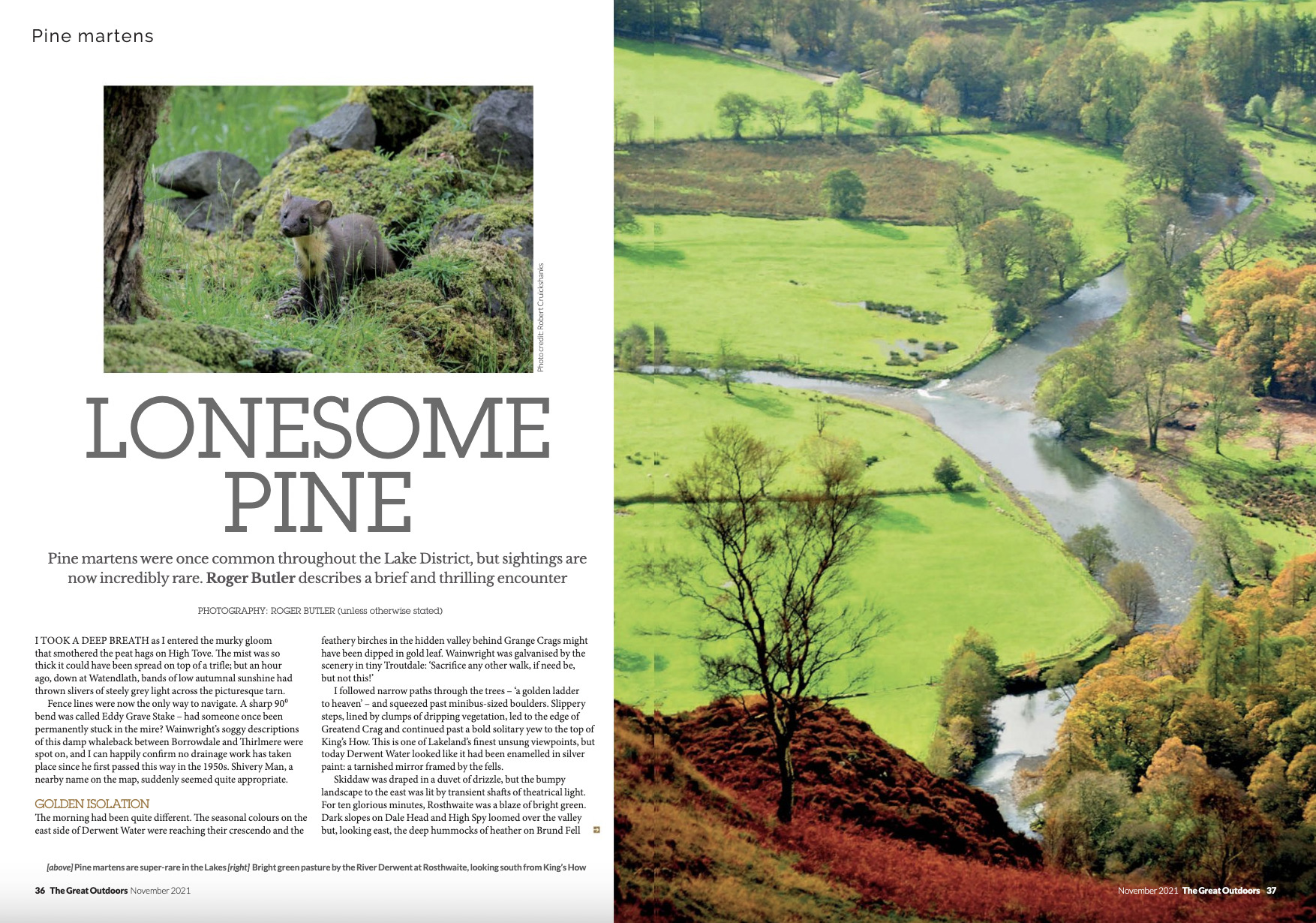 Lonesome pine: Pine martens were once common throughout the Lake District, but sightings are now incredibly rare. Roger Butler describes a brief and thrilling encounter.
"It was time to get a move on – the walk was nearly over – but something caught my eye. A fleet-footed mammal scampered up the right-hand fork of the nearest tree, no more than thirty feet away and just below the top of the crag. A bushy tail swished to and fro. Thinking of a red squirrel I had recently disturbed below Blencathra, I immediately assumed this was another little tufty. But I then froze, re-froze and didn't dare move a muscle as it corkscrewed around the trunk to reveal a distinctive creamy-yellow bib and sleek pointed head. Pine marten!"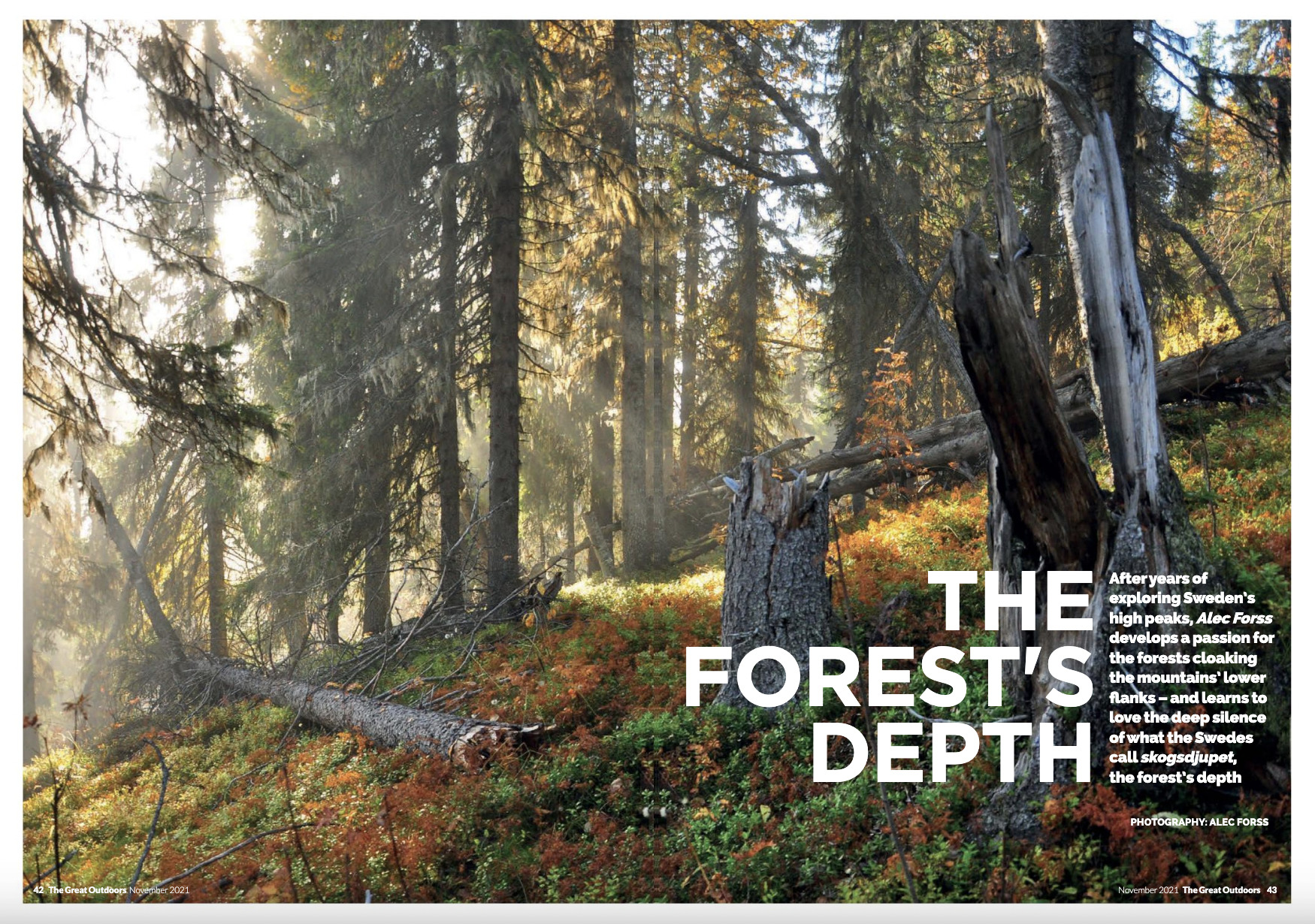 The forest's depth: After years of exploring Sweden's high peaks, Alecs Forss develops a passion for the forests cloaking the mountains' lower flanks – and learns to love the deep silence of what the Swedes call skogsdjupet, the forest's depth.
"As a hillwalker, it took me time to learn to fully appreciate these forests. Where once I had seen claustrophobic and monotonous tracts of evergreen, I came to see an intricate mosaic of mixed forest, mires, lakes, rivers and mountain heaths. Where attaining a great age, no two trees were ever quite alike. Where once I walked through these vast forests and sometimes perceived them to be devoid of life, I came to be attentive to their subtle signs: a patch of depressed moss and grass where an elk had recently lain, or noticing a small cavity high up in a dead, standing pine, possibly home to a pygmy owl."
Three Peaks, one journey: James Forrest has just walked 500 miles in 17 days – the equivalent of a marathon every day – to set a new record for a self-supported, continuous walk of the national Three Peaks. But for him, records are just the icing on the cake; the real goal is to enjoy the journey.
"For most people, the 'Three Peaks Challenge' means a 24-hour frenzy of mountain-climbing and motorway driving. But I've done it the 'hard way' – entirely on foot. I've walked 17 marathons in 17 days to get here: a 492-mile journey, climbing Ben Nevis, Scafell Pike and Snowdon – and hiking every mile between them – in 16 days, 15 hours and 39 minutes. It's a new record for a solo, self-supported trek between the highest peaks of Scotland, England and Wales, and the longest continuous walk I've ever completed."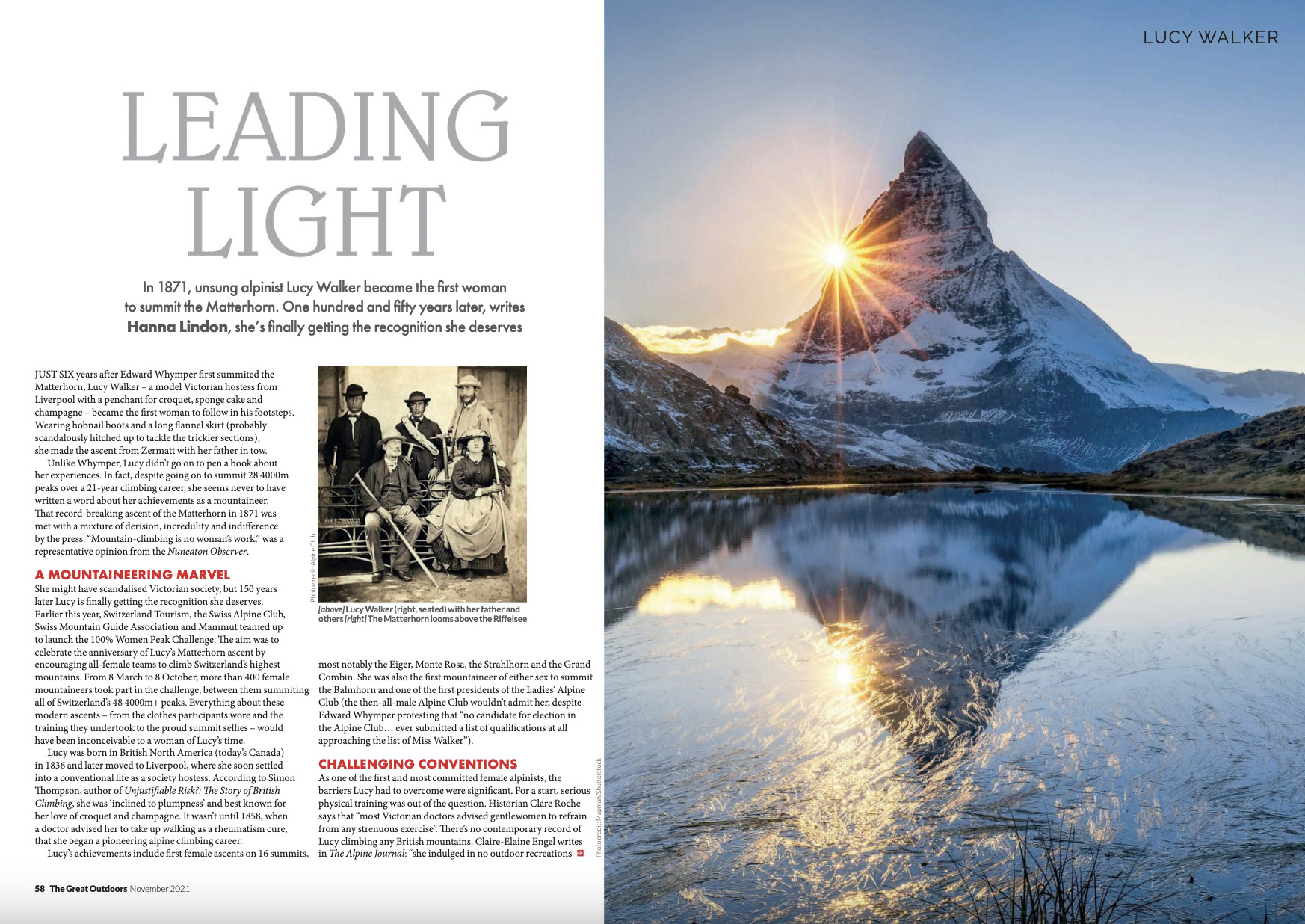 Leading light: In 1871, unsung alpinist Lucy Walker became the first woman to summit the Matterhorn. One hundred and fifty years later, writes Hanna Lindon, she's finally getting the recognition she deserves.
"Six years after Edward Whymper first summited the Matterhorn, Lucy Walker – a model Victorian hostess from Liverpool with a penchant for croquet, sponge cake and champagne – became the first woman to follow in his footsteps. Wearing hobnail boots and a long flannel skirt (probably scandalously hitched up to tackle the trickier sections) she made the ascent from Zermatt with her father in tow. That record-breaking ascent of the Matterhorn was met with a mixture of derision, incredulity and indifference by the press. 'Mountain climbing is no women's work', was a representative opinion from the Nuneaton Observer."
Order a single copy of this issue and get it delivered with free postage.