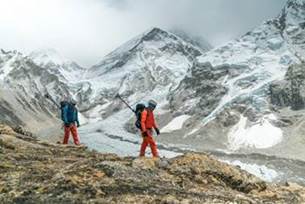 Ultimate Heights: #project360 conquers Mount Everest 
---
Two Nepalese mountain guides have become the first men in the world to document the whole South route to the summit of Mount Everest with a 360° camera rig for Mammut's #project360.
The feat was achieved by Lakpa Sherpa and Pemba Rinji Sherpa with the support of their colleagues Ang Kaji Sherpa and Kusang Sherpa.  
The Everest expedition was spearheaded by virtual reality expert and technical director of the project, Matthias Taugwalder. He initiated the #project360 with mountain sports brand Mammut in collaboration with Heye Grid two years ago.
"#project360 started out when we captured the full ascent of the Eiger North face for the first time. Since then we have captured more than 40 routes in the Alps and worldwide and now Mount Everest is the highlight of this project."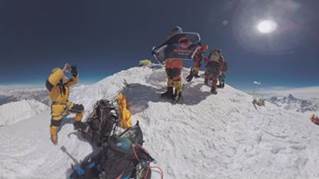 Lakpa Sherpa, the lead guide of the #project360 Everest expedition underlined that he was proud to carry one of the cameras to the roof of the world. As a professional mountain guide, instructor and founding member of the Nepal National Mountain Guides Association he sees great value in the project. "I feel lucky to join this great project because it shows both beauty and dangers of climbing Mount Everest. Now everybody can enjoy the mountain with the 360° images and videos."
For the climb he roped up with mountain guide colleague Pempa Rinji Sherpa who also summited Everest several times. Two experienced Sherpas and climbers, Kusang Sherpa and Ang Kaji Sherpa, supported the two summit mountaineers on their ascent to the top.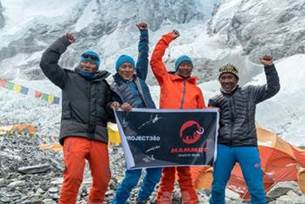 The four Sherpas climbed from Basecamp at 5380 meters of altitude to the summit at 8848 meters, passing all iconic route highlights: through the unpredictable, constantly moving Khumbu Icefall, the Western Cwm that is notorious for its changeable weather conditions, up through the steep, icy Lhotse Face, reaching the summit by passing the technical cruxes of Yellow Band, Geneva Spur and the infamous Hillary Step. 
After many days of acclimatizing and climbing Lakpa Sherpa Pemba Rinji Sherpa, Kusang Sherpa and Ang Kaji Sherpa reached the summit and became the first mountaineers that managed to capture the whole route to the summit of Mount Everest with a 360° camera rig.  A personal success for the committed Sherpa team and the virtual mountaineering highlight to Mammut's #project360.  
Read the full story:
https://community.mammut.ch/t5/Mammut-Magazine/Ultimate-heights-Mammut-s-project360-conquers-Mount-Everest/ba-p/1524