Thanks to funds raised through a crowdfunding campaign back in 2016, the first phase of footpath construction work on the upper section of the Watkin Path, Snowdon, has been completed.
The Watkin path is one of the most challenging walking routes to the summit of Snowdon, not only because it is the route with the greatest ascent, but because the upper section of the path crosses a steep and loose scree slope which is difficult to navigate. With almost 25,000 walkers trampling over the scree each year an unsightly erosion scar had developed on this part of the path.
Funds raised through the BMC-led crowdfunding campaign Mend our Mountains back in 2016, as well as contributions by the National Trust and the Park Authority, enabled the employment of a local contractor to undertake the arduous task of constructing a 160m length of stone pitched path across the scree.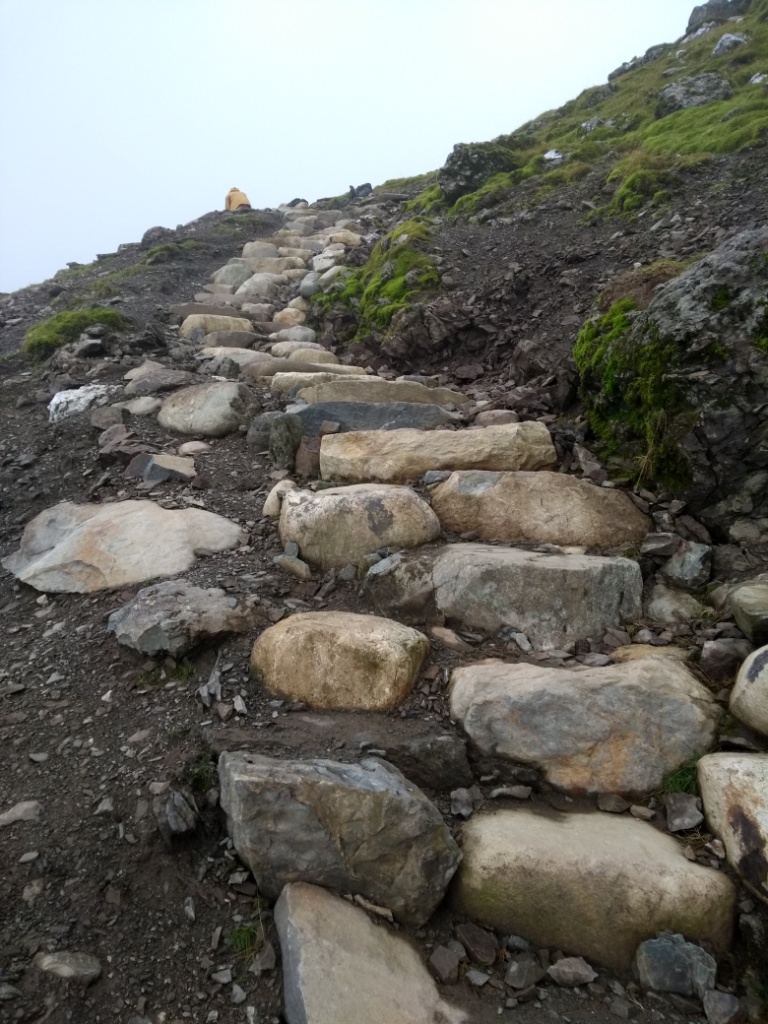 Five months and 140 tonnes of stone later the work is complete. Hywel Jones, the Authority's Access Projects Officer responsible for coordinating and overseeing the work, explained:
"Without a doubt, this location has been one of the most challenging to undertake path construction work as it effectively involved constructing a path on a cliff. It also took an extraordinary effort by Andy Bingham and his gang to complete the work too – not everyone has a work commute consisting of a (sometimes solo) 1,000m climb in all weather!
"We hope that this new path will improve walkers' experience by making it easier to navigate and thereby reducing the risk of an accident or sustaining an injury, but also protect the mountain from the damage caused by the thousands of people that walk the path each year."
This work was only the first phase as there is a further 250m section of path to be constructed. Unfortunately, the financial cuts that the National Park Authority has faced over the last few years means that there is no certainty when work on the second phase can be carried out.
The pressure on Snowdonia's mountains as a result of increased use and the squeeze on the National Park's budget is now being widely recognised. To this end a second 'Mend our Mountains' crowdfunding campaign is in full swing. This time, the Mynydd Moel path on Cader Idris will benefit from any funds raised through the campaign, which will be live until mid-October.
Pledge now at www.crowdfunder.co.uk/help-mend-snowdonia.
Images courtesy of the Snowdonia National Park Authority