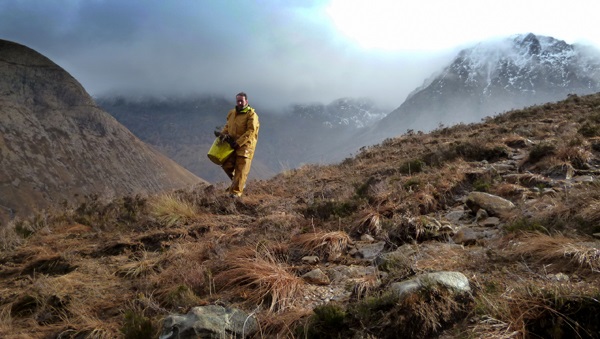 Information on the Skye path developments ahead of the summer season
After four months of work in treacherous conditions, local path workers on Skye have completed the first phase of a major restoration of the footpath that leads from Sligachan to Loch Coruisk.
During these 12 weeks, each member of the Arran Footpaths team walked several hundred miles to and from the site on Druim Hain ridge. The work included:
Refurbishing 340 metres of path
Transplanting and landscaping an area of vegetation750 metres2
Shifting 140 tonnes of stone by hand
Constructing six cross drains and twelve water bars
Erecting 170 metres of revetment (sloping structures to contain erosion).
Chris Goodman, John Muir Trust (JMT) Footpath Officer said: "Full praise to Donald MacKenzie from Glenelg and his team who battled through the wettest Scottish winter on record to get the work on schedule. At least the final week brought sunshine, blue skies and circling eagles, so the guys will take away memories of the good days as well as the tough times.
"As well as benefiting the landscape and its fragile plant life, this work will also hopefully support the local community by encouraging more people to visit, and indeed return, to this dramatic glen amid the towering peaks of the Cuillin."
The JMT hopes to begin phase two of the work later this year, further down the glen towards Sligachan along with ongoing path repairs and maintenance on Bla Bheinn, Quinag, Sandwood Bay, Steall Gorge, Ben Nevis and Schiehallion.
If you'd like to help make a difference visit www.johnmuirtrust.org and look for the Wild Ways Path Fund.