It's the world's first and only portable water filter bottle with inline pump combined
This new product from LifeSaver includes the same advanced filtration technology as the original LifeSaver bottle, but at a considerably lower weight and more compact size. It's a 400ml filter bottle capable of removing 99.999% of viruses, 99.9999% of bacteria, and 99.99% of cysts from suspect water – along with a replaceable Activated Carbon Disc for removal of chlorine, taste and colour.
The Liberty Bottle has a dual design: it can be used as a portable water bottle, and the inline pump can be used to provide clean water for several people. It claims a flow rate of 1.2L/min, and the replaceable cartridge is usable for up to 2,000L. No additional chemicals or power are required. It has a few nice touches: 5ft 'Scavenger Hose', transparent windows to see water level, a Flow Valve to control flow rate, and a technology called FailSafe that makes the filter stop passing water when the filter membrane is blocked and the cartridge needs replacing. Both product materials and water effluent are BPA and BPS-free. Replacement cartridges cost £49.99. The claimed weight of the entire unit is 680g.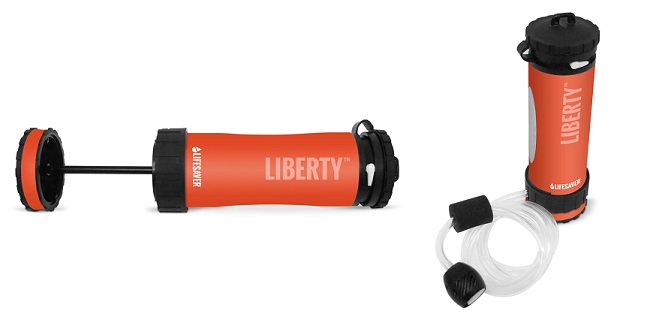 While overkill for the UK hills, and many other purification options exist from competing manufacturers, this looks like a viable option for wilderness trips to areas where water quality is routinely poor. The 5ft hose is a handy addition too.
£124.99
iconlifesaver.com