Hitchhiking still has its place for hikers who need to get from A to B on a long-distance walk. James Forrest shares his tips.
Decades ago, before the ubiquity of the private car and the development of the public transport network, hitchhiking to the mountains was commonplace. But nowadays it's something that few would consider.
One area where hiking and hitchhiking still intersects is on a long-distance trail. It's common to come down from the mountains with the need to get to town to resupply, only to find a long road walk ahead of you. In situations like this, hitchhiking can save a huge amount of time and effort. But how to increase your chances?
In our September issue, available now, James Forrest goes hiking – and hitchhiking – around the Yorkshire Dales on a 19-mountain peak-bagging mission, armed only with a tent and a wagging thumb. We got in touch with him to find out more about his experience.
To read James's full feature, pick up a copy of our September issue.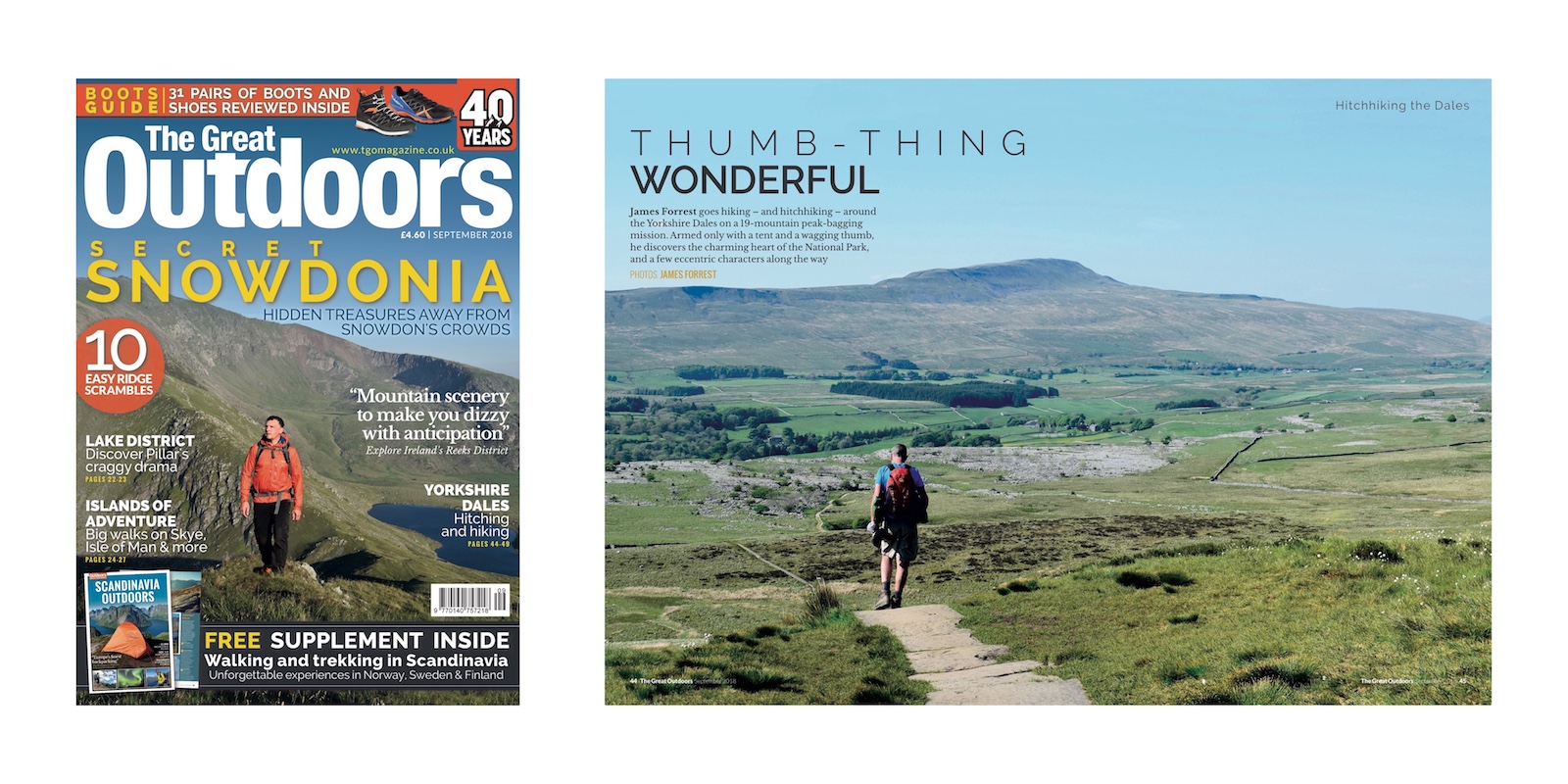 Please introduce yourself. Who are you and what do you do?
"My name is James Forrest. I'm a former newspaper journalist turned adventure travel writer. I live in the Lake District and I'm passionate about hiking, wild camping and climbing mountains. I love it. It's the best hobby ever!"
They say hitchhiking is a dying art. What was your experience of hitching in the Dales?
"I do believe hitchhiking is a dying art. There is a sense of fear and mystery around the practice. But I've never had any bad experiences. And, in fact, hitchhiking has always restored my faith in humanity. It's enabled me to meet kind, generous, friendly, and caring people and to gain an insight into the lives of locals. This was certainly my experience in the Dales. I didn't find it difficult to get a ride, I never once felt uncomfortable or unsafe, and I had loads of entertaining and enjoyable conversations and encounters with quirky characters. It was a great part of my trip."

What was the longest period you had to wait before successfully thumbing a lift?
"Probably only about 10 or 15 minutes. I generally found it easy to get a ride. The people of Yorkshire were very friendly and generous."
Any tips for upping your success rate?
"Stand by a lay-by where it is easy for cars to pull over.
"Smile.
"Don't wear a hat or cover your face with a hood.
"Try and look normal, friendly, approachable, and slightly (but not overly) desperate.
"Where possible, choose a road on which the majority of drivers will be heading towards your destination. It's pointless thumbing someone down if they're about to turn off in the wrong direction in 100m."
Your hitch'n'hiking trip in the September issue was just part of a much bigger journey. Tell us about your mission to climb all the Nuttalls.
"In 2017 I climbed all 446 mountains over 2,000ft in England and Wales – the so-called 'Nuttalls' – in just six months, the fastest known time. I walked over 1,000 miles, ascended over five times the height of Everest, and slept wild in the mountains over 25 times. Oh, and I did it all on my days off from work. You can read all about the adventure in my debut book Mountain Man, which will be published in spring 2019. I'm working on the 'sequel' right now too – I'm in Ireland, attempting to climb all 273 2,000ft mountains in a single-round. Wish me luck! I feel exhausted."
---
Sounds like he's having plenty of success thumbing lifts:
Our society often gets a bad press – hatred, discrimination, loneliness. But I've been hitch-hiking around Ireland and my faith in humanity has been restored. So much LOVE and WARMTH and KINDNESS from these friendly strangers. The world IS a good place. ?❤️? #GetOutside pic.twitter.com/NZjdcehmhR

— James Forrest (@jamesmforrest) August 27, 2018

You can follow him on Twitter @jamesmforrest.
All images © James Forrest