Packrafting can transform the way you explore wild land. We asked adventurer and experienced packrafter Mark Waring for his tips on how to get started.
In a nutshell, why do you think more hill walkers should be taking up packrafting? 
It's a 'game-changer' essentially as it allows you to utilise water that can really transform the way you can travel across wild land. I've now spent a couple of summers in northern Scandinavia seeking out the blue lines of extensive lakes and rivers. Once a barrier to hiking, water is now an opportunity. Packrafting has given me a whole new perspective on mountain landscapes and wilderness.
Do you need lots of extra kit? 
That can depend. There are some essentials which you really need to get started. You can build from there once you get the essentials. Packrafts are not cheap so I would recommend perhaps renting a packraft or going on a course to see if it is for you. Once you are comfortable and want to extend your seasons I would recommend a dry suit. Other kit you need includes:
Paddles. The second most essential piece of packrafting equipment after the raft itself. Make sure that they break down into sections (preferably four) and are lightweight. Materials range from wallet friendly aluminium up to ultralight carbon fibre.
'Personal Flotation Device' or lifejackets are a must.
Inflation Bag. A lightweight bag, sometimes the stuff sack, that is used to trap air and inflate the raft. This is a key piece of kit and supplied with the raft,
Repair Kit. In case of a hole or tear in the back country. Most manufacturers include one with purchase.
A helmet. You can skip this if you're just paddling lochs or lakes but anything moving and you will need to protect your soft head against hard rocks!
A river knife. Critical for a moving water trip in case you need to cut yourself loose from anything holding you under the water.
Throwbag. Another essential for rivers. This is a key piece of rescue equipment. Simply a bag with a loosely packed rope in it, to be used as a safety line.
Most people start with just their hiking kit but a drysuit is a must for winter paddling.
Dry Bag/s. A waterproof, usually roll top, bag used to keep your gear dry on deck.
Should you take lessons?
I think that's really important. There are a couple of companies in the UK (including Tirio and BackCountry) offering packraft specific courses and this is recommended. Equally, time spent in a canoe/kayak and gaining a sense of watermanship is really important.
What are the major pitfalls to watch out for?
Ignorance and/or over confidence. Packrafting in itself is really easy – you blow up a rubber boat, get in it and if you're on nice, calm, flat water with no current then it's very straightforward. It's like paddling a pool toy around. But it's also really deceptive. You can think 'this is it, off I go, this is all there is to it', but the problems come when you start introducing other factors. The biggest factor is moving water…and then it completely changes. You get grades of rapids like you get grades of climbs, ranging from grade 1 up to grade 6. I've been doing it for two years and I feel comfortable on the top end of a grade 3. There are plenty of ways in which a river can kill you, because if you get caught in the wrong bit of water it's very easy to drown.
Any recommendations for a good 'first' route?
I think an excellent place to start your adventure is Assynt in the Highlands. This has the perfect combination of some big 'flat water' (Fionn Loch and Loch Sionascaig), iconic hills such as Suilven and even remote islands to spend the night on! Read my blog entry about a trip around Assynt to find out more.
Stay inspired: subscribe to The Great Outdoors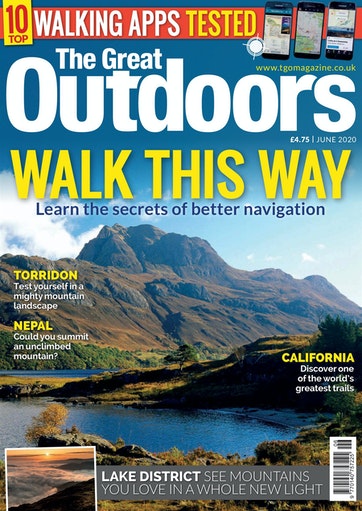 The lockdown is beginning to lift, but a 'full' outdoor life is still some way off. Even so, we're working keep your outdoor spirit alive, take you to places you can't go, and conjure the feelings that walking, wild camping and backpacking in the hills and mountains inspire. 
To show our readers our gratitude for their support, current subscribers have had their subscriptions upgraded to include free access to the digital edition of the magazine. We're also continuing to offer new readers: