To hike the West Highland Way in just three days, James Forrest knew he needed gear that would withstand the elements without weighing him down. Here's what he packed.
This advertising feature is sponsored by our friends at Haglöfs.
Popular outdoor literature is full of examples of how infuriating a heavy backpack can be. In Bill Bryson's A Walk in the Woods, which recounts a calamitous attempt of the Appalachian Trail, the author's companion Katz finally loses his temper over the weight of his backpack and empties half of its contents over a cliff edge in a fit of rage. And then there's Cheryl Strayed, of Wild fame, rolling around on the floor, trying to get her ridiculously humongous rucksack – aptly nicknamed the Monster – on her back.
I didn't fancy either of these predicaments for my ultralight adventure on the West Highland Way – walking and wild camping this 96 mile (154 kilometre) classic route in just three days (you can read the full story of this in the July issue of The Great Outdoors). So, instead, I set myself a goal – to pack as ultralight and minimalist as possible, without compromising on safety or comfort. The logic being that the less weighed down I'd be by gear, the more energy I'd have to truly embrace the journey. Less gear, more adventure – that was the hope anyway.
I chose to use the Haglöfs L.I.M range for my West Highland Way 'fastpacking' adventure because it strikes a perfect halfway house: ultralight enough for fast-hiking, without compromising on performance or durability. Haglöfs' slogan is 'high performance gear that has your back, without breaking it' – and that's exactly what I got from the L.I.M range in Scotland. I've used innumerable lightweight items of kit over the years, and often they prove flimsy, thin and unreliable in poor weather; but the Haglöfs L.I.M range kept me warm, dry and protected from the volatile Scottish conditions I experienced – unusually cold and hostile for May – without weighing me down.
Overall, my lightweight approach worked very well. No crippling backache, no balance-ruining load, no progress- hindering burden – just everything I needed and nothing more. Comfort certainly wasn't luxurious, but it wasn't disproportionately compromised either. I ate well, slept well, rehydrated regularly, and stayed dry, warm and cosy throughout. Here's how I achieved it.
Backpack
My base weight was just 5kg, my total weight 7kg including food supplies and one litre of water, and everything I needed to survive fitted neatly into my Haglöfs L.I.M 35-litre backpack. It was less than half the weight of some of my previous multi-day treks, and made travelling fast, light and nimbly through the mountains infinitely more achievable and enjoyable.
Tent vs tarp
I ditched my one-person tent (1.2kg) in favour of my Nordisk Voss 5 ULW tarp (282g), paired with a polycro groundsheet (36g) and Alpkit Hunka bivvy (354g) – a saving of 528g. Erected with my tent poles into a low-profile closed A-frame, the tarp protected me from wind and rain at all times, and it was (thankfully) too early in the season to be devoured by the Scottish midge.
Sleep system
I struck the perfect compromise between weight and comfort by packing the NeoAir UberLite inflatable mat, which weighs just 259g but provides a soft and thick bed to lie on; and the Hyperion 20F sleeping bag with 900 fill power goose down, which kept me warm to a comfort limit of -6C despite weighing only 605g.
Cooking
I saved about 500g by not carrying a camping stove, gas or cooking pot. This limited me to cold food only along the trail, but I was so hungry I didn't really care. I 'cold soaked' expedition meals such as porridge and couscous, and then grabbed hot meals at a couple of cafés along the trail when I encountered them. It worked absolutely fine.
Food and re-supplying
If you arrive at a shop with one kilogram of food stashed in your backpack, you effectively carried that extra weight for no reason. So I tried very carefully not to over-pack food. I carried minimalist supplies, focusing on high-energy snacks such as Lucho Dillitos, and planned regular re-supply stops at Kinlochleven, Glencoe Mountain Resort, Tyndrum and Balmaha.
Non-essentials
My strategy was simple – anything that fitted into the 'just in case' category was ditched. Some of the things that didn't make the cut: spare pants, socks or t-shirts, sleeping bag liner, sit mat, gloves, cap, water filter, camping stove, mug, pillow, deodorant, sunglasses and compression sacks.
Water
I didn't take a filter, as I generally find the flow too slow and the whole process faffy, and instead packed filtration tablets.
I only ever carried a single one litre bottle – the Vapur Wide Mouth Anti-Bottle (42g) – and filled up regularly as I passed streams. This enabled me to stay amply hydrated without carrying extra litres on my back.
GETTING GEARED UP: what James wore on his challenge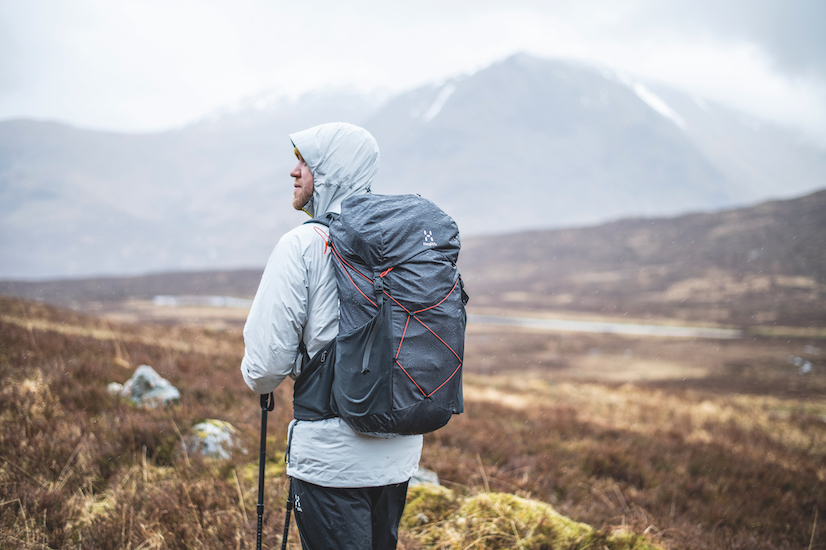 For me 35L is the perfect backpack size: just enough space for all my stuff, without tempting me to over-pack. I particularly liked the L.I.M 35's Airback suspension system for improved ventilation and reduced sweating, whilst the padded hipbelt and shoulder straps ensured a comfy carry.
Knowing how atrocious the Scottish weather can be, I didn't want to compromise on waterproofs – staying dry was non-negotiable. Luckily the L.I.M Jacket (213g) and L.I.M Pant (139g) waterproofs provided a reassuringly premium 28,000mm hydrostatic head rating without weighing me down.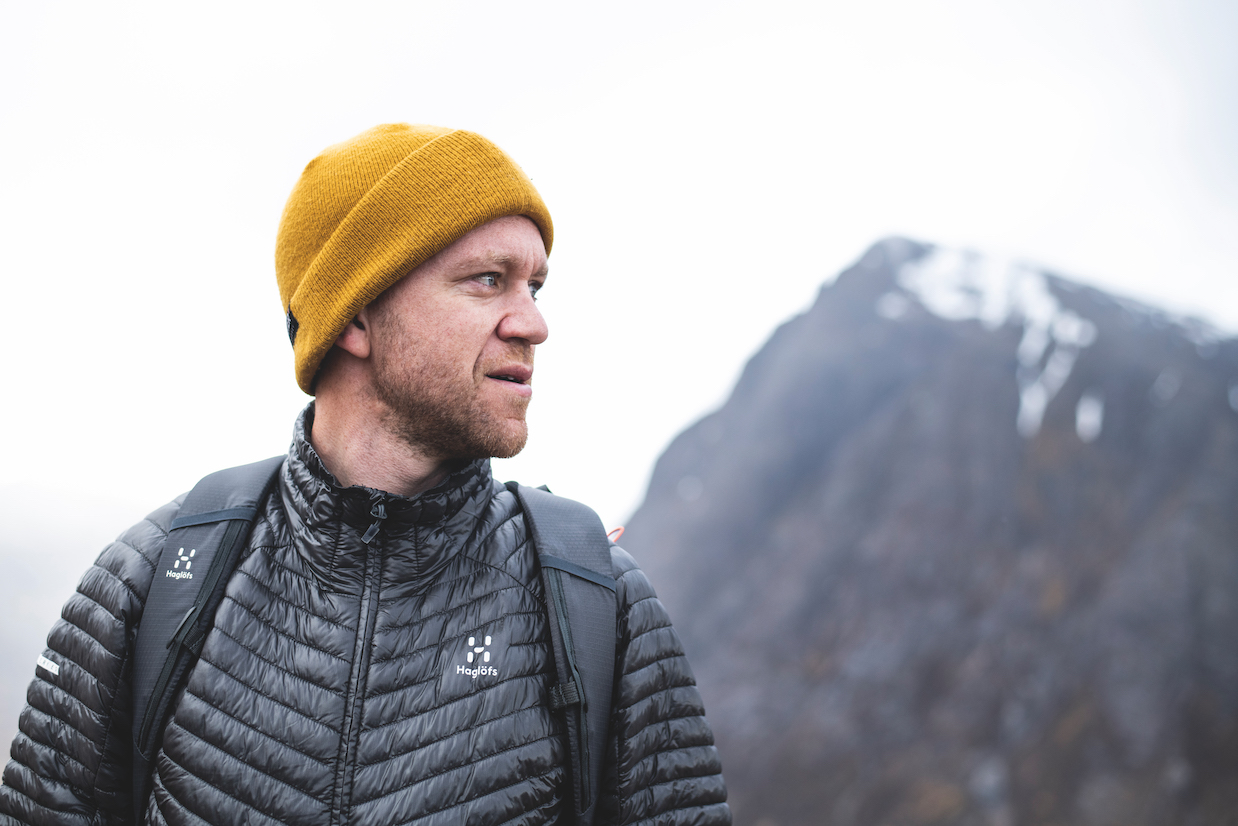 For a puffy, I want a jacket that packs down compactly, weighs next to nothing, but delivers a toasty warmth boost when you pull it on. The L.I.M Mimic Jacket (302g) did just that, with its graphene- powered nano baffles and down-like synthetic insulation providing a great weight-to-warmth ratio.
When fast-hiking, I look for a technical t-shirt that is quick-drying (to wick away sweat), lightweight and comfy against the skin – this tee ticks all those boxes. I wore it non-stop for three days in a row on the West Highland Way and could've happily worn it for three more.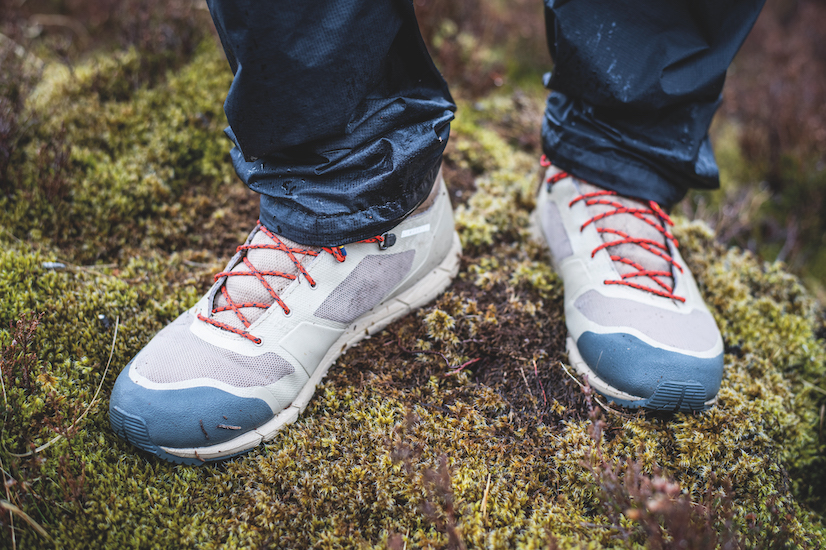 I favour lightweight, trainer-inspired boots for long-distance hikes. They allow you to move fast and nimbly, provide unrivalled comfort, and still deliver good traction, support and cushioning over rough terrain. For the West Highland Way, I opted for a lightweight, waterproof boot with a mid cut.
James's full ultralight kit list
Backpack
Weight
Haglöfs L.I.M 35-litre backpack
874g
Dry bags
196g
Nordisk Voss 5 ULW tarp + pegs
282g
Polycro groundsheet
36g
Alpkit Hunka bivvy bag
354g
Thermarest NeoAir UberLite sleeping mat
259g
Thermarest Hyperion 20F sleeping bag
605g
Thermal trousers and long-sleeved top
322g
Waterproof jacket + trousers
351g
Hat
73g
Toiletries bag + first aid: toothpaste, toothbrush, paracetamol, ibuprofen, immodium, plasters, blister plasters, sun cream, earplugs, water filtration tablets, Vaseline
158g
Toilet roll + hand sanitiser + trowel
102g
Spork
10g
Water bottle
42g
Electronics: powerbanks x 2, cables, waterproof phone cover, plug, headtorch, earphones
700g
Valuables: phone, bank card, car key, mask
263g
Camera
337g
Total Base Weight
4964g
Food
1000g
Water
1000g
Total Weight
6964g
Wearing/carrying:

Haglöfs boots, t-shirt and insulated jacket, plus socks, smart watch, and trekking poles
All photography by James Roddie