Outdoor photography talk from award-winning landscape snapper James Roddie
---
The winners and the highly commended have been revealed for the 2016 Scottish Landscape Photographer of the Year Awards and we're very pleased to see that many friends of The Great Outdoors received recognition. Dougie Cunningham and Stewart Smith, both with numerous covers of The Great Outdoors to their name, picked up awards. So did Damian Shields whose stunning images regularly feature on our Escapes pages.
James Roddie, is another of our contributors to be recognised. He won in the Four Seasons category for his Autumn-themed shot 'Stand' (above).  Will Renwick caught up with him following the awards announcement…
So where was your award-winning shot taken James? And what steps did you need to take to capture it?
I took it in some woods not far from my home on the Black Isle near Inverness. Two days of fog and mist had coincided with a particularly fine period of autumn colours – dream conditions for landscape photography. I was actually on my way to another location when this scene caught my eye. At first the fog was too dense for the image I was looking for but after a while some brightness appeared just where I wanted it on the right of the frame. It was a wonderfully peaceful and quiet scene, and that was what I was hoping to convey with the image.
What kind of camera were you using?
All my photography is done on a Nikon D7200 DSLR. It's a versatile camera that I can rely on even in some fairly extreme conditions, including up high on the Scottish hills in winter or on caving photography trips. For this particular image I used my Nikon 50mm f/1.8g lens – a personal favourite lens for landscape photography.
RELATED: Dougie Cunningham's outdoor photography tips
Does autumn stand out as your favourite season for photography then?
Autumn and mid-winter are by far my favourite seasons for photography, and for being out on the hills. I'm fascinated by the rapid change that the landscape is always going through at these times of year, and there is a quality to the light that is harder to find during the summer months. The Scottish hills in particular really come into their own during the winter months – the unpredictability of the weather and conditions always keeps you on your toes as a landscape photographer.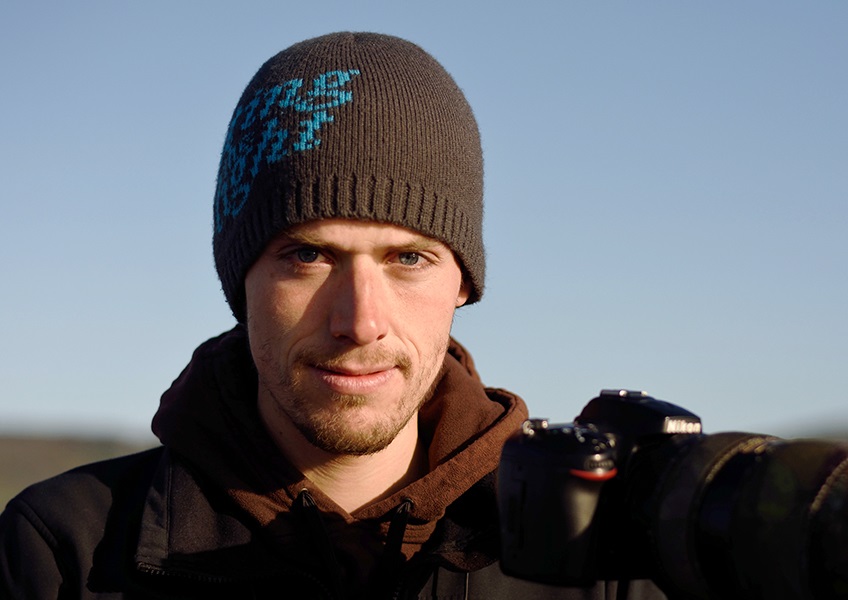 It caps off a successful year (2016) photographing the Highlands for you. Which excursions stand out as highlights?
Six days of endless hot sunshine on the Skye Trail was memorable, if not particularly ideal for my style of landscape photography. A real highlight of the year was a two-day trip into Letterewe and Fisherfield in August, which included the best summit bivvy I've ever had, and I came away with exactly the images I wanted. It was a one-day traverse of Foinaven and Arkle in December that really stands out for me though. I was treated to the most incredible light, and I managed to spend the sunrise on Foinaven and the sunset on Arkle. There was something very special about being that far north on one of the shortest days of the year.
Where are your favourite places to go and shoot?
Almost all of my favourite locations are in the north-west Highlands. It is a varied and achingly beautiful area, and after years of photographing landscapes there I feel I've still barely scratched the surface. Assynt in particular is a world-class landscape and somewhere I visit regularly. Torridon is another favourite for obvious reasons. I spend quite a bit of time on Skye – usually photographing some of the lesser known parts of the island. I do a lot of caving so I'm fortunate to be able to see and photograph Scotland's subterranean places, some of which have to be seen to be believed. Away from the north-west Highlands, the forests of the Cairngorms fascinate me, as does the coast at home on the Black Isle.
What keeps you occupied when you're waiting for the right conditions for a shot?
This can be the hardest part of the day! In really cold conditions I've sometimes taken to doing press-ups or jogging on the spot. It depends on the situation – if I'm up in the hills waiting for the light to change, I'm often quite content to just watch and enjoy it.  I'm usually shooting mountain images for magazine articles so I'll often be thinking about what will go in the writing to accompany the photos. I try to time things so as to avoid long waits if possible – I have to do enough of that in the wildlife photography side of my job…
Click here for the full list of winners at the Scottish Landscape Photographer of the Year Awards 2016