Jon Young tells the story of the world's longest wilderness canoe race, from Canada into the Alaskan backcountry

The Yukon 1000 is a very special challenge and like few other adventure races. Totally self supported and taking place in one of the world's greatest wildernesses, it has been described as "the pinnacle of canoe and kayak racing": the ultimate test of endurance, paddling, and adventure survival.
The Yukon 1000 emphasises personal skill and self sufficiency, and due to the nature of the environment no two races are exactly alike – there is absolutely no hand-holding here. In the rules it states "teams should be capable of immediate self preservation and be equipped to be self sufficient for at least two weeks".
If this sounds brilliant, and you have the skills, registration for the 2018 race is now open.
We got in touch with Jon Young, who came second in the 2016 race – and subsequently decided to help run it. Here's the story of the Yukon 1000.
---
By Jon Young
I had always wanted to travel through the Yukon as it is often regarded as one of the last untouched wildernesses on Earth. In 2014 my wife and I did so. I was immediately struck by its rugged, timeless beauty, but also the fascinating people that populated this vast region. Early settlers brought new technology and farming skills, but they also needed the First Nations' people's knowledge to survive; a perfect marriage of old meets new that still thrives today.
The Yukon had a profound effect on me, and I instantly knew I wanted to go back and explore the less accessible parts of the Yukon/Alaskan wilderness.
Having served in the British Army for 24 years, I had somehow managed to to survive and felt both humbled and privileged by my experiences, but what could fill such a void? Initially, I considered walking to one of the poles or doing a multi-stage marathon in an extreme climate. At the risk of sounding arrogant, I felt this was too familiar. During my military career, I had experienced running and walking incredibly long distances and was quietly confident I would get by. I also felt that I had a fair idea about how to prepare and train for such a challenge. I eventually came to the conclusion that I wanted to master an entirely new skill as part of the experience.
To this day, there are still very few people who have travelled beyond Dawson City – let alone raced it
Back in 2014, while passing through the small Yukon River town of Whitehorse, I had noticed a poster on a lamp post advertising the Yukon 1000 race. The poster read "The Yukon 1000 Kayak and Canoe race, the longest race in the world, 1000 miles from Whitehorse Canada to the Dalton Highway Bridge Alaska".
The route initially follows the old Klondike Gold Rush route, then over the Canadian border into Alaska, the final few hundred miles inside the Arctic Circle. This simple advert  left an impression that ticked away and slowly grew momentum, and before long the race had gained my full attention.
I have always been a stickler for detail, and like to be prepared for the unexpected, so I began to research the river and the race, including those who had dared to go before me. The website still held all the previous competitors' bios, and it was clear that this race did not attract those wishing to prop up their CVs or gain bragger's rights among their friends or peers. The Yukon 1000 is a Mecca for an array of adventure-seeking characters that come together, build friendships and pass on lessons regardless of experience and age.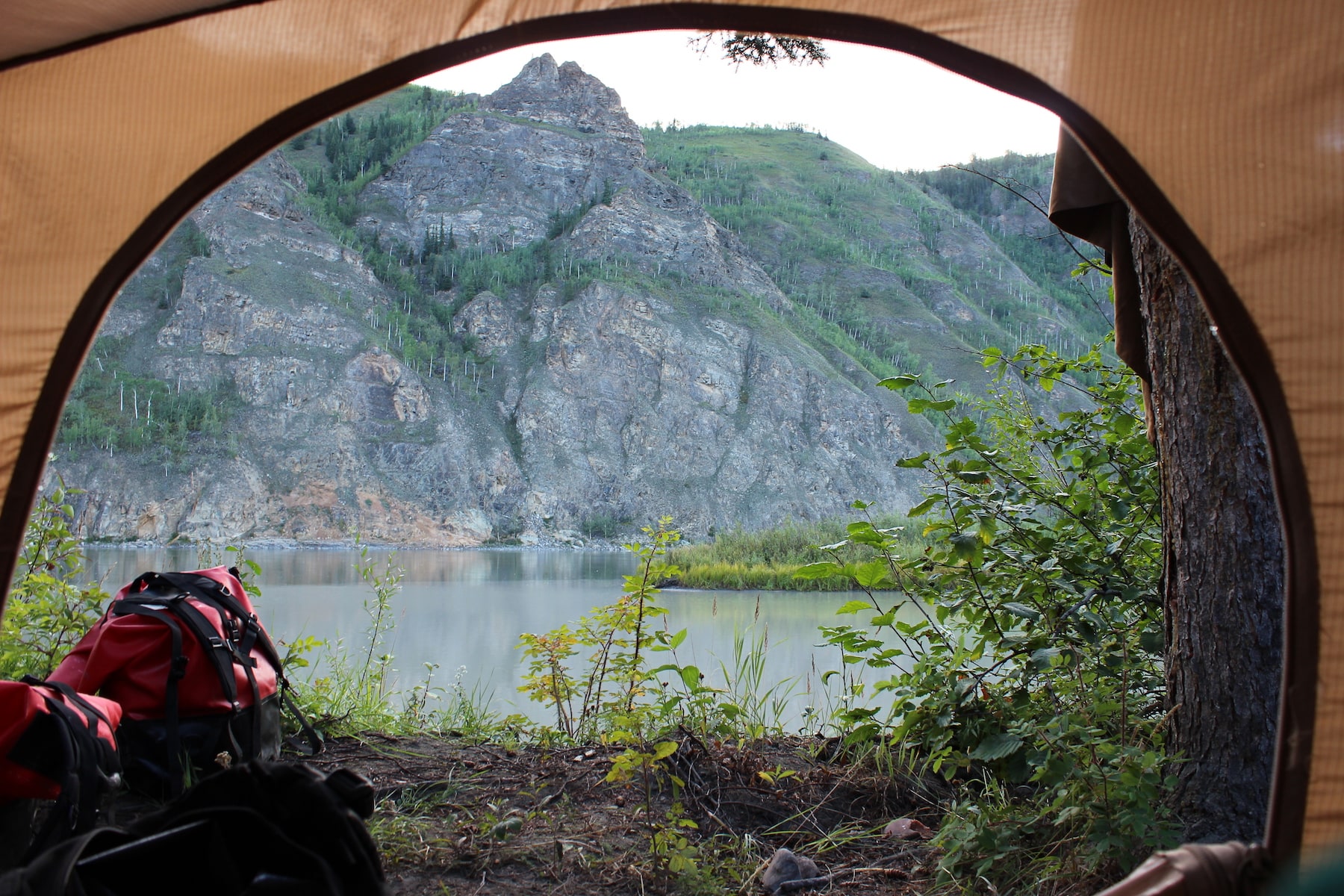 My early research showed that, to this day, there are still very few people who have travelled beyond Dawson City – let alone raced it. I found access to current information a challenge in itself; even in this information age where everything is accessible online, details of the river can be vague. I came to the conclusion that not much has changed on the river. In fact, the Yukon's human population has declined since the 1886 Gold Rush. The first settlers left us some well-documented lessons, and those early written accounts sometimes still offer the best detail available today. To broaden my understanding and knowledge, I found myself reading old stories and accounts of those who navigated the Klondike back in the 1880s.
After a few months, I was tired of stalking www.yukon1000.org and summed up the courage to call the original race founder and organiser Peter Coates. My plan was to try and persuade Peter I could do it in the hope of securing a spot on the starting line. To my surprise, I discovered that Peter is a British expat, and after a short but honest phone interview he gave me the thumbs-up to enter! At this point reality kicked in, as I realised that I had some work to do: I lacked a partner and had zero canoe experience.
Too much training can burn you out before you even start
This race is different from other endurance races around the world. First, it is a totally self-sufficient race, and in our minds, this translated to sound preparation; we were both confident and comfortable in this space and felt we had plenty of experience to draw on. Second, the race is 1000 miles long; this is broken into 24-hour periods, consisting of 18 hours paddling and 6 hours rest, and is typically completed within 7-10 days. Training for this in the UK was difficult to replicate, and ours consisted of only a few weekends paddling, each session lasting around 14 hours at most. This is a real grey area. Too much training can burn you out before you even start.
We were given a great piece of advice before we started training: "Do not do the race before you do the race!". With that in mind our aim was to do the canoe basics well; maintain flexible and injury-free bodies before the race. On reflection, I think we got this right. After the race, your body adjusts and syncs to the conditions quickly; your strength builds up over the first three days of paddling, and then a natural cadence appears to kick in. This was a fascinating lesson on how truly robust and adaptable the human body is.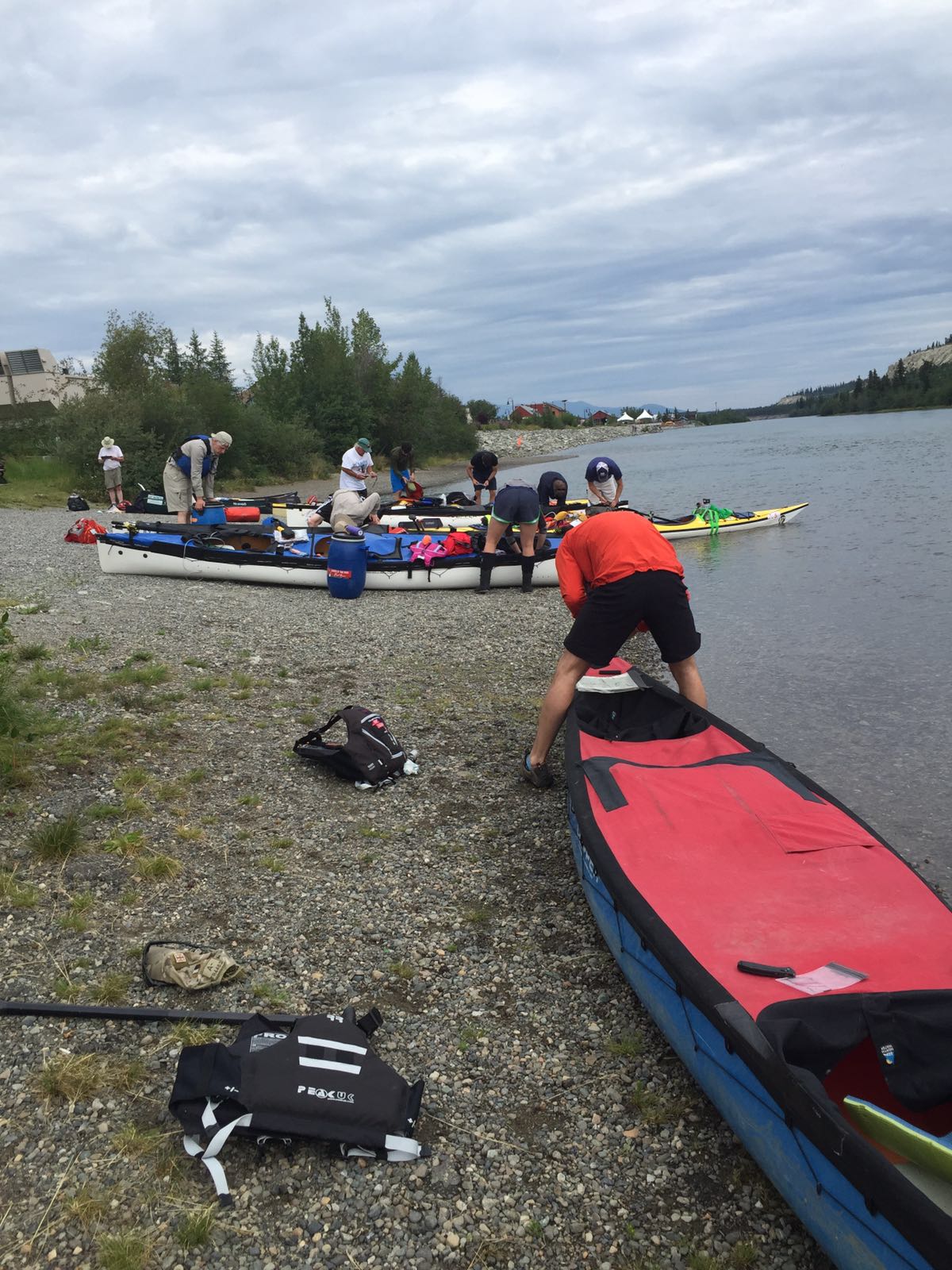 Isolation and danger have a constant presence in this race and can follow you like a cloud if you are not prepared. The lack of safety cover means there is a need for the competitors to have a basic level of self-rescue and survival knowledge. There is no mobile phone reception up there, and even if there were, once you pass Dawson the river is unpopulated, so who would you call? The only safety is the SPOT device that acts more as a tracker and enforces the race rules, but the reality is your safety blanket is your teammate and your combined abilities.
If all goes wrong, no matter how crazy things get, stay in the largest expanse of water, and ultimately the current will pull you in the right direction
This is a race within a race, and you need to train for this: practise situations and brush up on basic bushcraft skills, such as first aid, fire making, emergency survival drills.
Navigation was an unforeseen challenge as the river past Dawson has never been properly mapped. The annual thaw each spring sends a wall of ice down the river that carves new islands and new side channels, altering the course of the river each year, which makes it impossible to map. The river's power is on constant display; ice-scarred river banks and trees ripped from their roots litter the flats.
My assumptions of how the river would look were completely different to reality. I thought the river would have a clearly visible left and right bank – I got this very wrong! The river is a maze of small islands, ripped-up clusters of dead trees and beaver dams. Side channels, merging tributaries and rivers that vary in size and flow speed make navigation challenging. At times a nervy silence hung over our canoe in the hope that the next bend in the river would reveal a navigational marker we needed to restore our confidence.
This navigational challenge is unique to the Yukon 1000 as you have no idea where you are within the race standing for most of the time. The only suitable mapping available is from images printed from Google Earth, which the racers must produce themselves. We printed our maps on waterproof paper, gridded and scaled into longitude and latitude, and carried two GPS receivers.
The best navigation advice we received was from race veterans Terry and Brad, the 2016 winners: "If all goes wrong, no matter how crazy things get, stay in the largest expanse of water, and ultimately the current will pull you in the right direction."
The wildlife on the race can only be described as magical! The first 200 miles to Carmacks is rich with big birds of prey, otters and beavers. The water is a beautiful emerald colour that is teaming with salmon on the spawning run to the shallow waters upstream. Beyond Carmacks things change; the moose and bear sightings are constant and can be a little unnerving before you stop to camp for the first time in this area. However, humans have a regular presence in this part of the river, and the animals will generally move away.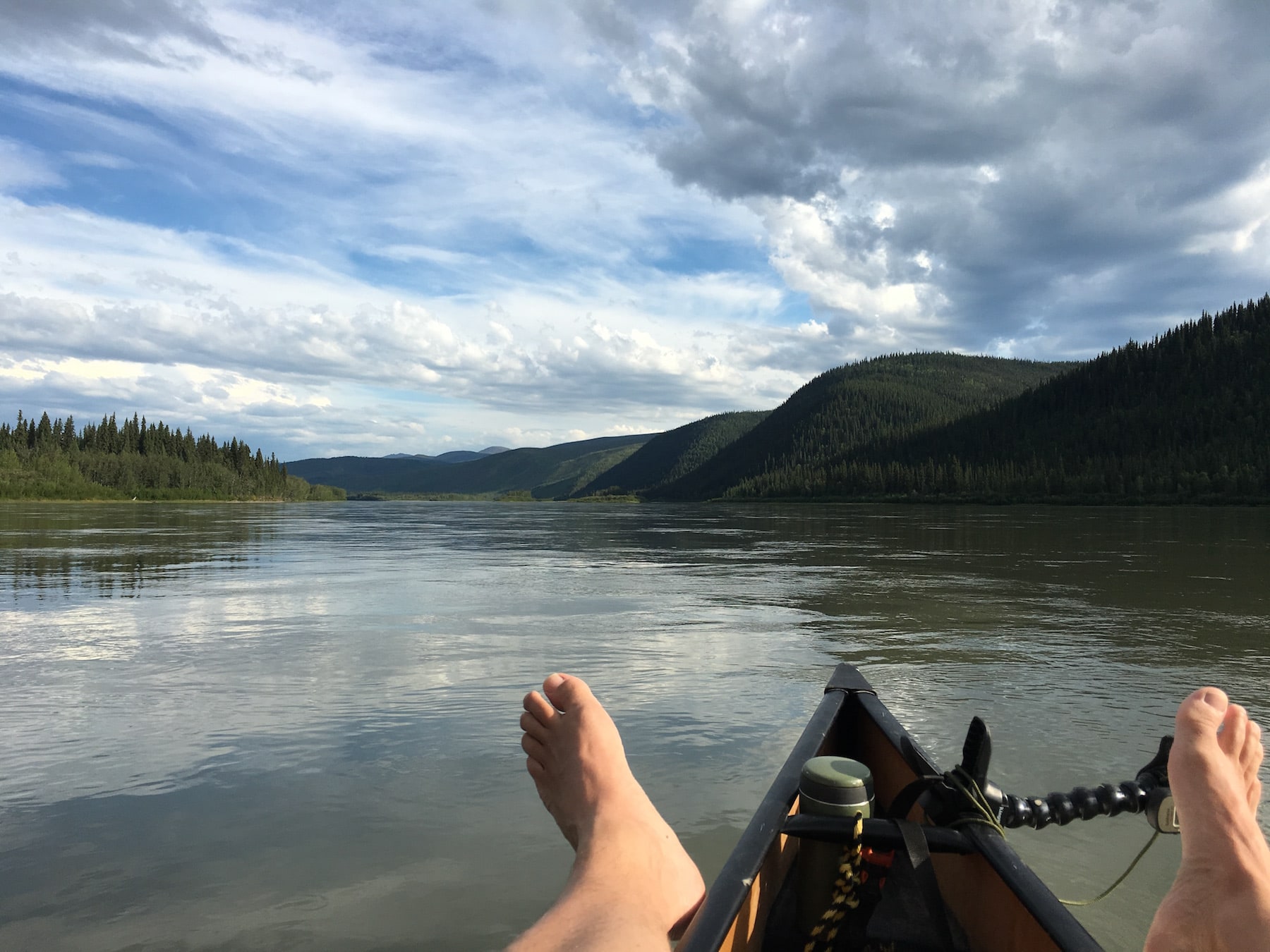 Beyond Dawson, there is a strong likelihood the animals may have never seen people before, so may react differently and be more inquisitive. As long as you follow the rules and stay together, you will be fine. We started a game to kill paddling time: one point for a beaver, two for a bear, three for a wolf and so on. There is so much to see up there that we quickly lost track of the score.
The race does not mention health and safety in the rules. Safety lies in the family spirit that exists among the competitors, and the right selection of people and teams
After the race, I discovered that there is a growing global community of adventurers, and I was honoured when people started to reach out to me for advice or questions about the Yukon. In 2017 I went back to the Yukon to lead a small expedition from Whitehorse to Dawson over six days; this different perspective opened new doors and possibilities. Upon return from this expedition with a like-minded friend, we set up The Great Game Expeditions. This offers a small range of unique expedition experiences, the Yukon among them. We focus on training a small team of eight people and empowering them to lead the expedition. We encourage the team to make all decisions as a collective. The expedition route is largely the same as the Yukon 1000, which exposes people to the challenge of paddling the Klondike Gold Rush route over the border into Alaska and up into the Arctic Circle over a 10-day period.
During the planning of The Great Game Expeditions, we contacted Peter Coates for some advice, and before we knew it, we had become owners and guardians of the Yukon 1000 race. Since November 2017 we have been busy updating the website and using social media to reach new adventures. In essence, we have changed nothing about this race; its exciting and dangerous edge continues, and a vetting process for applicants is in place with the same sensible old-school approach Peter Coates took with us in 2016.
The race has several challenges within it that make each day on the Yukon different, each bend in the river offering a new experience. The race does not mention health and safety in the rules. Safety lies in the family spirit that exists among the competitors, and the right selection of people and teams.
I feel hugely privileged to know the people I raced against in 2016 and have become friends with many – role models like Terry (67) and Brad (64), who saw no boundaries and led the race from day one, never to be caught. These two amazing men showed me that the only limits are set by ourselves.
For more information visit www.yukon1000.org. Applications for the 2018 race close on February 15 2018.
Facebook: theyukon1000
Twitter: @theyukon1000
Instagram: @theyukon1000
All images © Jon Young