Take on a walk or trek in one of our chosen scenic locations and beat heart disease step by step
This is a sponsored post from our friends at the British Heart Foundation
Our vision is a world in which people do not die prematurely or suffer from heart disease. Thanks to you, we've made great progress. With you, we'll beat it.
We have a range of walks and treks, ranging from 100km challenges through the day and night to 9-mile day events. You can trek through the capital to the historic cities, between Scotland's two largest cities or over the Yorkshire Three Peaks – we have an event for everyone.
"The toughest challenge I have ever taken part in! It almost broke my spirit but I knew I was doing it for someone who had a heart condition, which spurred me on." – London to Brighton 2017 Heart Trekker
Glasgow to Edinburgh – Are you tough enough to take on one of Scotland's hardest walks and help fight against heart disease? Walk between Scotland's two largest cities, 100km, 30 hours overnight. You'll pass numerous landmarks and sights along the route, including Kelvingrove Museum and Park, locks on the Forth and Clyde canal, the Falkirk Wheel, Linlithgow Palace before arriving in Scotland's capital.
Yorkshire Three Peaks – Cover 24 miles of hiking with over 5,000 feet of climbing. You'll tackle rocky terrain and steep climbs whilst enjoying the sights of the Yorkshire Dales. The first summit, Pen-y-Ghent, provides great views of the peaks to come. As you walk towards Whernside, you'll take in the grandeur of Ribblehead Viaduct and then onto Ingleborough for your final ascent.
Hadrian's Wall – Hadrian's Wall was built in 122AD to defend against the north. A brand-new extended 15-mile route to celebrate our 15th birthday of the event in 2018. The new 15-mile route will start at and follow Hadrian's Wall to Walltown Quarry where you will then pick up the 9-mile route and finish at Housesteads Visitor Centre.
London to Oxford – From the capital to the historic university city of Oxford, trek continuously for 100km in one of our most difficult and prestigious endurance challenges.
London to Henley – Start in Spelthorne and follow beautiful paths along the River Thames before arriving in the home of the world-famous regatta, Henley-on-Thames.
London to Brighton – Our most famous trek, going from the nation's capital, taking in beautiful scenery before arriving at Brighton beach or take on the shorter but still testing day walk from London to Cranleigh.
Our events are a great experience for those looking for the ultimate challenge, who are ready to put in plenty of training and enjoy what is going to be a serious test of both your mental and physical stamina.
Sign up today.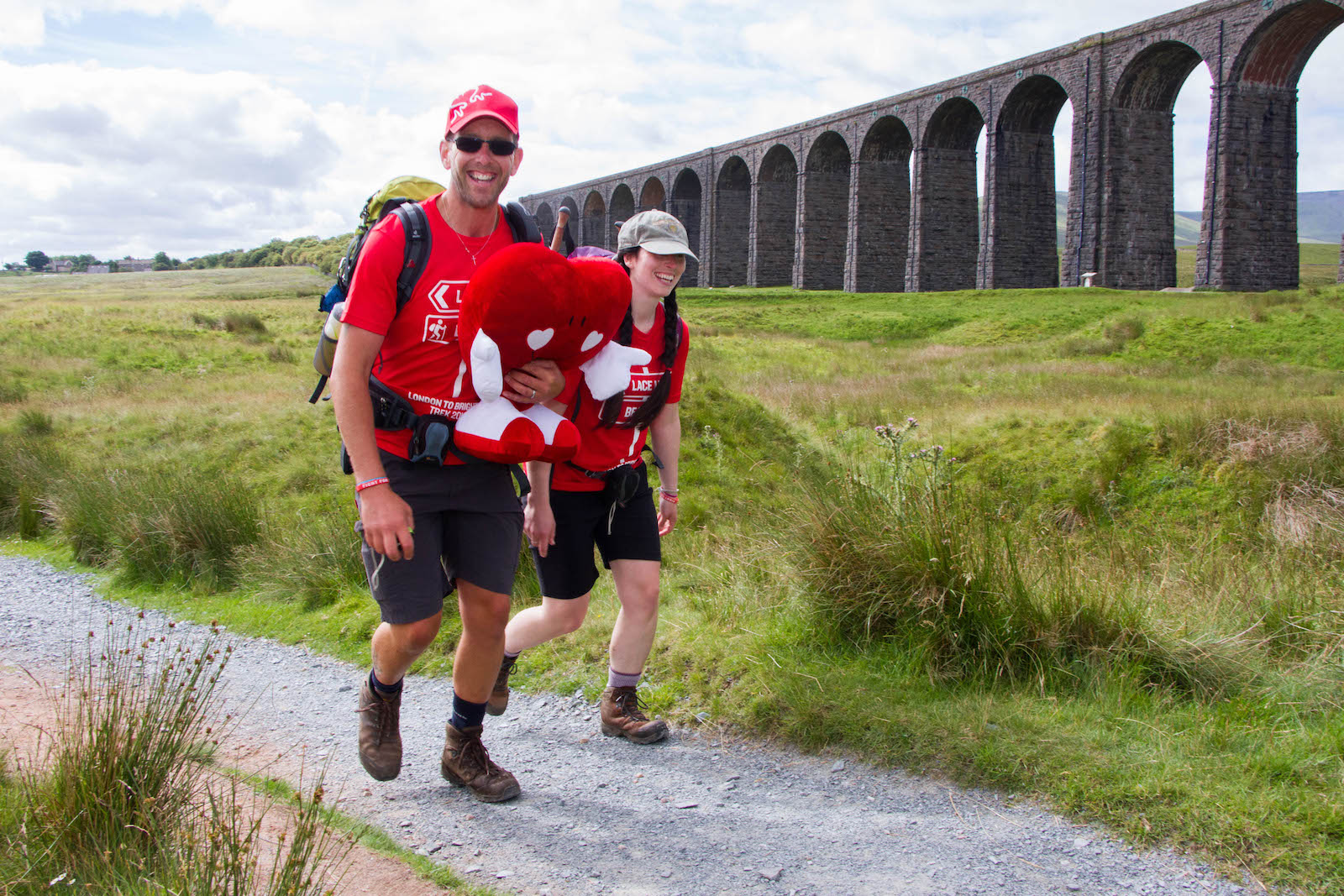 All images © British Heart Foundation