Where are you statistically most likely to have an accident in the British hills and mountains? Sarah Stirling talks to Mountain Rescue teams in Scotland, Wales and the Lake District to find out which accident 'black spots' they repeatedly return to – and why they aren't always the most obvious places.  
WALES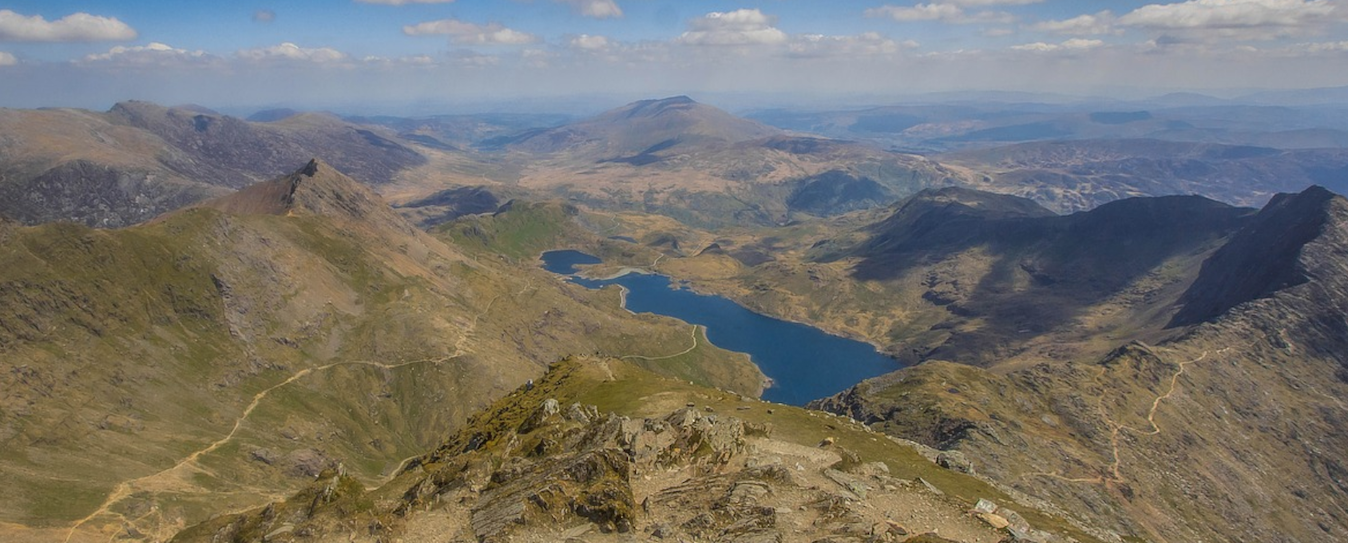 Crib Goch 
Home to one of the world's busiest mountains, Snowdon, Llanberis Mountain Rescue Team (MRT) receives over 200 callouts per year. 
Unsurprisingly, one of the key black spots on the Snowdon massif is the famous knife-edge ridge of Crib Goch. Llanberis MRT spokesman, Miles Hill, commented, "Most call-outs to Crib Goch are to people who have underestimated it and become 'cragfast' – too scared to continue. At the other end of the scale, falls usually result in deaths. We respond to around 12 cragfast incidents a year on Crib Goch, and eight fatalities a year on Snowdon generally; a couple of those are usually falls from Crib Goch."  
The trickiest sections of the Grade I scramble are a particularly narrow section where the ridge pinches to a foot or so wide with plunging drops ewither side, and the 'rock step'. "Some people try to escape by wandering off the ridge," added Miles. "This is a bad idea because the terrain below the ridge is loose and steep." 
The Pyg and Miner's track intersection on Snowdon 
Just beyond the lake of Glaslyn, the Pyg and Miner's Tracks meet and the path suddenly kicks up into zig-zags. If you're not being careful with your feet, this is where it can go wrong. "There are a lot of jagged rocks on Snowdon, which means that slips can result in lower leg injuries, head injuries and lacerations," says Miles. "There have also been a few fatalities here when downhill momentum has carried people over a series of small cliffs." 
"Humans en-masse are reasonably predictable animals," adds Rob Shepherd, Mountain Rescue England and Wales' Statistics Officer. "It's important to point out that some of these black spots aren't necessarily risky places; the intersection of the Pyg and Miner's Tracks, for example, is a temporal black spot –  it's the kind of place people reach at 4pm when they have already been to the summit and they are getting tired while walking down."  
SCOTLAND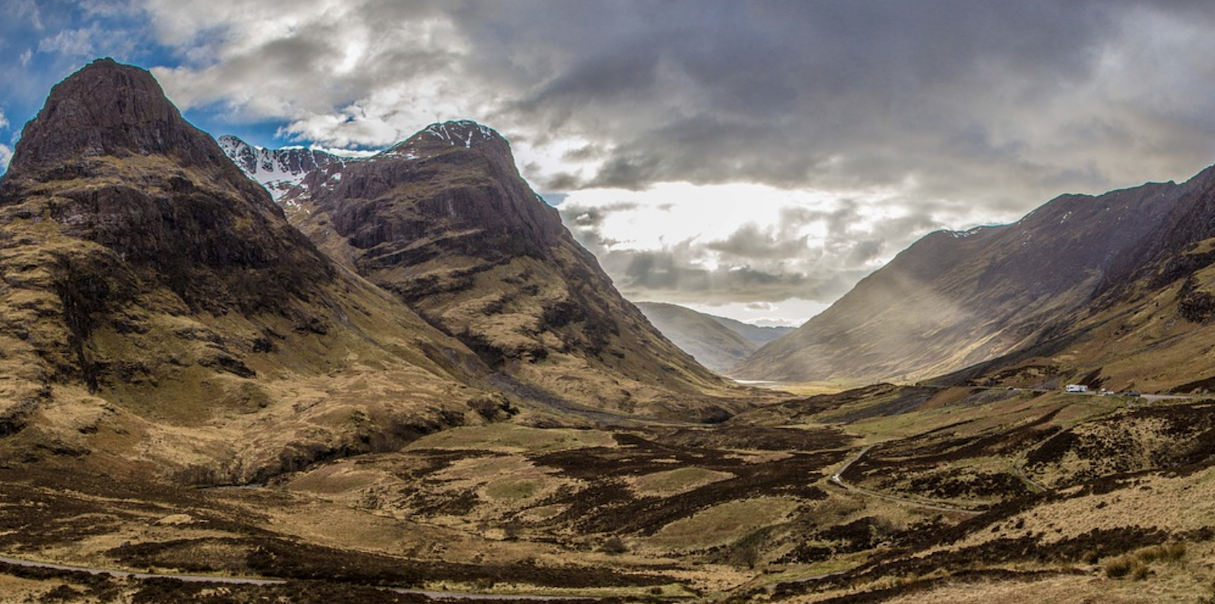 The Aonach Eagach  
"We get around 80 call-outs a year and about 60% are to two places", says Andy Nelson, Leader of Glencoe MRT and IFMGA Mountain Guide. The first of these is the famous Grade 2 scramble of the Aonach Eagach ridge.  
"This popular ridge has two Munros along it, so it attracts baggers, some of whom don't have scrambling experience," says Andy. "It's also quite polished so, when wet, becomes slippery. The Pinnacles area in the middle is the most exposed section, with three gendarmes [rocky spires] requiring 'Moderate' grade climbing. This is where some people unravel." 
"The other key problem area is the old descent route down Clachaig Gully [a scree slide that is now generally considered unsafe], where there have been a number of nasty accidents." A much safer descent route is via the north west ridge of Sgorr nam Fiannaidh towards the Pap of Glencoe.  
Buachaille Etive Mor   
The iconic pyramid of Buachaille Etive Mor ('The Buachaille') attracts a lot of walkers, scramblers and climbers. The Grade 3 scramble of Curved Ridge is a popular route up, but it can be tricky to find the start of the route. "The top tip here is that as you approach it going up the scree slope, you need to go to the right of the cluster of trees; if you go left you are heading towards harder rock routes," says Andy. Another problem involves the descent. "The big Cairn on the summit is 100 metres away from the summit marked on the map," says Andy, "which leads to navigation errors." 
The Cairngorm plateau 
The Cairngorm plateau is one of Britain's most inhospitable places when the weather turns — 173mph wind speeds have been recorded here. "Most of the 50-ish call-outs a year that we receive are to climbers in the Northern Corries and hillwalkers on the Cairngorm plateau," Willie Anderson, Leader of Cairngorm MRT, tells me. "The plateau is quite featureless, even more so in winter, so people get lost." A key hot spot is Ben Macdui, which attracts high numbers of walkers due to its stature as Britain's second-highest mountain. 
"On a clear, calm day, Ben Macdui is straightforward," says Willie. But the weather can turn dramatically and violently up there, leading to people getting lost on the plateau when descending. "The key is to keep your eye on the weather forecast," says Willie. "Especially because the wind regularly gets up to 80mph on the Cairngorm plateau in both summer and winter." 
THE LAKE DISTRICT  

Scafell Pike  
The Lake District receives 600 callouts a year across ten Mountain Rescue Teams. 
England's highest mountain, Scafell Pike, is a magnet for walkers, and so is the venue for many accidents.   
The main problems here occur when clouds or darkness descend on the inexperienced. Mike Margeson, Vice-Chair for Mountain Rescue England and Wales, commented, "Piers Gill is a key black spot. When you are descending Scafell Pike in the direction of Borrowdale or Wasdale, there's a little path that goes around the top of this Gill, and some people end up mistaking the Gill for the path. This leads them towards to waterfalls and drops. We've had a number of fatalities there."   
So many accidents have been associated with this spot that some local rescuers have called for a sign to be installed to direct walkers.  
Sharp Edge, Blencathra 
 The crux of Sharp Edge, which requires shuffling off a sloping slab onto a knife-edge, is another hot spot. It's best avoided if there's any chance of rain, because the polished Skiddaw Slate on the Grade 1 scramble turns to glass. "The crux is near the top, so retreating is a long way, and people try to carry on," says Mike. 
Richard Warren, Chairman of the Lake District Mountain Rescue Association, comments: "30% of callouts in the Lake District generally are truly avoidable if walkers planned better, carried maps, compasses, head torches and learnt how to navigate. Last year was a record busy year with 650 callouts. This year we are currently running about 25% down on that figure. It would be great to think that the new Adventure Smart UK campaign is having an effect, but it's probably more due to the weather. Last year's Beast from the East led to 100 extra callouts. It will be interesting to see how the numbers fare as the daylight hours decrease."  
TOP TIPS TO STAY SAFE  
Don't forget your head torch, especially now the days are getting shorter. 
If you're unused to scrambling, consider hiring a guide, who can teach you useful skills such as short-roping and using slings to protect traverses.
Don't rely on your phone: bring a proper map, compass and the skills to use them (a powerbank is useful to recharge your phone in an emergency, though.) 
Check out www.adventuresmart.uk for more tips on everything from how and when to get help to developing your skills.