The best things in life are shared – and that often includes hillwalking. From the joys of mountain missions with mates to the benefits of joining a walking group, the August issue of The Great Outdoors celebrates the social side of the outdoors.
Main image: James Forrest (centre) and friends Sarah and Harrison get the giggles on Fleetwith Pike. Photo: Jessie Leong.
The past year and a half has been a long and lonely slog for many of us. That's why the August issue of The Great Outdoors aims to give you a dose of some of the things we've been missing: camaraderie, companionship, community and friendship.
In this sociable issue:
James Forrest hits the Lake District for a wild night (and a couple of equally wild days) out with friends, cherry-picking seven highlights of Lakeland.
Peter Elia uses a horseback journey through the spectacular mountains of Kyrgyzstan to look back at the life-changing consequences of joining a walking group.
Peter Macfarlane breaks a solo hiking habit to take a mate wild camping in the Arrochar Alps
Hanna Lindon delves into the wonderful diversity of modern hiking clubs
Jessie Leong and her hiking group journey to Iceland for an out-of-this-world backpacking adventure.
PLUS: Climb Tryfan via the North Ridge, learn the fundamentals of map reading, discover the appeal of the Peak District's Stanage High Neb, find out how national parks are failing our nature, read Alex Roddie's review of GPS watches, and much more.
How to get a copy
Order a single copy of this issue and get it delivered with free postage.
Take out an annual subscription and take advantage of our new subscriber offer (£15 for your first 6 issues).
Download the digital version to your tablet or smartphone and start reading straight away.
Take advantage of our special lockdown offer (3 issues along with the accompanying digital editions for just £9.99 plus free postage, with no ongoing commitment to subscribe.)
Buy it in shops across the UK.
Read more: a look inside the issue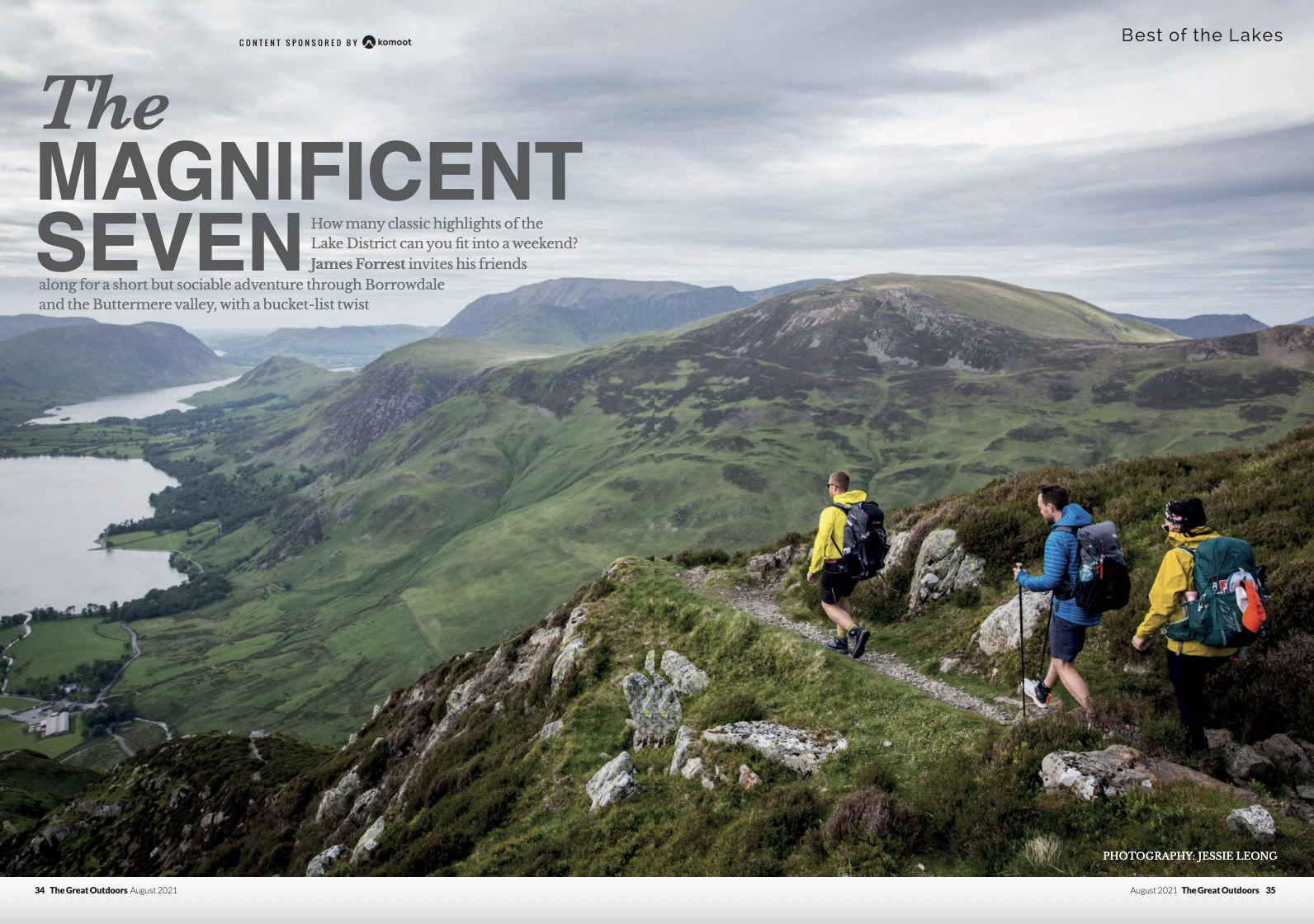 The magnificent seven: How many classic highlights of the Lake District can you fit into a weekend? James Forrest invites his friends along for a short but sociable adventure through Borrowdale and the Buttermere valley, with a bucket-list twist
"What was once just a wiggly blue line drawn on my computer screen has become reality. I glance down at my phone and then up again at the landscape. The green shading of komoot's topographical map has morphed into Borrowdale's cloaks of oak and birch; the light brown contours have taken shape into craggy buttresses and sweeping ridgelines; and the solid black line indicating a path has transformed into the stony trail beneath our boots. My route is awakened and animated, alive and real, and I love it."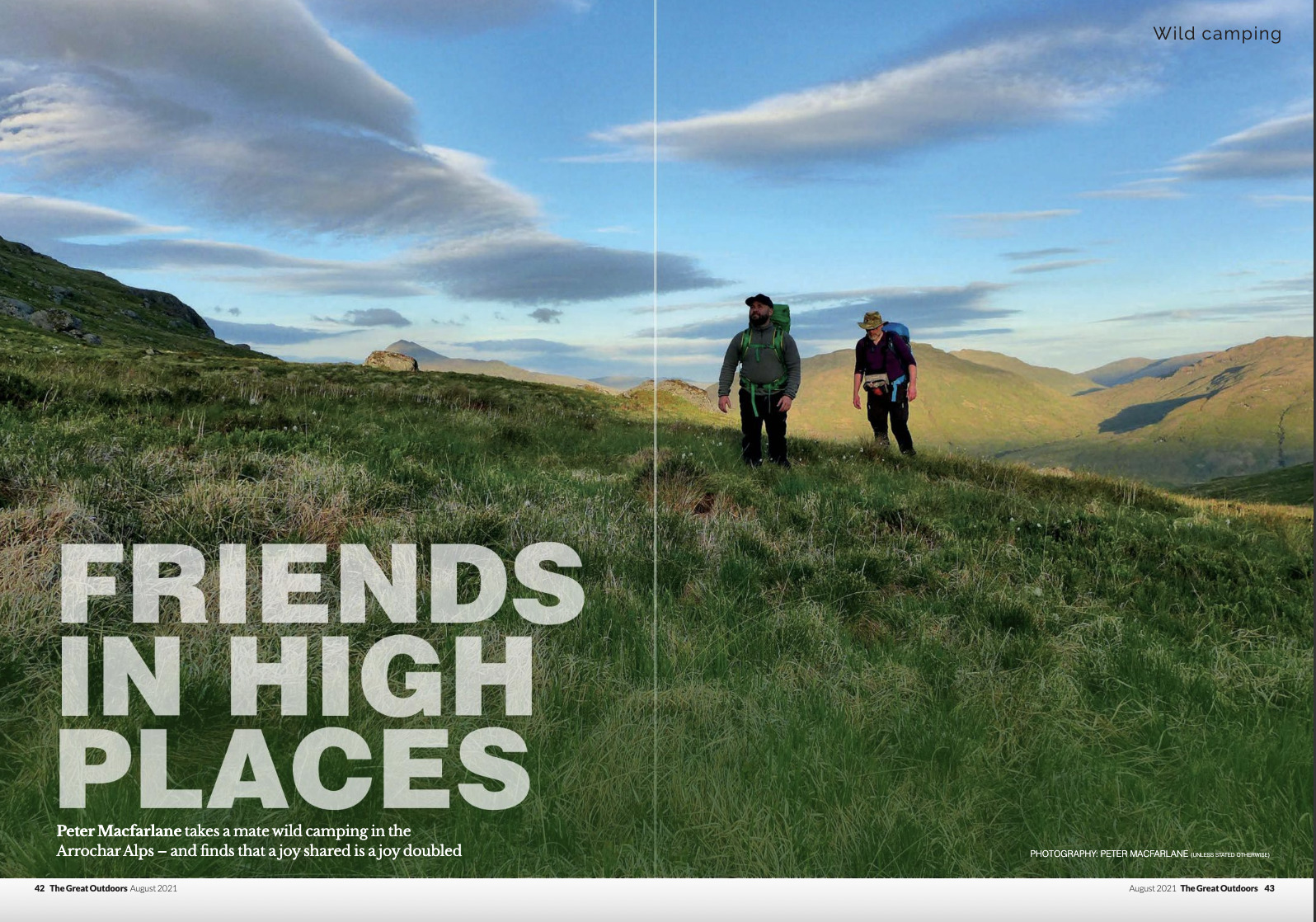 Friends in high places: Peter Macfarlane takes a mate wild camping in the Arrochar Alps – and finds that a joy shared is a joy doubled
"A few late stragglers passed by us on their way down as we sauntered uphill and into the cool evening. Greg grinned at this. As a fast mover, he'd have been home by now on a normal hill day – not starting out like this. The banter was freely flowing and it softened the impact of my stiff legs as we cleared the trees and greeted the fantastic skyline that runs from The Cobbler's south peak round to Cruach nam Miseag."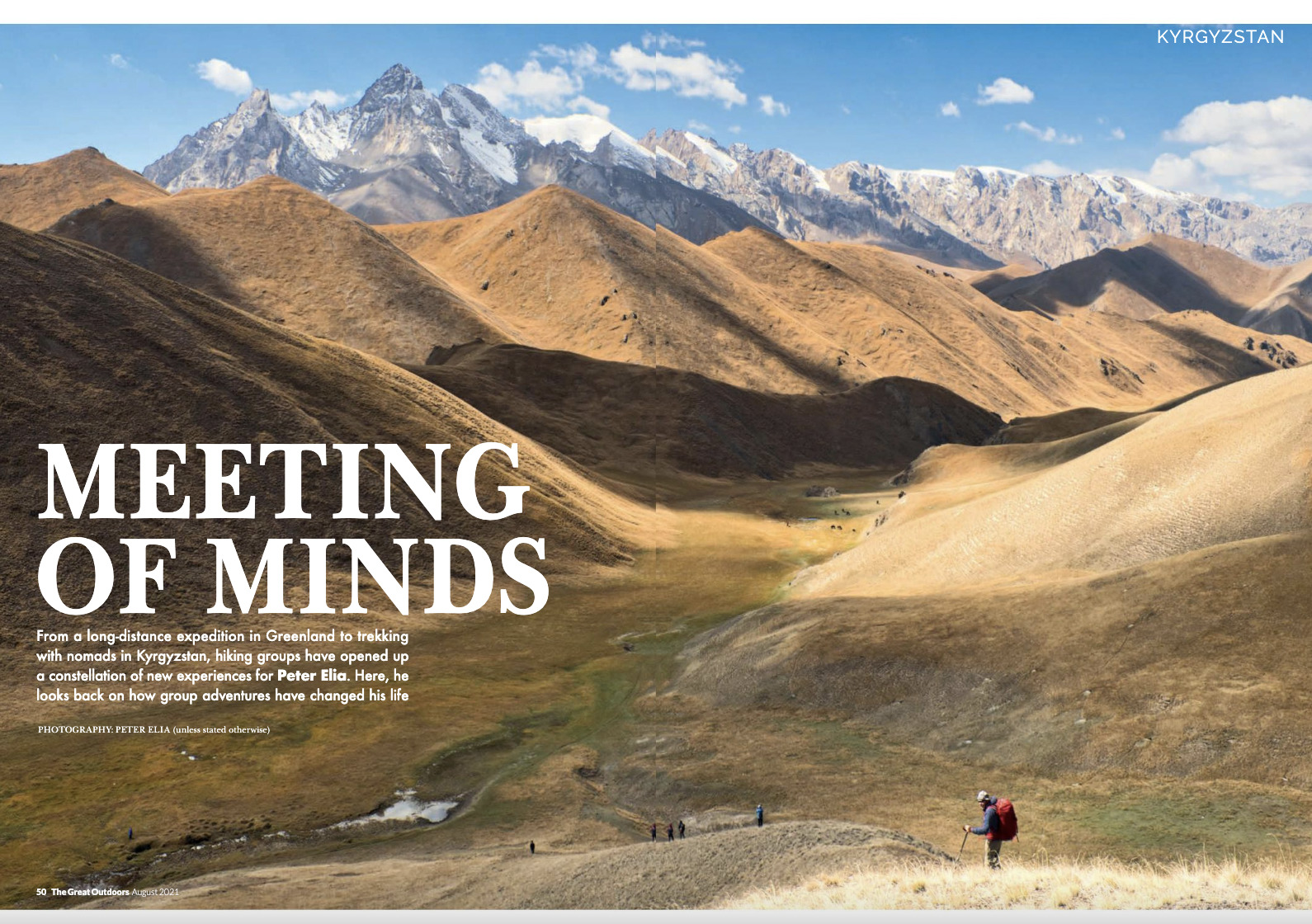 Meeting of minds: From a long-distance expedition in Greenland to trekking with nomads in Kyrgyzstan, hiking groups have opened up a constellation of new experiences for Peter Elia. Here, he looks back on how group adventures have changed his life
"The scenery became more diverse but remained equally beautiful on our way to camp: jagged black mountains dusted with snow above us and endless fields of gold dominating the landscape below. On arrival, our tents swayed in the bitter winds. The plummeting temperatures were a reminder of the nomadic families' harsh outdoor existence. I felt privileged to be invited into their world and to share the experience with my new hiking buddies. Without the group, I would never have found this remote part of Kyrgyzstan."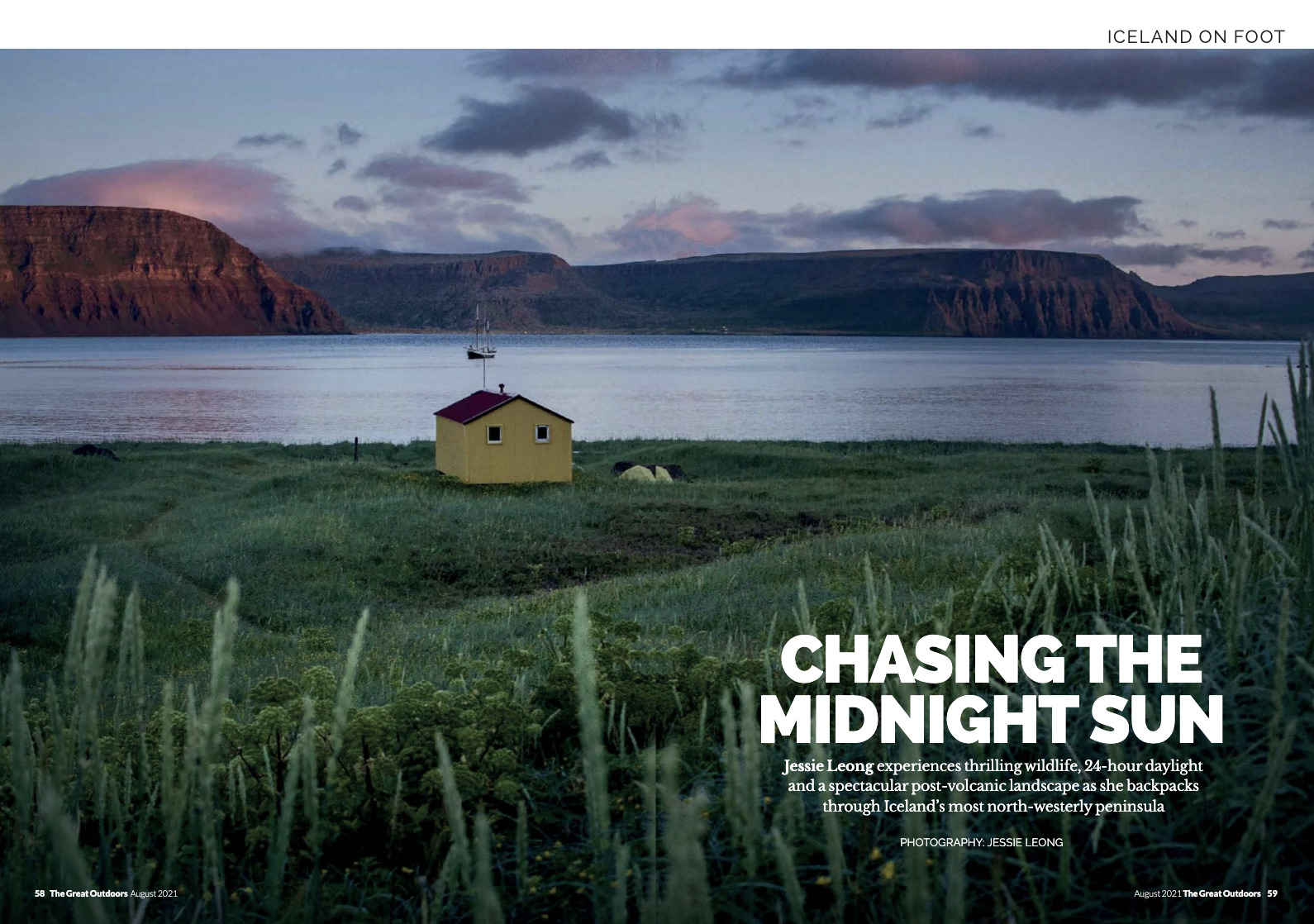 Chasing the midnight sun: Jessie Leong experiences thrilling wildlife, 24-hour daylight and a spectacular post-volcanic landscape as she backpacks through Iceland's most north-westerly peninsula
"Our route took us across a vast wild landscape. We'd decided on a circular walk that would take five days and cover up to 20km (12 miles) each day with 1000m (3280 feet) of ascent. Each of us would be carrying a 15-20kg pack and we would have to interpret tide timetables – some areas were uncrossable at high tide. The trek included bagging the famous 'Horn', the most northerly point in Iceland. That would be followed by a hike from Hornvik to Fljotavatn and over to our most westerly point, Latravig."
Order a single copy of this issue and get it delivered with free postage.