With help from komoot, James Forrest takes us through how he planned a route cherry-picking some of the Lake District's finest food, views, swims, mountains and campsites.  
This advertising feature is sponsored by our friends at komoot
In glorious June sunshine earlier this year, James Forrest and three friends walked from Borrowdale to Loweswater in a weekend. The goal? To link together James' favourite Lake District peak, pub, lake, café, campsite, wild swim spot and tourist attraction (a cave!) in a route sampling everything that makes the Lake District great. You can read the full story of their sociable, banter-packed walk in the August issue of The Great Outdoors.
Here James rounds up the seven highlights of his 14 mile (22.5 kilometres) hike, dubbed the 'Magnificent Seven'. All of these are marked as 'Highlights' on komoot, an app that lets you find, plan and share adventures by tapping into community knowledge – then bring your journey to life with its easy route planner. Perhaps you could come up with your own tick-list backpacking trip?
WHAT ARE KOMOOT HIGHLIGHTS?
Never miss the good bits thanks to komoot's community Highlights, which show up on the app's map as red dots. Click on these dots to see photos and comments from people who've been there. They include things like a great walkers' cafe, a beautiful section of trail, or an excellent camping spot. Highlights are sport-specific but don't ignore the dots for other sports – a cyclist's recommendations could be applicable to walkers too, like a great place to get coffee.
Once you have completed a hike (or cycle to run) you can create your own Highlights, and share special places or segments that you think other people would want to know about.
1. River Derwent
The best: wild swimming spot
Open water swimming is undeniably in vogue. From mirror-still lakes to crystal-clear pools, the Lake District is blessed with a plethora of locations for an al-fresco dip – but the River Derwent in Borrowdale is a particular favourite. Around Gowder Dub and Low Hows Wood you'll find translucent, gentle waters in achingly pretty surroundings.
2. Millican Dalton's Cave
The best: tourist attraction
Located on the eastern flanks of Castle Crag in Borrowdale, Millican Dalton's Cave is a split-level, twin-entranced cavern best known for its eccentric inhabitant. In the 1920s, Millican Dalton – a pioneer of adventure tourism and bona fide free-spirited maverick – lived in his 'Cave Hotel' whilst working as an adventure guide. You can still read his enigmatic etching on one of the cave walls ("Don't waste words, jump to conclusions") and the cave is now popular as a quirky wild camp spot or shelter for a mid-hike break.
3. Flock In Tearoom, Rosthwaite
The best: café
From coffees, pots of tea and hot chocolates to home-made cakes, delicious ice-creams and crumpets with jam (my favourite), this quaint café in Rosthwaite will refuel you in style, pre or post-hike. But it's the setting that really sets it apart. Nestled next to a bustling sheep farm in the heart of Borrowdale, the garden-like outdoors seating area oozes charm; and on a sunny day the views across the soaring fells, woodland and fields are quite simply delectable.
4. Fleetwith Pike
The best: mountain
Graceful and poised, with an exquisitely shaped ridge bursting upwards from the shores of Buttermere, Fleetwith Pike is a handsome peak – and its summit might just serve up the best view in all of Lakeland. The panorama across Buttermere and Crummock Water stretching sumptuously into the distance, which Wainwright described as 'remarkably fine', will put a smile on your face and a spring in your step. It's a worthy reward for taking on the leg- burning, lung-heaving ascent (or descent) of Fleetwith Edge.
5. Buttermere
The best: lake
It's nigh impossible to choose a 'best lake' in the Lake District, but Buttermere has a viable claim to the crown. Everything special about Lakeland is present in Buttermere: serrated skylines of craggy mountains, wobbly drystone walls, still waters, fields of Herdwicks, white-washed cottages and tumbling gills. Fleetwith Pike, Haystacks and the domineering wall of the Buttermere Edge fells take the plaudits – Alfred Wainwright called them mountains of "intimate charm and a romantic atmosphere" – but Buttermere is the sort of place you'll discover your own favourite, secret spots.
6. Syke Farm campsite, Buttermere
The best: campsite
This is old-school camping – in a good way. You don't get those clinical rows of numbered pitches or characterless flat fields you see in some campsites. Instead Syke Farm Campsite in Buttermere feels a little like wild camping, with its untamed Lakeland setting of rocky outcrops, tumbling stream and lumpy-bumpy terrain. But don't worry. There are plenty of flat patches of lush grass amongst the ruggedness to pitch your tent and get some precious shut-eye, and the washing facilities and nearby café are excellent too.
7. Kirkstile Inn, Loweswater
The best: pub
Every good walk should end in a good country inn. One of Lakeland's best is the 17th Century Kirkstile Inn in Loweswater. The sun-drenched beer garden overlooks the dramatic pyramid of Mellbreak's northern face – a mesmerising profile of the mountain – and is the perfect post-hike spot for supping on a pint of own-brew Loweswater Gold. If the sun isn't out, simply dive into the cosy interior, snuggle next to an open fire and tuck in to some of the hearty, tasty food on offer (we'd particularly recommend the steak and ale pie or vegan casserole).
The 'Magnificent Seven': vital statistics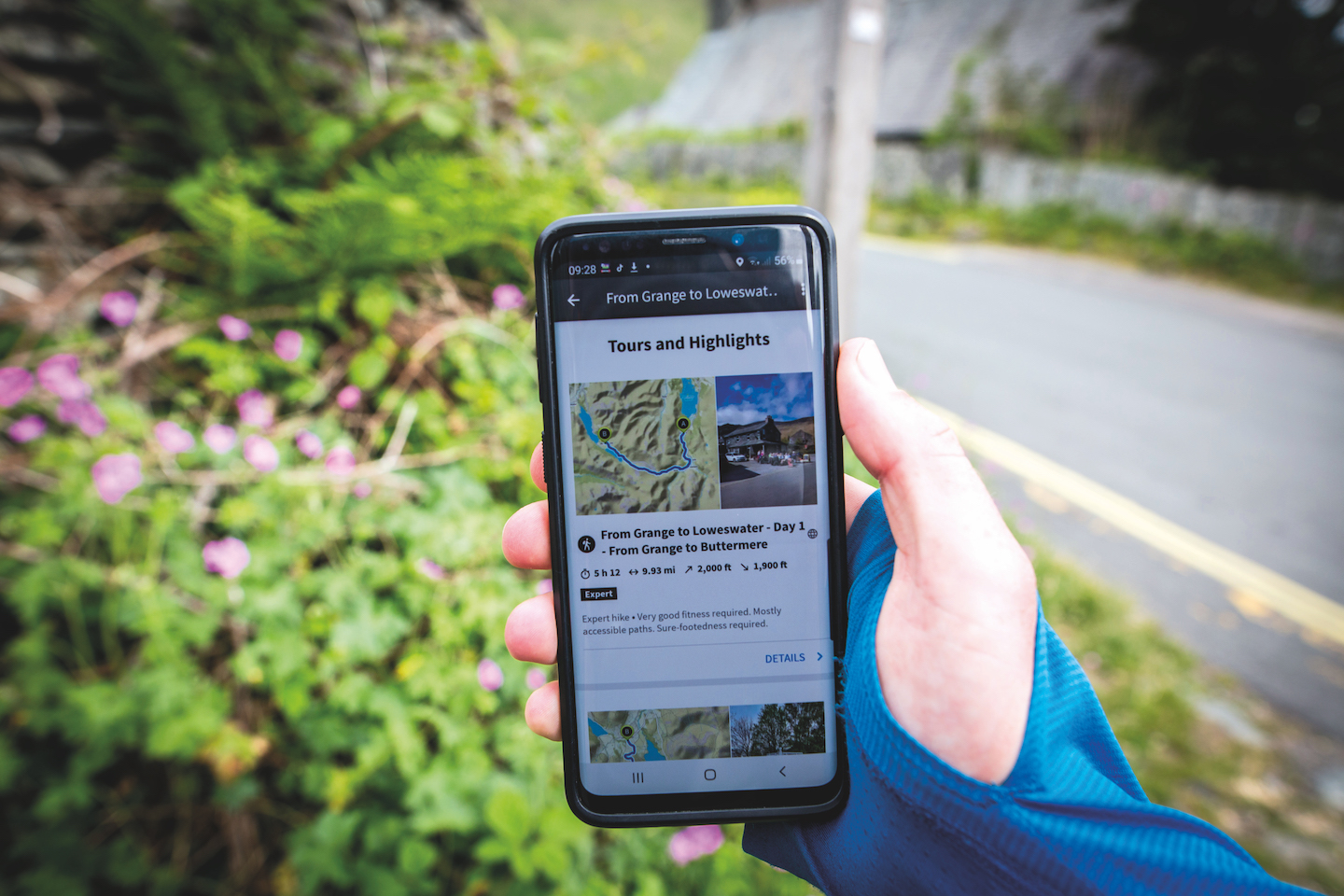 START: Grange
FINISH: Loweswater
DISTANCE: 22.5 kilometres / 14 miles
ASCENT: 670 metres / 2200 feet
DURATION: James and his friends walked this route over two days.
Read more about the route and see the full interactive map as a komoot collection here.