Planning a 'big trip' for the year ahead? From Britain to the Balkans, via the Alps, the March issue of The Great Outdoors is packed full of awesome treks and epic long-distance walks.
Multi-day, big walks are the stuff mountain dreams are made of – a chance to detach from the daily grind and connect with the high places and the communities and wildlife that call them home. We dedicate our March issue to some of the finest long-distance treks across the world. Putting our best foot forward, Hanna Lindon gets the ball rolling with nine high-altitude routes in Europe's greatest mountain chain, the Alps, from bucket-list classics to lesser-trodden gems.
We also dissect other long-distance walks of a lifetime closer to home, including the Cape Wrath Trail, known as the most challenging trail in the UK. And if you want a more bitesize taste of the multi-day walking experience, our Wild Walks section features 10 day walks sampling Britain's national trails and other long-distance routes.
Cover image: Hikers looking across the Mer de Glace, Mont Blanc | Credit: Gareth McCormack
Elsewhere in the issue, we hear other stories from the outdoors…
Pete Elia samples a spectacular 120-mile route through a lesser-known landscape on the Balkans Trail
Charlie Jarvis searches for the 'wild heart' of the Alps in Italy's largest national park
Sue Fletcher goes solo bivvying in Lakeland and shares her experience as a woman in the outdoors
Chris Townsend explores sustainability and takes his old gear on a snowy camp on Creag Meagaidh
PLUS: Rhos Fawr in profile, meet the TGO Reader Awards winners, the lack of inclusivity for plus size people in the outdoors, 10 pages of expert gear reviews including trail runners and sustainable t-shirts, advice on how to winter wild camp, and a selection of the best mountain events this month.
How to get a copy
Order a single copy of this issue and get it delivered with free postage.
Take out an annual subscription and take advantage of our subscriber offer (£15 for your first 6 issues).
Download the digital version to your tablet or smartphone and start reading straight away.
Buy it in shops across the UK.
Read more: be inspired to explore one of the best big mountain walks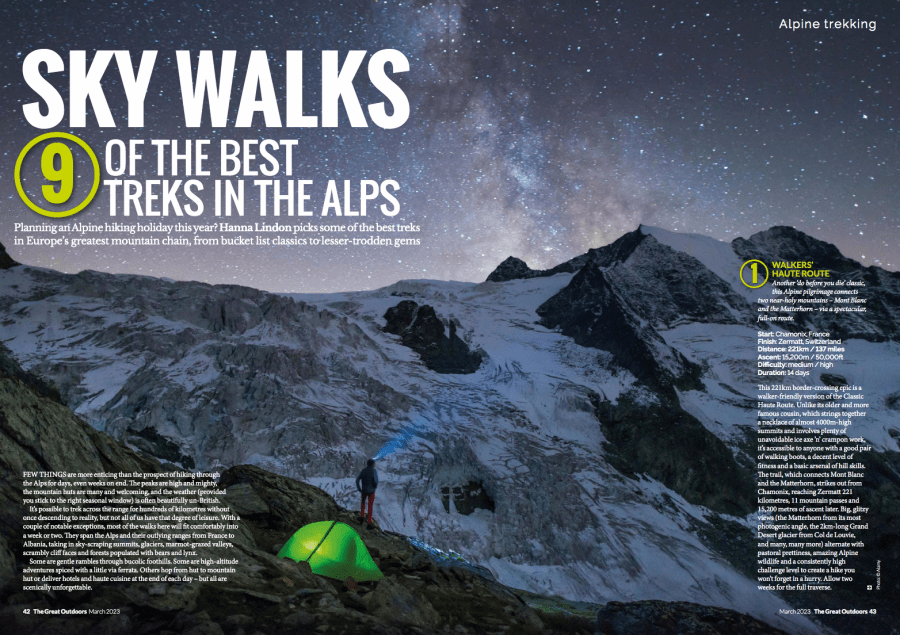 Sky Walks: Planning an Alpine hiking holiday this year? Hanna Lindon picks out nine of the best treks in Europe's greatest mountain chain, from bucket list classics to lesser-trodden gems.
"Few things are more enticing than the prospect of hiking through the Alps for days, even weeks on end. The peaks are high and mighty, the mountain huts are many and welcoming, and the weather (provided you stick to the right seasonal window) is often beautifully un – British. It's possible to trek across the range for hundreds of kilometres without once descending to reality, but not all of us have that degree of leisure. With a couple of notable exceptions, most of the walks here will fit comfortably into a week or two. They span the Alps and their outlying ranges from France to Albania, taking in sky-scraping summits, glaciers, marmot-grazed valleys, scrambly cliff faces and forests populated with bears and lynx. Some are gentle rambles through bucolic foothills. Some are high-altitude adventures spiced with a little Via Ferrata. Others hop from hut to mountain hut or deliver hotels and haute cuisine at the end of each day – but all are scenically unforgettable."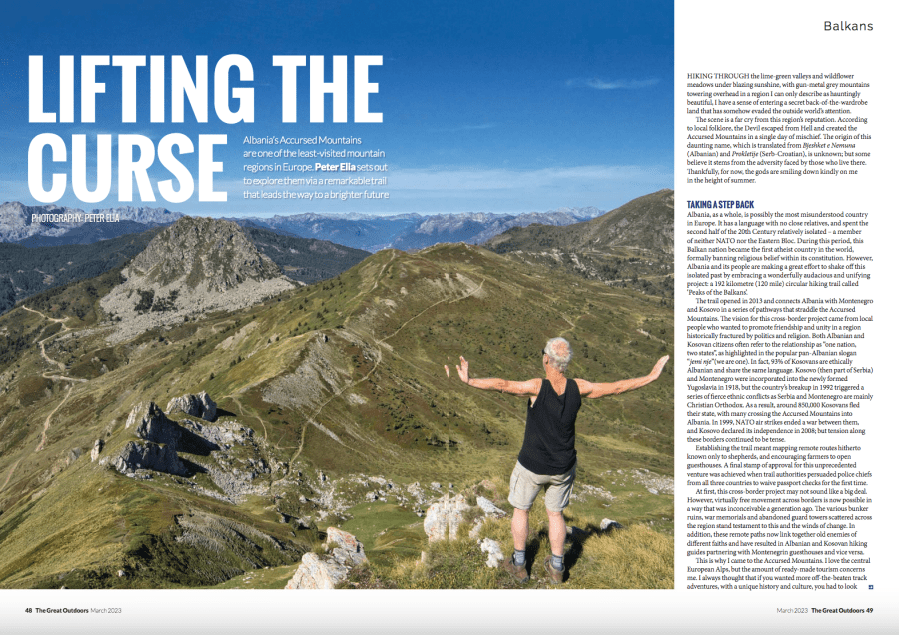 Lifting the curse: Albania's Accursed Mountains, in the Dinaric Alps, is one of the least-explored mountain regions in Europe – a beautiful place with a troubled past. Peter Elia sets out to explore them via a remarkable trail that leads the way to a brighter future.
"Hiking through the lime-green valleys and wildflower meadows under blazing sunshine, with gunmetal grey mountains towering overhead in a region I can only describe as hauntingly beautiful. I cannot help a sense of entering a back-of-the-wardrobe secret land that has somehow evaded the outside world's attention. The scene is a far cry from this region's reputation. According to local folklore, which maintains the devil escaped from hell and created the Accursed Mountains in a single day of mischief. The Accursed Mountain's name is translated from Bjeshket e Nemuna (Albanian) and Prokletije (Serb – Croatian). The origin of the Mountain's daunting name is unknown, but some believe it stems from the adversity faced by those who live there. But thankfully, for now, the gods are smiling down kindly on me in the height of summer…"
Cradle of wildness: Italy's Val Grande National Park is considered the wildest area in the Alps. Charlie Jarvis traverses the valley, uncovering the region's more contested and complex histories along the way.
"Different times, different loads, different priorities. Yet we recognised that tiredness. Arriving in the bivacco, we lit a fire, and outside the clouds parted at times, revealing the now silent, unpeopled valley below. There's an old story of a strange creature, half-human half-horse, seen wandering the high peaks here between Monte Togano, Tignolino, and Testa di Menta. We were in bed too early to notice any passing Centaurs…"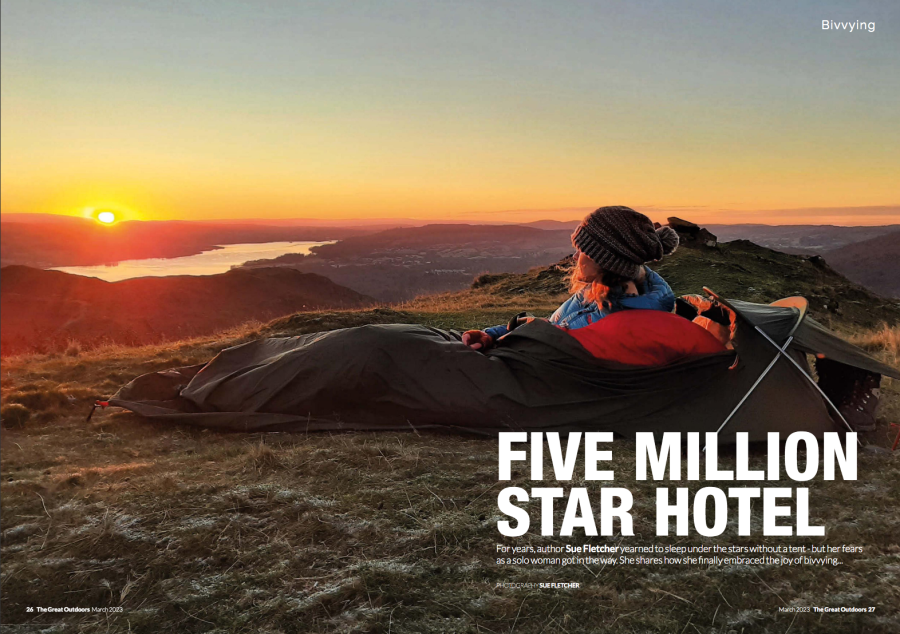 Five Million Star Hotel: For years, author Sue Fletcher yearned to sleep under the stars without a tent but her fears as a solo woman got in the way. Here, she shares how she finally embraced the joys of bivvying.
"For me, to be alone in the hills is an intense, soulful experience – and when I'd imagined bivvying, it was the solo adventure that I saw. Yet somehow, bivvying felt a riskier venture for a woman on her own than traditional camping – as if poles, zips and guy-ropes offered the same protection as a solid door and key. My loved ones shared these concerns. A waterproof sleeping bag? In a remote location? It felt unwise, for a woman on her own. In the end, I sold my bivvy bag. But this private longing – to sleep beneath the stars – never went away. Last year, I decided enough was enough…"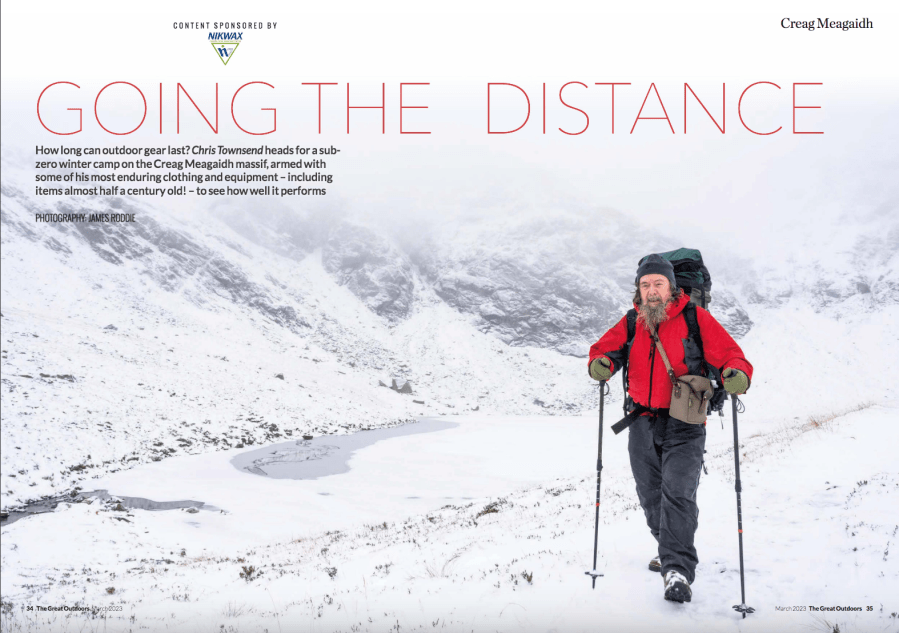 Going the distance: How long can outdoor gear last? Chris Townsend heads for a sub-zero winter camp in the Creag Meagaidh massif, armed with some of his most enduring clothing and equipment – including items almost half a century old – to see how well it performs.
"Most of the items I've had for well over 10 years, and they include the Trangia stove I took with me on my first ever long-distance walk in 1978. I thought it would be interesting to see how well this gear performed in these challenging conditions, with snow and sub-zero temperatures expected. With new outdoor clothing and equipment being released all the time it can be easy to fall for the idea that you constantly need to buy the latest, 'shiniest' gear. As a gear reviewer, I get my hands on more new gear than most, but I don't believe it's necessary or desirable from an environmental point of view to buy more than you really need."
Order a single copy of this special big walks issue and get it delivered with free postage.