The Great Outdoors Reader Awards 2022 are the UK's democratic celebration of the best of outdoor culture. Here we announce the winners.
It's been 11 years since we launched The Great Outdoors Reader Awards. They've since established a reputation as the UK's biggest democratic celebration of the people, places and businesses that make our outdoor lives better. This year, we return with The Great Outdoors Reader Awards 2022.
As ever, the list of winners includes some established favourites, but this year's awards were distinguished by a particularly broad and diverse range of nominees. That diversity is reflected in the roster of winners, which includes more new people, places and organisations than ever.
Over the years these awards have run, they have reinforced what the outdoor community cherishes and remains loyal to (certain pubs and cafes…!) but also tracked changing attitudes and an evolving culture.
The root of this is the democratic nature of these awards. It's what makes them special and distinctive – and gives extra kudos to the winners. It's you, the outdoorgoing public, who decide the results. Only your nominees make it onto the shortlist, and only those who win most of your votes walk away with a top accolade.
Last year, we introduced two new categories – outdoor film or filmmaker of the year, and the Open Outdoors award for those widening participation and increasing diversity. Both proved to be a huge success, with a new record of 18,300 votes cast overall. On top of this duo of new awards, 13 categories have returned again for The Great Outdoors Reader Awards 2022 including favourites such as pub of the year, campaigner of the year, brand of the year, and many more.
In a slight change from previous years, the nominee with the most votes in each category will receive a Winner award, while the nominees with the second and third most votes both receive a Commended accolade.
Congratulations to all shortlisted – and thank you for taking the time to vote for them. As ever, we are honoured to celebrate these achievements in The Great Outdoors Reader Awards 2022.
There are two parts to The Great Outdoors Awards. This article announces the winners of The Great Outdoors Reader Awards 2022, which are nominated and voted for by our readers and the outdoor public at large across 15 categories.
The other part of The Great Outdoors Awards are the Gear of the Year awards, which reward the best and most innovative outdoor gear for the year ahead, as selected by expert judges. In a change from previous years, these will now be split between summer and winter, and the first of these will be announced in March of next year. 
Contents
---
The Extra Mile Award
WINNER: Britain's Mountain Rescue teams (England, Wales, Scotland, plus Independent Scottish Mountain Rescue)
An incredible 60% of voters in The Great Outdoors Reader Awards 2022 wanted to honour every single volunteer who is on call, 24 hours a day, 365 days a year, to rescue walkers, climbers, missing children, and vulnerable adults in the mountains. One voter said simply, "we are indebted to them." For another, "There can only be one choice."
COMMENDED: Nick Gardner
Many of you felt inspired by Nick's Munro Challenge in 2022. For those who might've missed the nationwide coverage, Nick summited all the Munros aged 82, raising £82,000 and counting for Alzheimer's Scotland after his wife's diagnosis. For some, with loved ones also suffering the effects of Alzheimer's, Nick's journey hit close to home. For others, he is "living proof that age is not a barrier" and some have even started bagging the Munros themselves since cheering Nick on from the sidelines.
Nick told The Great Outdoors, "I feel so humbled and proud to be commended like this. I embarked on this challenge to protect my sanity and to help the charities that represent the diseases with which my wife, Janet, was afflicted (Osteoporosis and Alzheimer's). The success of the challenge has not only exceeded my wildest dreams, it has helped me deal with my emotional problems too. It has convinced me of the astonishing healing powers that the great outdoors has."
COMMENDED: Mountain Bothies Association volunteers
"Unsung, unsung, unsung," was the overriding sentiment from those who voted for MBA volunteers this year for their "unglamorous" work in the outdoors – "emptying the toilets at the very remote Corrour bothy", for example. "They still keep going back even when people trash their work," one voter noted. The volunteers' skills were championed by lovers of bothies; those "sometimes life-saving safe havens" in the most remote parts of the UK. They "would have collapsed – quite literally – many years ago without these people."
An MBA spokesperson said, "This award recognises the great work done by our maintenance teams and all those who have attended our work parties. Through their efforts, the 100 plus bothies that the MBA maintain throughout Great Britain continue to provide shelter in remote areas for all who seek it."
Shortlisted
Outdoor personality of the year
WINNER: Chris Townsend
Hailed for his "daily contribution to the outdoor community" and "approachable advice", this long-distance walking legend won this close-called category of The Great Outdoors Reader Awards 2022.
One of the world's most respected experts on long-distance walking, backpacking and outdoor equipment, Chris has authored 22 books and was the first person to complete a continuous round of all the Scottish Munros and Tops. He has completed a host of long-distance walks across the world, including recognised North American trails like the Pacific Crest Trail, the Continental Divide Trail, the Pacific Northwest Trail, plus several self-devised long walks, including 1600 miles through the Canadian Rockies, and 1000 miles through the Yukon Wilderness.
Chris has been closely involved with The Great Outdoors almost since our inception 45 years ago, but he received a number of nominations in this category as an outdoor personality in his own right. Chris said: "Thanks to all the readers who've voted for me and who have shown loyalty to me and The Great Outdoors over many years. I am amazed and honoured."
COMMENDED: Sarah Leighton
You might know Sarah Leighton as her online moniker, 'Fit for Adventure'. In fact, many of you know and love her for her paddleboarding, hiking and biking exploits. One loyal follower said, "Sarah is so funny and self-deprecating". Another added, "Her enthusiasm for the outdoors is intoxicating." More than one of you was delighted to vote for her, dubbing Sarah a "breath of fresh air."
Sarah told The Great Outdoors, "This is lush! Thank you so much to anyone who's taken the time to vote and comment. I'm looking forward to an adventurous 2023 – and I hope you are too!"
COMMENDED: Preet Chandi
"Preet works really hard to make sure her adventures have an ongoing positive impact through her work with young people," one voter said of Preet Chandi, the Polar adventurer who broke boundaries by becoming the first woman of colour to do a solo expedition in Antarctica. These feats won Preet a lot of support in this year's reader awards, with another reader saying: "Preet is truly breaking boundaries and is an inspiration to so many women and people of colour around the world."
Shortlisted
Campaign or campaigner of the year
WINNER: 3 Dads Walking 
Many have been inspired by Mike, Tim and Andy – three fathers who lost their daughters Bethany, Emily and Sophie to suicide – as they channel their own grief into help others. In memory of their daughters, the trio are walking between the parliaments of the four nations to raise awareness and money for suicide prevention causes.
Last year, voters in these awards commended them for their 300 mile walk between their three homes. This year, the 3 Dads Walking are awarded gold with 31% of the vote. Speaking to The Great Outdoors, they said: "It's good to know that people are hearing our message of hope and are responding to it positively."
One reader shared their moving reason for voting for 3 Dads Walking, saying, "My brother took his own life six years ago and I know he would have supported everything these dads do to help young people struggling with their mental health. To keep putting one foot in front of the other, and do it for other people, is truly amazing."
COMMENDED: Chris Packham
This renowned wildlife campaigner and broadcaster, dedicated to preserving wild spaces and their inhabitants, was called the "king" of the UK outdoors by one voter this year. Instantly recognisable to millions as the presenter of the hugely popular BBC programme Springwatch, his campaigning goes far beyond the box and you're just as likely to see him supporting one of the huge range of wildlife conservation campaigns and charities to which he lends his support.
Chris Packham told The Great Outdoors, "I'm very flattered to have been commended. But please rest assured that my work will never be done, I will try harder, work for for longer and try to be more and more effective. The natural world is worth fighting for."
COMMENDED: Right to Roam 
"Where would we be without the Right to Roam?" one voter mused. This campaign looks to extend the Countryside & Rights of Way (CRoW) Act "so that millions more people can have easy access to open space, and the physical, mental and spiritual health benefits that it brings". This year, it seems the campaign's actions against plans to curtail wild camping on Dartmoor have proved especially significant in winning your support.
Shortlisted
The Open Outdoors award
WINNER: Muslim Hikers
Muslim Hikers have displayed "incredible energy and determination" to break down barriers to the outdoors and you, the voting outdoors going public, are right behind them. Their resilience to keep campaigning and widen participation, all the while receiving racist abuse, was noted by many voters. One also said, "We live in a very diverse country yet in the fells the vast majority are like me – white and male. Our great outdoors are for everyone and what Muslim Hikers are doing is awesome and inspiring."
Founder Haroon Mota, who was also nominated in the Outdoor Personality category, told The Great Outdoors, "It's great to receive recognition on two fronts – both for the group Muslim Hikers which is making massive change for the community, and also myself as an outdoor personality. I'm proud of everything I've achieved so far and will continue to strive to be and do the best. Thank you for the nominations and thank you to everyone who has supported me on the journey so far."
COMMENDED: Sofa 2 Summit
Mountaineering Scotland's online guide for beginner hillwalkers received a lot of support for its work in bringing the outdoors to those discovering its benefits for the first time. The completely free guide teaches route planning, navigation basics and gear advice, as well as how to be a responsible hiker, what wildlife you might encounter, and how to stay safe in the outdoors.
Mountaineering Scotland Membership & Communications Manager, Helen Gestwicki said: "We are delighted that Sofa 2 Summit has been commended by The Great Outdoors readers. We created this as we came out of lockdown in 2021 to provide useful information for people wanting to go hiking in an easy-to-access format, and it was a real team effort. More than 1,000 people have now taken part and we hope many more will continue to do so and gain a wider appreciation of all the hills have to offer. Huge thanks to everyone that voted."
COMMENDED: KitSquad
"The demand is great for Kitsquad", one voter said, adding "our community needs them". This UK-based scheme provides second-hand adventure gear to low-income individuals to boost accessibility in the outdoors. The hard work and dedication of the founder, Fran Pearson, proved especially influential in gaining your votes.
She told The Great Outdoors: "Kitsquad is a small scheme that provides support to people, enabling them to get outdoors and experience the benefits being in nature has to offer. Without the support and generosity of the outdoor community, Kitsquad would simply not be able to function. For this reason, this recognition from The Great Outdoors readers is a reflection on the fantastic community we operate within and we accept it on your behalf."
Shortlisted
Walkers' pub of the year
WINNER: Clachaig Inn, Glen Coe
Nestled in the famous glen of impossibly craggy peaks and razor-toothed ridges, The Clachaig is a hillwalking institution. With Bidean nam Bian and Aonach Eagach on its doorstep, you're sure to meet climbers and hikers galore sharing tales of the day's epic adventures over the live music by the fire. One voter said, "I've got great memories of ending up at the Boots Bar of Clachaig inn after a long day in the hills. Great veggie burger, great atmosphere, and a splendid evening playing cards with friends. What more do you want?!"
COMMENDED: Old Dungeon Ghyll, Great Langdale
Steeped in climbing history, the ODG is beloved by all who venture to the Langdales, in the shadow of the Langdale Pikes and a stone's throw from photographers' paradise, Blea Tarn. Voters keep returning to enjoy its "unchanging authenticity", and the staff who are always welcoming to weary, muddy boots and paws ready to partake of "plenty of taps" after a big day in the fells.
COMMENDED: The Wainwright, Keswick
With local ales flowing, good food, and a town-centre location, the flow of muddy-booted folk through this Keswick local is constant all-year-round. Committed Wainwright-baggers, hikers and holiday visitors to the area – as well as their dogs, of course – are all welcomed with a warm smile, you said. The local real ales from Cumbrian breweries got a special mention, too. A pub spokesperson said, "Readers' awards like this are a great reward for the hard work of the whole team, and show that our visitors appreciate what we're doing at the pub. We'd like to thank all who voted."
Shortlisted
Walkers' cafe or restaurant of the year
WINNER: Real Food Café, Tyndrum
Many voters said the same thing about the Real Food Cafe, summed up by this comment: "The Real Food Cafe is always warm and welcoming. They are always keen to make improvements and you can tell that they really care about their customers, their staff and their community." The gluten-free food options and accessibility were praised, along with the facilities for dogs, boots, bikes, and location on the West Highland Way.
Sarah Heward, Founder of The Real Food Café said, "Situated as we are at the north end of the Loch Lomond and Trossachs National Park on the A82, in Corbett and Munro paradise and at the halfway point on the West Highland Way, we are in an ideal and beautiful location for walkers and mountaineers. We are delighted to win this award in recognition of the café's popularity with the walking fraternity and to fly the flag for Scottish walking and mountaineering. We are very grateful to our team for their enthusiasm and hard work and of course to our customers, who support the café and voted for us. There was some tough competition in this category, especially from the Snowdonia region, so it's a double delight for us to have won!"
COMMENDED: Pete's Eats, Llanberis
Pete's Eats has been an institution in Eryri for decades, with outdoor revellers flocking to this colourfully-painted cafe for pint mugs of tea, hot plates and good vibes. Many voters recalled a lifelong devotion to Pete and his eats, often passed down through generations before them. Others consider it a "must when in Llanberis". When prompted for a reason for voting for Pete's, one simply commented, "Egg, chips and beans."
COMMENDED: Moel Siabod Café
Situated in the centre of Capel Curig in the heart of Eryri, The Moel Siabod Café opened its doors in Spring 2012. Since then, it's fed and watered those seeking the freedom of the outdoors in North Wales – with a smile. It's become the area's mecca for climbers and hillwalkers alike, who seek refuge from the weather or fuel for adventure under its roof.
Co-owners Paul and Dorina Hodges and her sister Gaby all agreed, "We've had a really busy but very enjoyable year so to be Commended again within the 'Walker's Cafe' category by The Great Outdoors readers is great to hear, thank you to all who voted for us!"
Shortlisted
Hostel or bunkhouse of the year
WINNER: YHA Borrowdale
Location – "perfectly positioned for the Borrowdale pub crawl!" – and excellent customer service have won YHA Borrowdale the top spot this year, despite tough competition. One described this place to lay your head as particularly "homely after a wander to some Wainwrights" and others like the family-friendly approach where "nothing is too much trouble." One voter summed it up with this observation: "Because it always rains in Borrowdale and you stay dry in the YHA."
Aaron Jones, hostel manager, told The Great Outdoors, "Our little hostel was built here in one of the Lake District's most beautiful locations 90 years ago, and today it still fulfils YHA's original mission: to help all, especially young people of limited means, to a greater knowledge, love and care of the countryside. Everyone at YHA knows this is more important than ever in current times – promoting good physical and mental health, recreation and education for all. The team here in our little corner of the Borrowdale Valley work hard to achieve this, and we thank every guest for voting. We really hope you continue to have your special breaks in the mountains with us. Thank you so much!"
COMMENDED: Cairngorm Lodge Youth Hostel, Aviemore
On the doorstep of the high plateaus of Scotland's second national park, the Cairngorm Lodge Youth Hostel has been commended for its comfort and convenience. One voter praised recent improvements, saying, "I've stayed here on many occasions over the years but my latest trip was one of the best. The staff were amazing, the food was good and the recent changes that have been made to the washrooms facilities and furnishings have really enhanced the experience. Such a friendly, welcoming hostel in a fantastic location. Can't wait to return in the new year!"
Marketing manager, Graham Sheach, said, "We're absolutely delighted that Cairngorm Lodge Youth Hostel has been recognised in this year's The Great Outdoors Reader Awards. The team would like to thank everyone that took the time to vote. It's hugely appreciated and we are very much looking forward to welcoming you back in the new season!"
COMMENDED: YHA Helvellyn
This hostel "in nature's playground is perfect for climbing Helvellyn", one voter said, noting the unique spot 963 feet up one of the UK's highest mountains with some of the finest starter scrambling in Striding Edge and Swirral Edge on its doorstep. But location isn't all there is to YHA Helvellyn. The friendly staff, welcoming atmosphere and buzzing social spaces have won the votes of many this year.
Shortlisted
Campsite of the year
WINNER: Red Squirrel Campsite, Glencoe
Campsite of the year proved a "hard choice" for some voters. But Red Squirrel pipped the competition to the post with a quarter of the votes thanks to excellent facilities – lots of you love the campfires and dipping spot – as well as the friendly staff who go above and beyond. But the setting is world's apart from the rest, according to our readers. "It's rustic enough that it still feels like camping" and is "far enough out of town to be secluded, but close enough to visit the town for a meal." Happy campers, here!
Sandi and Matt MacLeod, the new management, said, "This award for best campsite in our first season is fantastic. It's great to be appreciated by people who love the site and location as much as we do!"
COMMENDED: Great Langdale Campsite (National Trust)
Within wandering distance to the Old Dungeon Ghyll pub, this campsite is beloved by hardcore climbers and scramblers as well as families, cyclists and ramblers alike. Under the shadow of the Langdale Pikes, it welcomes all kinds of campers in tents, motorhomes, campervans, or those looking to snuggle down in wooden pods for the weekend. The drying room puts others to shame, according to one patron.
COMMENDED: Wasdale Campsite (National Trust)
Another site within rolling distance from a famous local watering hole, the Wasdale Head Inn, this Nation Trust spot allows visitors to gaze up at the majestic screes while they cook their breakfast. Nestled into the peaceful western fells, alongside Wast Water, this campsite offers some peace and quiet. One voter said, "Wasdale campsite is simply gorgeous. Tame robins will even fly into your tent when you're inside!"
Rachel Johnston, Head of Holidays at National Trust said, "I'm over the moon to hear that two of our campsites in the Lakes have been shortlisted for Campsite of the Year by readers of The Great Outdoors. The teams at Great Langdale and Wasdale work tirelessly to deliver the best possible experience for our guests and every year they bring hundreds of people closer to the nature, beauty, and history of this stunning National Park."
Shortlisted
Walkers' app of the year
WINNER: OS Maps
Claiming the top spot for the sixth year in a row, the OS Maps app must be running out of space in its trophy cabinet. The navigation app from Ordnance Survey secured a whopping 45 percent of the public vote – a convincing victory for 'The OG', in one voter's words – and received high praise from many readers. One put it plainly: "OS do it right."
Nick Giles, Managing Director of Consumer at OS said: "We are delighted to have yet again won The Great Outdoors' prestigious Walkers' app of the year award. We are always extremely proud of awards that are nominated and voted on by our customers. We are continually focussed on driving product improvements with OS Maps so this award is a great endorsement of this continued effort. Of course, we could not have achieved this without the dedication of our fantastic team and I'd like to take this opportunity to thank all of them for their phenomenal work. Thank you to everyone who voted for us but the most important thing is that everyone continues to get outside safely to improve their physical and mental wellbeing."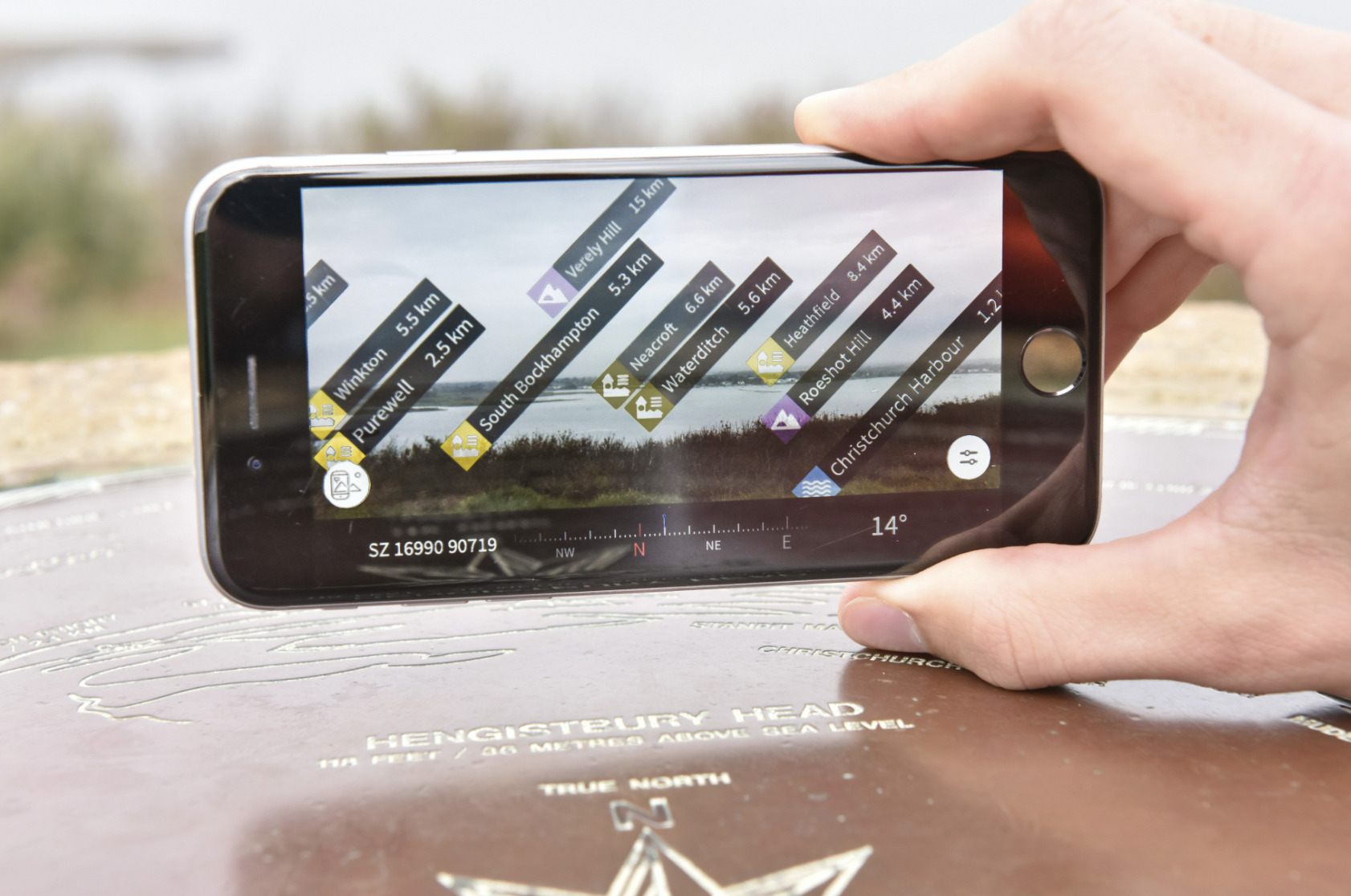 Photo: OS Maps
COMMENDED: AllTrails
AllTrails, the app that provides detailed, hand-curated trail maps, along with reviews and photos crowd-sourced from a community of over 20 million outdoor enthusiasts, is commended again in The Great Outdoors Reader Awards 2022, having taken bronze in last year's awards. One voter said, "It's the best in this listing" and another added, "I don't know what I would do without it." Another voter praised it for inspiring them to get outdoors, adding, "Whilst the OS Maps app is great for planning, when it comes to getting inspiration AllTrails has got me out so much this last year. I've seen so many beautiful sights locally! It's nice to browse and go somewhere you wouldn't even think of!"
An AllTrails spokesperson said, "The UK has many of the world's most beautiful walks and AllTrails is proud to be a trusted companion for TGO readers on their trail adventures."
COMMENDED: what3words
New to the podium in this category, the what3words app was voted for by those who cited it as a reassuring addition to their app arsenal when it comes to mountain safety. One voter said: "The accuracy of what3words gives me the confidence I'll find my destination."
Shortlisted
Outdoor film or filmmaker of the year
WINNER: Haze Outdoors
"I discovered Hazey during some of my darkest days," one voter said of this YouTuber who documents his adventures in wild camping, foraging, free diving, hiking and bushcraft. "At first, his humour made those days a little lighter but there's much more to his videos. His genuine passion for hiking and camping shines through." Others praised his "human side" and ability to speak out about men's mental health while one simply loves to watch this "natural in front of the camera."
Paul Haze said, "I find it hard to put into words how grateful I am for the support and love I've been shown over the years and I'm extremely grateful to everyone who voted. Thanks for helping keep my noggin' in the green, I send you nowt but love."
COMMENDED: Paul Messner
Paul Messner has been providing camping and backpacking content and reviews for years, and his ability to "demystify" the minefield for newcomers has won him a lot of support. It was a close-fought battle among the wild camping YouTubers in this category this year, but for some, Paul got their vote for his "honesty" and "unbiased" reviews as well as his friendly approach. Paul's wife also got a shout-out from one viewer who said they make "a great team." Another said his honeymoon wild camping video "was so special it brought a tear to my eye."
COMMENDED: Bushman and Blue
This wild camping and swimming YouTuber hopes to inspire adventure for others with the help of his canine companion. Clearly, the pair have done just that and won your votes along the way. One voter said, "He inspired me to join the National Trust and to get out hiking which has really helped me enjoy the small things in life. Also, Blue is so adorable and one of the best-behaved dogs I have seen. He's a real credit to Al."
Al told The Great Outdoors, "I just feel happy to be recognised for what I am doing and having a platform to inspire people and spread some positivity. Get outside!"
Shortlisted
Outdoor book of the year
WINNER: 'Fell Asleep' by Russ Moorhouse
Russ Moorhouse set himself a mission to sleep – or more specifically, bivvy – on every single Wainwright. Besides being an incredible personal feat – "Russ really did put the effort in by heading out in all weathers to build a relationship with the fells," one fan said –  his book on the adventure "got us all out in our bivi bags", according to another reader. You loved the "authentic commentary", route descriptions, and wonderful photography in 'Fell Asleep', with more than one voter dubbing the book a "love story" dedicated to Lakeland.
Of his win, Russ said, "What an honour! I'd like to dedicate the award to the beautiful Doro. The star of the story, she made my dreams a reality."
COMMENDED: 'The Trespasser's Companion' by Nick Hayes
"Access is increasingly under threat and Nick Hayes is doing a brilliant job in trying to get for England what is the norm in Scotland," one fan who voted for 'The Trespasser's Companion said in their comments. This commended book shows us all how to win greater public access to the English countryside, by trespassing on it. Another reader called it "articulate, well-researched and important."
Nick said, "A huge thank you to my publishers for making this book possible and The Great Outdoors magazine for appreciating it – the only thing that counts, though, is winning a greater right to roam across England and Wales. Just wait for next year to see what we have in store!"
COMMENDED: 'We Can't Run Away From This' by Damian Hall
"Climate change is the race we have to win, and the most urgent crisis the world has ever faced," one voter stated, adding, "Yet, Damian manages to distill the complexity of the crisis into simple and in some cases light-hearted words, showcasing how the running and outdoors community really can be a force of nature and change the world for the better." You were impressed with Damian Hall – an ultrarunning journalist of Pennine Way FKT fame – and his examination of the impact of running on our climate and the current ecological emergency, as well as the depth with which he tackled the issue of technical gear production and manufacturing.
Damian told The Great Outdoors, "I'm really chuffin' chuffed. Especially as it's not an especially cheery or fun read. Thank you, ace folk, for embracing the message."
Shortlisted
Independent retailer of the year
WINNER: Whalley Warm and Dry
People travel from across the country for Whalley Warm and Dry's specialist boot fitting service and their stock of high-quality outdoor brands. But it's the service that really captured the votes of our readers. Owner Jon Smith shared, "A huge thanks to all of our fantastic and loyal customers. Thanks also to all of our suppliers, particularly Altberg, Paramo, Meindl, Rab, and Montane. If you are planning to visit to take advantage of our boot fitting and footwear customisation service, please make sure that you book an appointment on our website before travelling."
COMMENDED: Outside (Hathersage)
A regular winner of our independent retailer of the year award, this family-run Peak District shop has made the podium again in 2022. Between the breadth of expertise, friendly approach, and the cafe, one said, "Any trip to Hathersage must (and in my case does) include a visit to this store with its knowledgeable staff and wonderful equipment."
"Here at Outside we are delighted to be nominated in The Great Outdoors Reader Awards again this year," Rob Turnbull, Managing Director said, adding, "We put all our efforts into giving our customers the highest level of friendly, honest advice and do our best to service them with all the clothing and equipment they need for their outdoor activities and being recognised for this is great. The enthusiasm and support we get from our staff and customers is fantastic and we are all very proud of Outside. Thank you all for the nomination."
COMMENDED: Needle Sports (Keswick)
Named after Napes Needle, that iconic rocky pinnacle on the side of Great Gable, this Keswick-based outdoor store has been catering to climbers, mountaineers and hikers since 1990. Impressed readers consistently cited the customer service and friendly advice on offer. One voter said, "It is a little treasure trove of outdoor gear – for a very small shop there's an awful lot of stock and the staff are so helpful and knowledgeable".
Shop manager, Trevor Suddaby told The Great Outdoors: "Huge thanks to everyone that voted for us. If you are in Keswick pop in for a chat and check out our excellent range of climbing and outdoor gear."
Shortlisted
Chain retailer of the year
WINNER: GO Outdoors
Our readers appear to love GO Outdoors for two main reasons: its big stores with a huge range of stock, and its competitive prices thanks to both the price match scheme and discounts. One voter commented: "Their price guarantee can't be beaten and they offer affordable gear for a range of budgets."
COMMENDED: Cotswold Outdoor
While Cotswold Outdoor was awarded the top spot last year, it was still commended in this tight race by readers. One voter said, "Cotswold Outdoor just has everything you need plus the stuff you didn't know you needed! The website is good and it's really handy to get stuff sent to the store to try on. They provide the best of both worlds; online convenience plus good face-to-face service."
COMMENDED: TISO
Once again, TISO – the Scottish retail chain founded in 1962 and now part-owned by JD Sports – has been commended by readers who praised the knowledgeable staff and extensive stock range, while also commenting on the pleasant shopping experience.
Shortlisted
Online retailer of the year
WINNER: Amazon
With a narrow margin, Amazon has taken the democratically-elected top spot in The Great Outdoors Reader Award 2022. One voter admitted, "Although I don't like what Amazon stands for or how it operates, it's just so easy to use…perhaps too easy." Another said, "You can't beat Amazon for fast delivery and convenience; the returns are easy and refunds are quick."
COMMENDED: Ultralight Outdoor Gear
A very close second is Ultralight Outdoor Gear (UOG). UOG was started by experienced backpacker and long-distance hiker Mark Richardson in 2006 with the aim of bringing the best lightweight kit together under one 'roof'. Since the online retailer has expanded rapidly – and readers are eve- impressed with the results. "UOG offer a plethora of kit reviews and advice – and their prices are fair," one said, while another said that 80% of their kit has been purchased from UOG thanks to their "unbiased reviews, competitive prices, excellent deliveries, and accurate weights."
COMMENDED: Trekitt
This is what one reader had to say about choosing Trekitt, which has been serving outdoor adventurers since 1986, as their online retailer of the year: "I've used Trekkit a few times and have found their service to be excellent, their prices to be competitive and their packaging to be environmentally friendly. I've been very impressed with their service and will continue to use and support them."
CEO Dave Cassidy said, "It is with a great pride and a sense of achievement that we accept this award. It is truly gratifying to be recognised for the focus and hard work that the team here at Trekitt have put into the delivery of its premium goods and services to our customers over the past year. Also, of course, a massive thank you must be given to all our loyal and active customers who continue to visit and shop with us, we truly appreciate your time and investment with us and recognise that we could not have done this without you. Thank you everyone and we look forward to serving you all again very soon."
Shortlisted
Outdoor clothing and equipment brand of the year
WINNER: Alpkit
Alpkit has taken the title because our readers have been "blown away" by the products they bought this year – including the Pipedream 600 sleeping bag – as well as the quality, the service, the prices and the choice across their range. A number of you noted their repair and recycling services and their community initiatives, with one person saying they are "proud to be a loyal customer of such a great UK brand."
David Hanney, CEO, said: "What a moment! All of us at Alpkit are delighted that The Great Outdoors readers have voted us Outdoor Clothing & Equipment Brand of the Year. For a small brand like us, this is a massive deal. Thank you so much to everyone who voted and to everyone at Alpkit for building a brand we're so proud of."
COMMENDED: Osprey
According to our readers, Osprey backpacks are "incomparable" and, for that, you've commended their efforts this year. The brand's sustainability and value for money – given how long they last – were both applauded and one voter commented, "How the rucksacks fit women is second to none." Another said, "I bought my first Osprey backpack a decade ago and there is still absolutely nothing wrong with it – can't beat that for sustainability and value for money!"
COMMENDED: Mountain Equipment
Again, value for money was cited as a primary factor in the number of votes raked in for Mountain Equipment this year, as well as high performance. One said: "My Mountain Equipment Gore-Tex jacket is brilliant quality, it looks good and has not let me down yet. It's now my go-to."
Shortlisted
Once again, thank you to every single one of you who nominated and voted for your favourite outdoor people, organisations and places in The Great Outdoors Reader Awards 2022. Congratulations to your winners and all shortlisted. Here's to 2023!