Sharon Brennan recalls her battle against Cystic Fibrosis, her lifelong desperation to climb the Lake District's hills and the moment she was finally able to unlock them
---
"Hurrah!" I said to my husband Chris as I flung my arms skywards and grinned at him. I had reached the summit of Cat Bells.
We were surrounded by other walkers – some taking photos, some finding a spot for lunch, others giving their dogs a drink. Climbing Cat Bells may have felt like an easy walk to many of them. For me it was the culmination of a seven-year ambition, nurtured while waiting for and then recovering from a double lung transplant.
When I met Chris in the summer of 2007, one of the first things he spoke about was his love for the Lake District. He'd summited Helvellyn a few times in the past and dreamed of going hiking there with me. When he discovered quite how serious my Cystic Fibrosis was, we joked that instead we'd helicopter up there instead, all the while knowing that it was probably never to be.
The struggle
Cystic Fibrosis is an incurable genetic illness that I was born with, which gets worse over time. It mainly affects the lungs and over the years mine became so scarred from constant chest infections that just walking to a bus stop became hard. Even as a child I'd never been able to stretch myself very far physically. Hills and mountains were viewed from a car window or from the ground below, imagining what it would be like to look out from the summit.
A few years after Chris and I met, after we had moved in together and married, it became clear that my health had taken a turn for the worse. Cystic Fibrosis was slowly getting the better of me. Eventually, at the age of 32, my doctors recommended I try for a double lung transplant as they believed I had less than two years to live without one.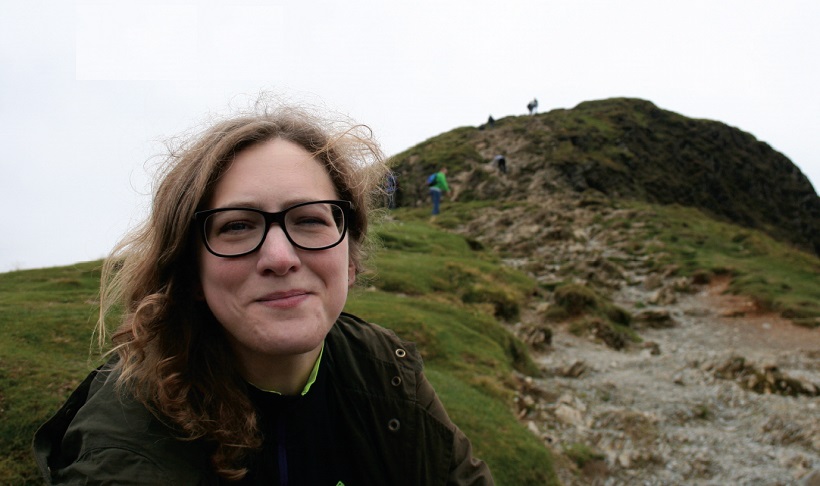 After six months of tests to check that my body was strong enough to endure such a huge operation, I was listed for the transplant in March 2013. I'd been told I could wait up to three years because of the chronic shortage of donor organs and there were often dark days when I thought I wasn't going to make it. But, miraculously, within six months I was called to Harefield Hospital, just outside the M25 in Buckinghamshire. Suitable donor lungs had been found and the 12-hour operation went ahead. Within a month I was discharged home with my new lungs and the realisation that my donor had not only saved my life but given me the opportunity to take on new adventures that had never before been possible for me.
RELATED: Get our mapped route for Cat Bells
Standing on top of Cat Bells, it was hard to reconcile my achievement with the person I had been just two years beforehand. By the January of 2013 I'd become so out of breath that I hadn't even been able to put on shoes without help. Back then I had to use supplementary oxygen even when sitting still, to help my lungs cope while I was waiting for my transplant. And yet I'd just climbed up to 451m, exhilarated with every step at how wonderful it felt to get out of breath by walking up through natural beauty.
During my other life, with my old lungs, I'd often get so out of breath just walking a few metres on the flat that I'd be forced to stop for minutes on end to catch my breath before I could start moving again. I used to joke to Chris and my friends that I was "just taking in the view", even when that view was only the end of my street.
As we wound up the paths to the summit from the edge of Derwent Water, I'd realised that my transplant had taught me to see the world differently. Even when I had the choice to push on, instead I stopped, breathed in, and looked out across the lake, reminded of the opening line from W.H. Davies's poem, 'Leisure': "What is this life if, full of care / We have no time to stand and stare?"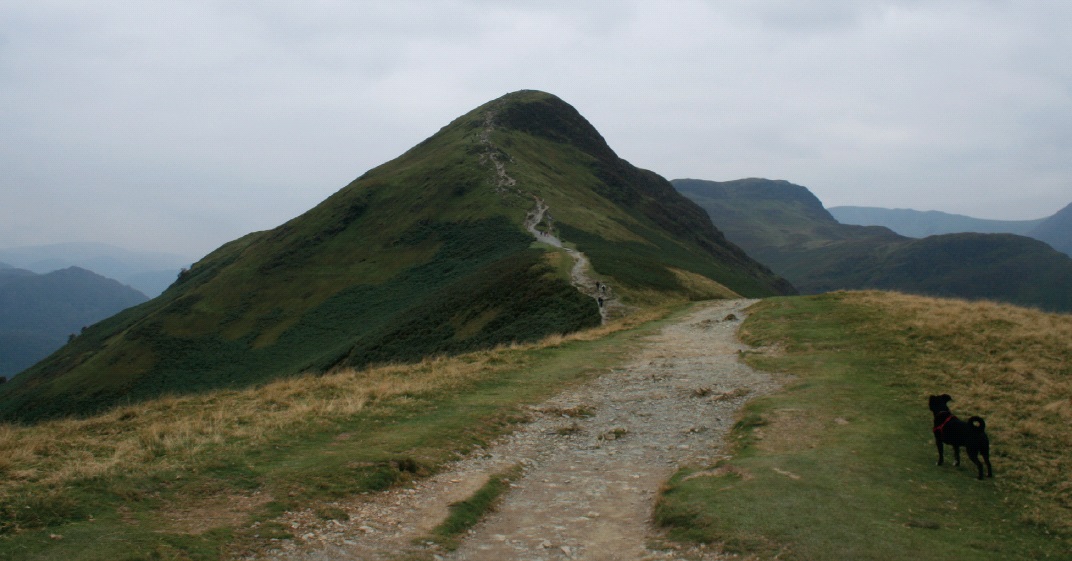 Chris and I wondered aloud about the tourists taking the wooden boats across the lake below us – they looked like toys a child would play with in the bath. What adventures were they pursuing? We marvelled at the sunlight that cast a spotlight on one of the boats, streaking silver the froth it had forged in the water behind it. The sun dulled as the day progressed and during breaks as we climbed higher our attention shifted from the lake to the surrounding mountain ranges, shyly hiding their peaks from us that day.
I began to notice the tiny details below my feet: the most delicate vanilla-coloured flowers sprouting between rocks and the vibrancy of tiny patches of purple heather.
On top of the world
As we neared the summit, it came back to me how vast even small distances had felt in the days when my breathing was so laboured. Moving between rooms in my ground floor London flat had often seemed a Herculean task that had to be accomplished step by painful step, my back and lungs constantly hurting from the struggle to breathe. Those pre-transplant experiences have left me feeling humbled at the sheer largesse and majesty of our natural landscapes. I'd never before experienced what it was like to slowly climb metre by metre until suddenly the world has fallen away below you. It was overwhelming looking out at the undulating land spreading out below, a patchwork of fields marked out by the darker green of trees, giving way to the russet brown of the mountain heath.
The last scramble to the top of Cat Bells took me by surprise. Wainwright's assertion that Cat Bells was suitable for "grandmothers and infants" had lulled me into a false sense of security. I had envisaged a dignified walk through countryside but instead the last 30 metres were a challenge. Our dog Rosie, displaying the sure-footedness of her Patterdale terrier ancestry, flew over the rocks and crevices coming back occasionally to check on her owners. As I looked for foot-, knee- and hand-holds, more than once I followed the path she intuited among the mass of rocks. But the finale was an absolute delight. There is something fantastic about getting muddy and dirty and not caring.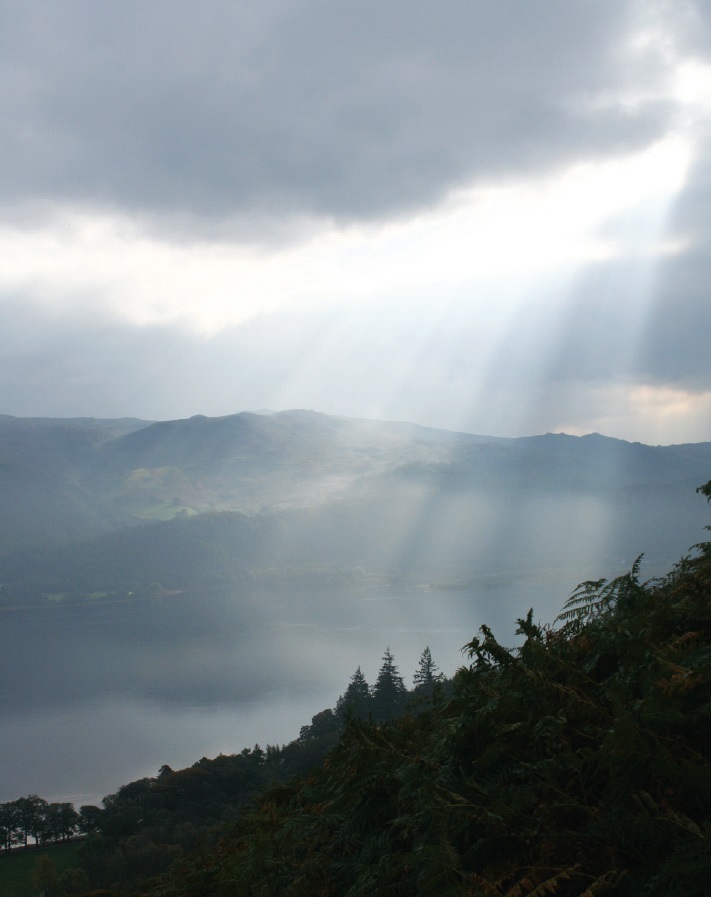 The camaraderie Chris and I had sensed on the way up came into full effect in those last 30 metres, as strangers united to guide each other to the top. My donor was in my heart in that last push before we made the summit and her family's gift to me was mirrored in the kindness and unity of my fellow walkers that afternoon.
After we reached the summit, we wound downwards through ferns, waiting at one point for a train of sheep to finish crossing our pathway. The foliage wrapped the hillside in alternating stripes of verdant green and vibrant orange, the season not yet fully committed to autumn.
Savouring the stillness
We reached the landing dock with 40 minutes to spare before the next boat was due to arrive to take us back to Keswick, so we sat on the rocks and looked out over the lake. Dusk was soon approaching and the wind was rippling the surface of the water. During my long illness I had been forced to learn to find happiness in sitting and watching and doing very little. Walking for me still feels miraculously novel, over two years on from my double lung transplant, but there remains something to be said for sitting still, at peace with the landscape. I took the time to breathe deep and be thankful for the journeys that I can now choose to make.
I am yet to try Helvellyn due to some ongoing health niggles linked to my Cystic Fibrosis but I know I will return to the Lake District. As I strode forth that day, taking so much pleasure from the experience, I realised that the joy of walking comes just as much from the future possibilities that spread out before us all as from achievements of a single day.