Do you record your walks in a notebook, a spreadsheet, or maybe an online service? We explore the different ways our readers are recording their mountain adventures.

There are a lot of mountains out there to climb, and for most of us, hillwalking is a lifelong passion. Human memory is fallible. While there's something to be said for rediscovering a hill you'd forgotten all about, most of us soon realise we need to make some kind of record of our time spent in the mountains.
Such records vary from person to person. Some walkers are content to let their photos tell the story. Others might keep a simple list of summits and dates, or a comprehensive walking diary; another common solution is to use an online platform such as Walkhighlands or UKHillwalking. Whatever you use, memories are important.
We invited readers and contributors to get in touch and share their methods for logging and recording their hill days.
The Twitter poll
We ran an informal poll on Twitter, which received 92 responses. Online services was the most popular reply, with notebook/logbooks coming not far behind.
How do you record your hillwalking, mountaineering or backpacking adventures? Please add a comment to expand on your choice…

— The Great Outdoors (@TGOMagazine) January 3, 2019
People who took the time to respond in more detail offered a wealth of different options:
Mixture of them all. Brief notes in a logbook, routes on ViewRanger, photos for features and locations and finally write on the website/blog after ?

— Matt Holland (@mihollandphoto) January 3, 2019
Through @MT_Association DLog but also on https://t.co/gxbs5DkOcO. Climbing though goes on @UKClimbing logbook. ?

— Emily Thompson ?❄️⛏ (@Tinkadventures) January 3, 2019
I use Garmin Connect, but also keep a record on a spreadsheet.

— The Lone Peakbagger (@LonePeakbagger) January 3, 2019
Mixed media @Movescount and record details on iPages. Both assist with keeping track of mileage.

— Chris Sweetman (@ChrisAFRIN) January 3, 2019
Could do with being able to give two choices. I keep a handwritten hill diary – there was no on line option when I started but also use the excellent Hill Lists app.

— Ali Ogden (@AEOgden) January 3, 2019
Case studies
Paul Allen
"Hillwalking memories are great, especially when one pops in your head when you're doing something mundane like in the office at work and you remember a great trip with friends. They also keep you going between trips.
"After being made redundant, I decided to put some of mine down on paper and self publish some of my hillwalking routes and photos. I'm now starting to think of writing another one, especially as I am back working again so have been able to replace my old, and slightly battered, camera.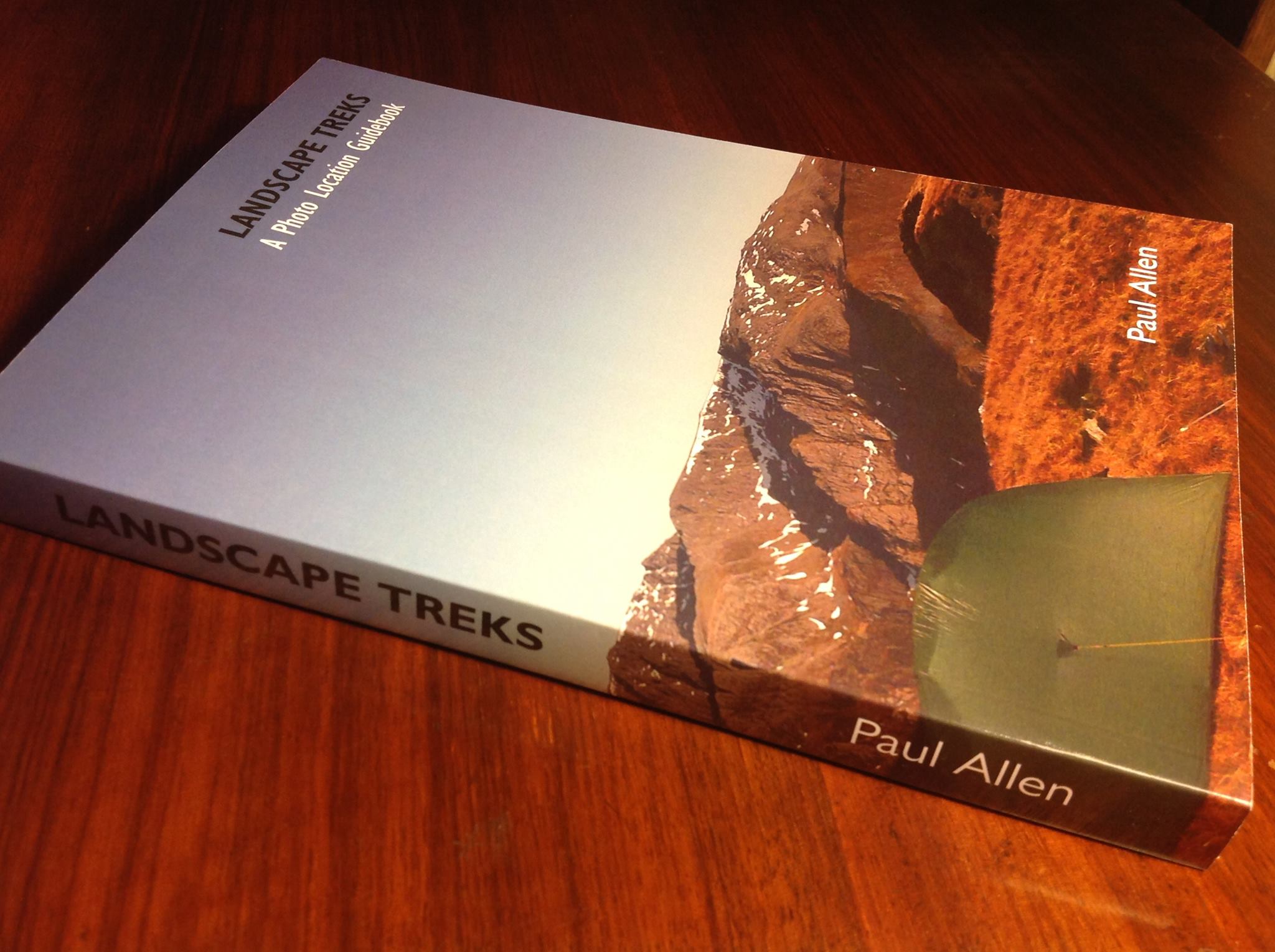 "Maybe writing a book is a bit like looking back on those 'interesting' hill memories. You forget how hard it was at the time and only see the fun side of it. Either way, I love to get a map out or flick through some photos to remember good times on the hill… and start planning the next one."
Landscape Treks: a photo location guidebook by Paul Allen
Martin Banfield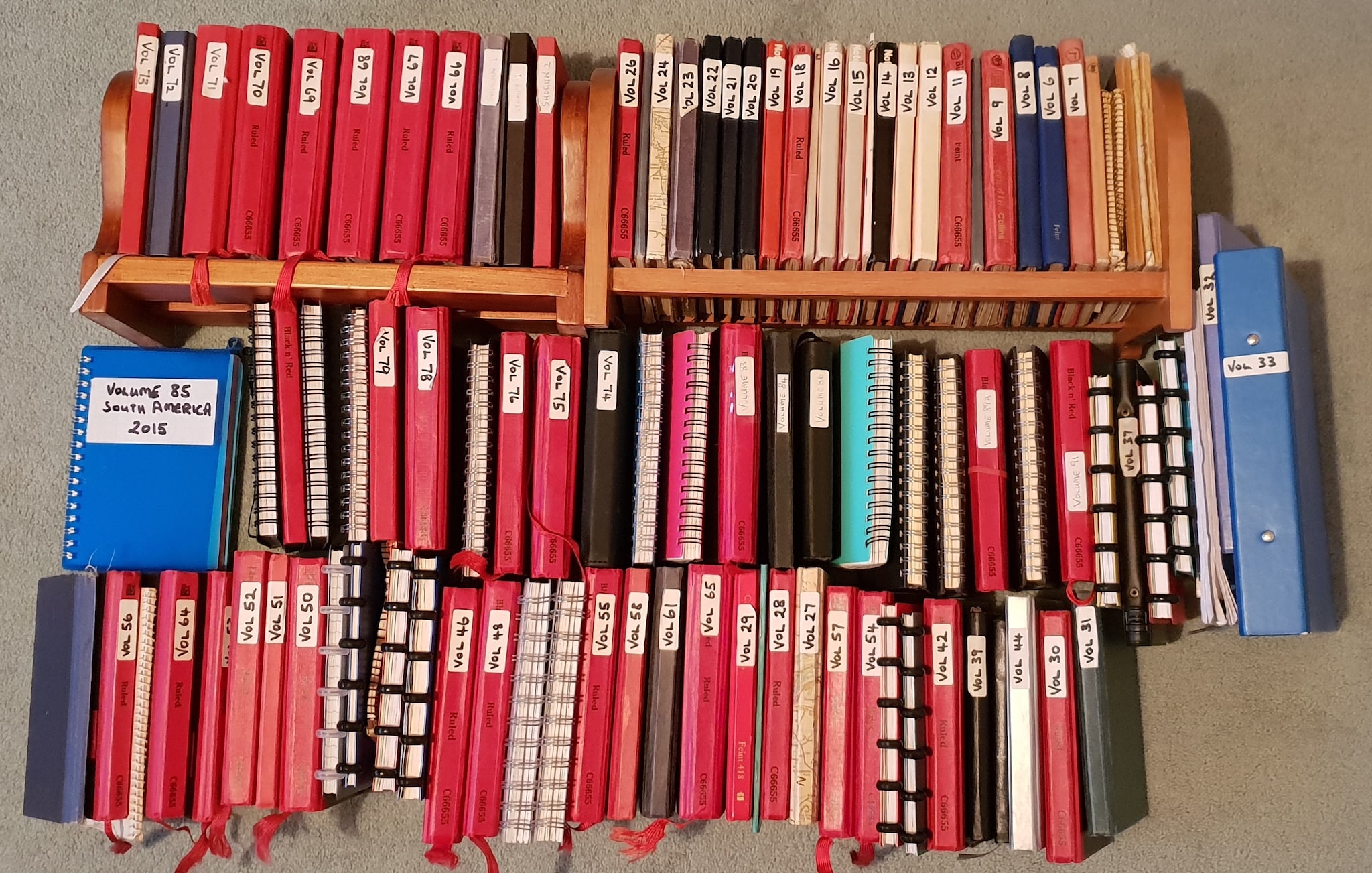 "I have a hillwalking diary from 1980 onwards. Currently at Volume 93. Also in excess of 3,100 blog postings – including a few TGO Challenges and long distance walks, with over 1,400 attributed the 'Walks' label."
Barbara Matthewson
"I celebrated my 70th birthday this year, and can look back on days in the hills starting in 1963 when I was 15.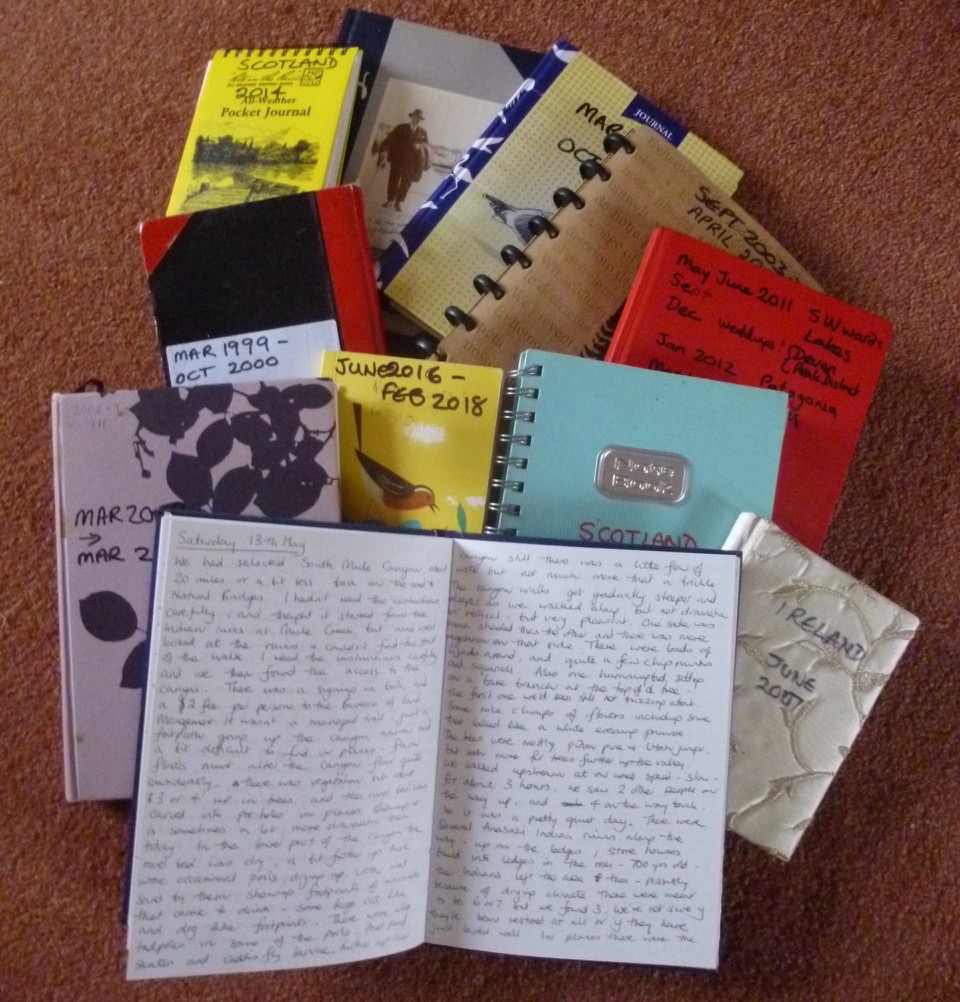 "As well as obviously enjoying the days themselves, I've taken photos, kept diaries, made scrapbooks and compiled a spreadsheet. Arguably there is no purpose to doing this – few people see the photos, and no-one reads the diaries. My sister tells me not to bother – it'll all end up in a skip when I'm gone! But I like to have a reminder of where I've been, and perhaps one day I'll sit and read it all and it will help me relive my experiences.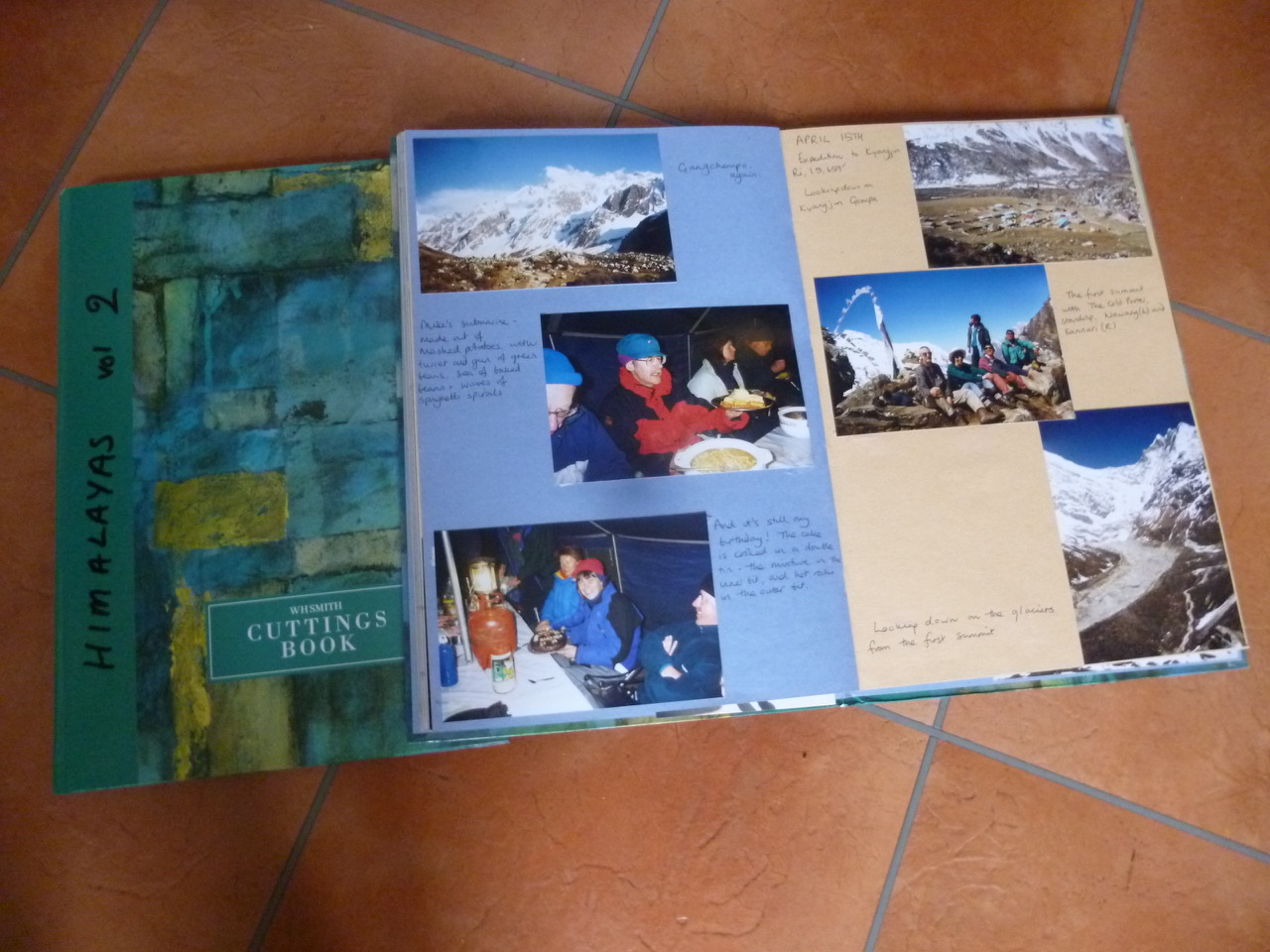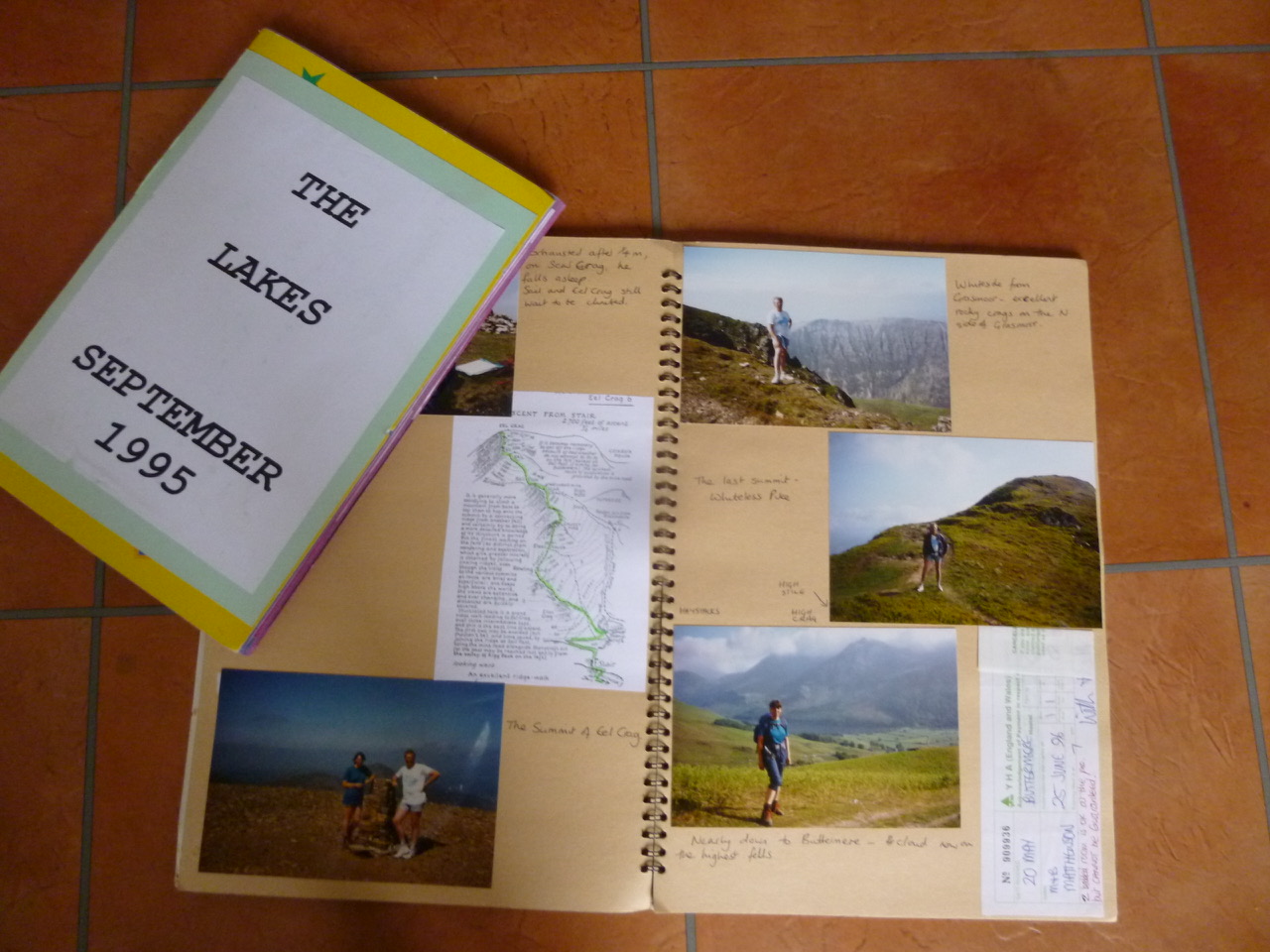 "This is a selection of the jumble of notebooks in which I've written notes on my days on the hills – not any great insights into the meaning of life and my inner thoughts, just where I went and what it was like, but reading it through it brings it back to life for me. No-one else has ever read them. It would be a tedious task! But should I ever be in a coma, when they say playing music and talking helps bring people back, I have asked my family to read them to me!"
Neil Reid
"I haven't kept a hillwalking diary for years now, but discovered an interesting thing once: I was looking through some old diaries and was somewhat taken aback to see I'd got it wrong! How I'd written up the day at the time wasn't at all how I remembered it – and my memory was so strongly established that I did wonder at first if I'd written it wrongly on the day.
I've had that happen more recently, too, with my blog, remembering details quite wrongly in an incident that had been very intense at the time and which I'm surprised I could have got wrong. But the blog was written within a couple of days of the event, so I guess it's more likely to remember correctly! I just wonder at what stage the details changed in my head."
cairngormwanderer.wordpress.com
Alex Roddie
"I use a variety of methods to record my walks, but at the core of it all is a set of handwritten notebooks stretching back to 2004: a summary logbook containing just the bare-bones details of each trip, plus more extensive notes in the pocket notebooks I take with me into the hills. These notebooks are small so they get filled up quickly.
"I also store the photos I take on the hill in Lightroom, using a folder structure that makes it easy to find images from a particular trip. This is a great visual aid and it's often easier to recall the events of a day out by looking at the images.
"Finally, I write articles and blog posts about my trips. Published features could end up being the longest-lived record of them all – it's strange to think my hill stories might end up in a pile of magazines in someone else's attic decades from now!"
John Rowlands
"As someone retired after a career in IT, I guess it was inevitable I'd use my PC for recording walks.
"Given that planning goes hand in hand with recording the outcomes, there are overlaps. The Walkhighlands website helps me plan walks, track hills climbed, and the option to create personal maps is very good. In addition, I use an Excel spreadsheet I created with worksheets for all the Munros and the Corbetts using details from the relevant Cicerone guide. A summary worksheet logs where I walk, when, who were my companions, route taken, distance walked and time taken. I also add a brief commentary regarding the weather or other highlights.
"A useful feature in Excel is the Pivot table, worth learning. Here's a visual view showing the Munros I've yet to climb. I need to go north! You can customize the view for example by time, ascent, number of Munros per route etc.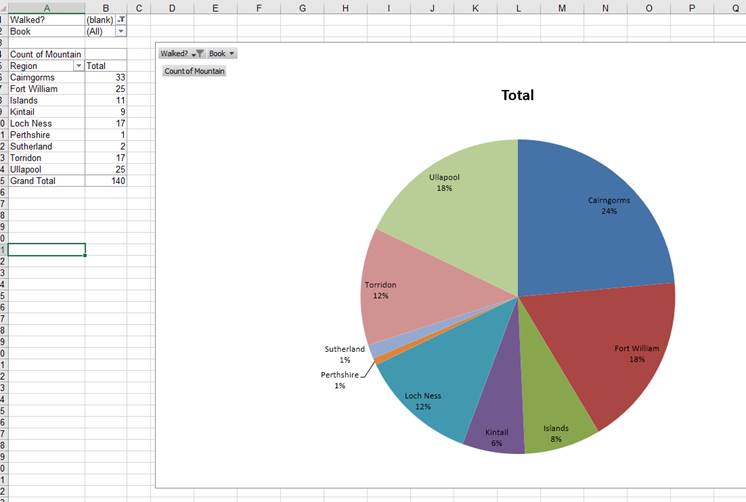 "Finally, I use a PowerPoint file, my Munro Photo Logbook with one photo chosen for each Munro I have climbed and the date with six photos per slide. The dates here can take me to all the other photos I took on the day. If the weather's good I'll have several of those."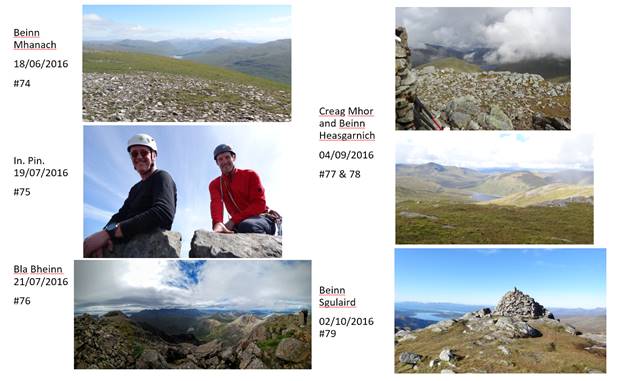 Hazel Strachan
"Here are my diaries from a 5th to 10th Munro round; my 11th round is being written up in the Liberty of London notebook.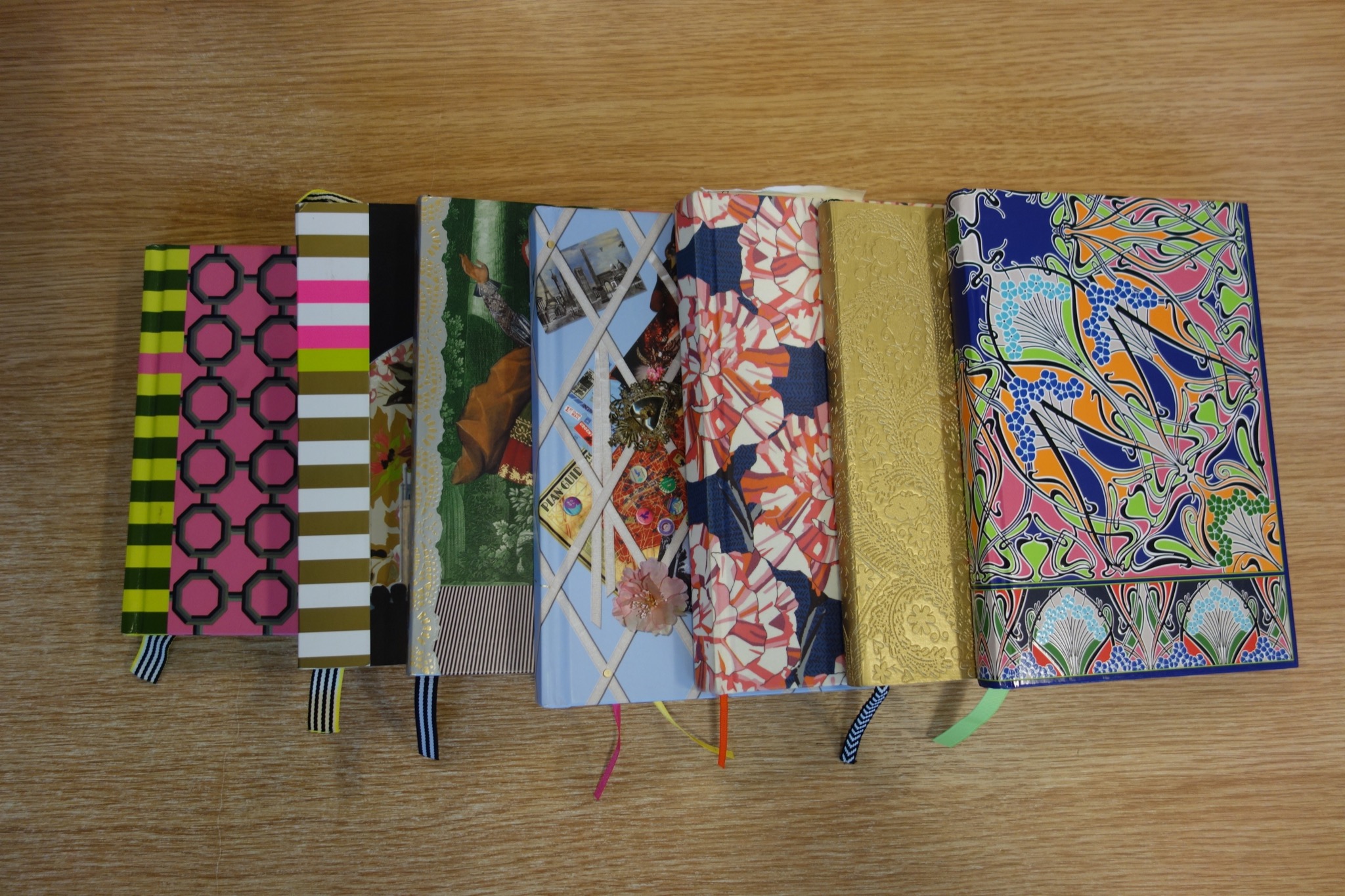 "I like to note the times I'm out on the hills, the weather, if I'm camping or bivvying, which are always written at the top of the page. I like a page with narrow lines so I can write more! There is the occasional day on the hill which never gets written up although the date and hill is logged.
"On the front page of the book I'll keep a running list of the best days of the Munro round. I find this helps to jog my memory when I write my 'compleation' letter to the Clerk of the Munro List at the SMC. I'll note any exceptional weather data, how good a winter or summer has been, and how many Munros I was accompanied up.
"I don't bother with online logs or blogs because I simply don't have the time to do it. I use Flickr for photos and I like scrolling back to see what the weather was like on a particular day or season. I prefer looking at photos to jog my memory about a trip rather than spending a night reading diaries.
"Munro rounds from the year 2000 up to a fourth round are logged on spreadsheets at work. If you are wondering why the covers of the diaries are so colourful (rather a challenge to good taste) it's so they don't get accidentally binned when I'm tidying the house…"
Header image © Alex Roddie