Even though he's climbed all of the world's 8000-metre peaks, Alan Hinkes still relishes the Lakeland mountains… especially under snow. Here he explains why
---
Penetrating cold arctic evening air began to sear through my clothes causing a momentary sensation as if I was on a snowy glacial Himalayan peak in thin icy air. Thankfully I was closer to home, this time on Scafell Pike watching the sun set. My fell walking friends had left me and set off back to Seathwaite in daylight. I waited alone watching the sun sink into the Irish Sea and darkness engulf the fells before descending the Corridor Route to Sty Head to catch the others up. This was a voluntary benightment; I had planned ahead for a night walk and packed a headtorch, spare batteries and bulb. A night walk gives a different hill experience; it's more challenging to navigate, of course but I often let my eyes get accustomed to the darkness and walk 'tactically' by starlight and moonlight. This evening, however, I was moving fast, jogging slightly to catch my mates, and using a torch.
"Over here! I'm stuck! Arrrrrg! Help me! Over here!" I heard a man shouting. I slowed, then stopped and listened. I scanned the darkness for his torch light, but it was pitch black."'Where are you?!" I hollered. I got the traditional reply "Over here!"
Not much help.
"I've lost the path and can't see," he shouted. Eventually I realised the sound was coming from somewhere left of the path and below me. He had no headtorch and had strayed into a mini Piers Gill-like ravine. My light on the path above had attracted his attention and set him off shouting. If I had not stopped and helped him back on to the path he would have been stuck till the next morning; there was no one coming down after me. Using my torch to lead him back onto the path I recognised him, he had set off from the top two hours before me and had been wandering around disorientated in the dark. I have had a couple of close shaves myself in the Lakes in winter, but this chap was lucky, it could have been a long cold dark night if I had not come along with my torch.
At its best under snow
In early winter the days are short and fleeting, and in some parts of the Lake District the sun does not rise above the fell tops, plunging the valley and any farmhouse into perpetual shadow until closer to spring. I often plan my walks on the sunny side of a fell, making the most of any weak winter sunlight. On clear cold evenings before it's pitch dark the lower sky above the Fells is often tinged Arctic purple, a precursor to a hard frost. Inversions are more common too; cold air sinks down the fell sides condensing into ethereal valley mist and fog, creating a magical, impermanent landscape of peaks bursting through a sea of cloud. Blue sky and pristine bright white snow turns the fells into a winter wonderland. When the winter weather is wild, sometimes I'll go out in a blizzard, just for gnarly fun and navigation practice (but remember ski goggles are useful to brave the stinging wind driven snow, sleet and rain). Inclement weather conditions like this can make the Lakes seem as serious as any mountain range. What in summer is a pleasant bimble or easy ridge scramble can become a testing serious challenge.
There is no doubt in my mind, even though I'm a Yorkshireman, that the Lake District, especially in winter, is one of the finest mountain ranges in the world.
Unmissable winter routes
My first forays in winter many years ago were usually to Great End or Helvellyn because they hold any snow fall on their north faces and deep in the gullies. Two of my favourite winter expeditions are to the ridges of Helvellyn and Blencathra.
Striding Edge, but either way is just as good. The rock on the ridges is noticeably scratched and scarred from crampons and walking spikes. I don't always use crampons, but if you feel safer and can move more confidently in crampons then use them. It is a good idea to practise wearing crampons before you need them however, as they can cause accidents when they ball up with snow, come loose or snag on your trousers.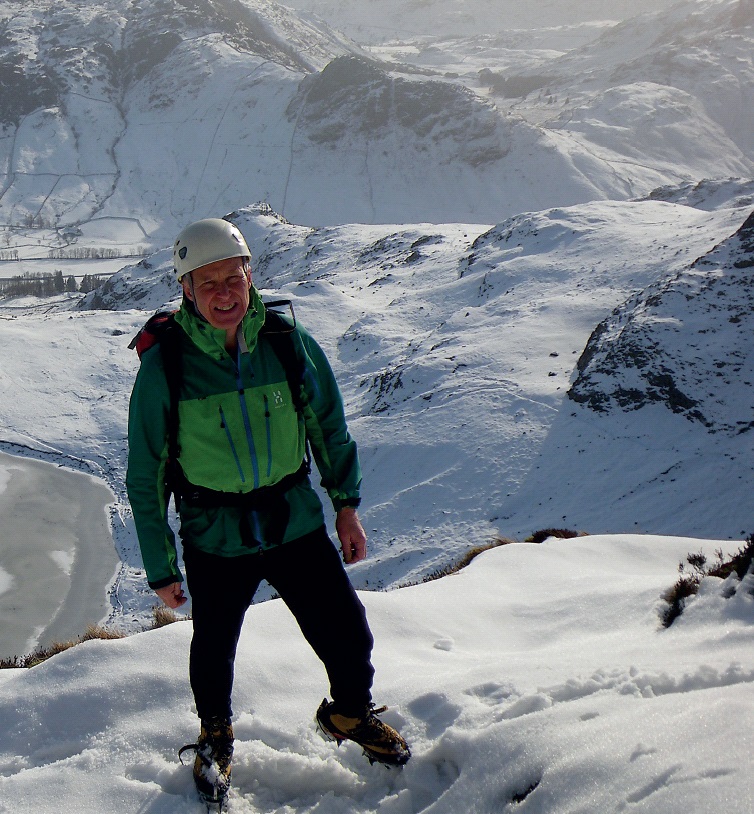 Sharp Edge on Blencathra is shorter than the Helvellyn ridges, but much more serious. The slatey rock slopes outwards and has less friction and in winter is much less forgiving than Swirral or Striding.
From the summit of Blencathra, a descent of Hall's Fell Ridge or any of the other easier ridges back to the A66 makes a fine day out too, especially when they end at The White Horse Inn in Scales with their excellent local beers and good food, plus free WiFi so you can Tweet any of your heroic pictures!
Jack's Rake on Pavey Ark is another summer scramble which turns into an excellent winter route. It is airily exposed, more serious and tricky than a walk, and getting the morning sun, a lot of the snow melts quickly so you might get down too early for a pint in the National Trust owned Stickle Barn or Langdale's famous Old Dungeon Ghyll bar.
Safety first
The Lake District is well known for its glorious Lakes and copious rain which helps fill the Lakes, but mention snow, ice and avalanches and people are often disbelieving. The mountains covered in snow should never be underestimated. They may look soft, white, familiar, photogenic and enticing, but they can be lethal. Winter can turn the benign, cuddly Beatrix Potter, friendly Wainwright landscape into a serious mountain environment.
Incredulous as it might seem I have been avalanched and nearly killed in the Lakes. Great End's north face is a notorious avalanche hot spot. Nevertheless in late March a few years ago I decided to solo a snow and ice climb called Window Gully on the right of the face, just left of the easy Cust's Gully with its impressive huge chockstone jammed high above the gully walls. I was aware of the avalanche risk, which is why I had avoided the big Central Gully, which was stuffed with snow and looked extremely avalanche prone. Slightly perturbed at the snow state I tentatively ascended the steep Window Gully and topped out onto the easier-angled hard packed snow slope leading to the summit of Great End. As I continued up I triggered a wind slab avalanche dragging me back towards the cliff edge and a 200 metre fall. My mountaineering instinct saved me, I immediately crabbed sideways and rolled out of the sliding snow a split second before plunging headlong over the edge.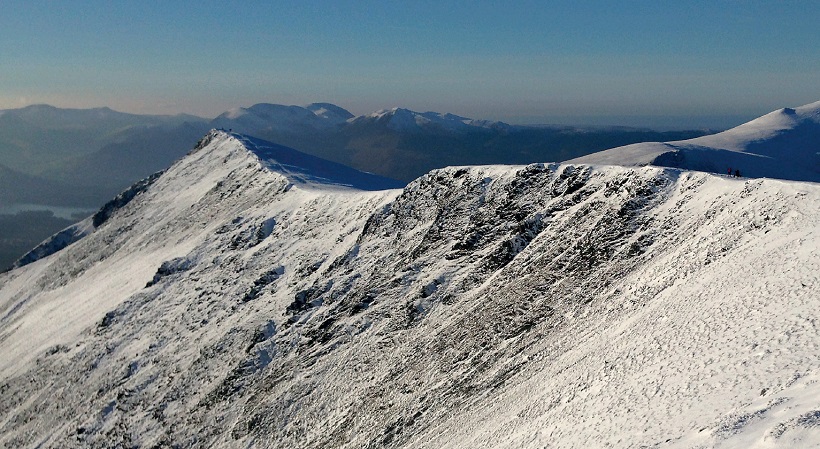 Shaken, I scrambled out of danger and set off down the snow covered path to Esk Hause; it had been a near miss. Two other climbers thought I had gone down with the avalanche and dialled 999, which in the circumstances was the correct course of action. As I got back below Great End near Sprinkling Tarn I realised that a call out had been made as two helicopters appeared flying up Grains Gill. All is well that ends well and the Mountain Rescue Teams were glad that it was a happy ending with no dead body to collect and I did get a lift down in the helicopter along with the two climbers who had raised the alarm.
Incidents like this serve as a propitious reminder not to get complacent in winter no matter how enchanting the Lakeland Fells look.
I have climbed in the greater ranges on huge mountains, yet I still love the Lakes, especially in winter when the evanescent quality of the experience makes it all the more special. Grab it; delight in it; safely revel in it; for it will not last long and then you will have to wait until the next ephemeral Lake District winter.
A fine end
A lot of the pubs have a different appeal in winter. The fires are lit, they are less crowded and after a chilly day on the Fells it is lovely to go into a warm pub with a real fire for a real beer. There are plenty of gems. The George in Keswick, Golden Rule Ambleside, Stickle Barn and Old Dungeon Ghyll Langdale, Britannia Elterwater, Three Shires Little Langdale, The Old Water View Patterdale, not far from the White Lion is gaining a following. In Coniston there is the Sun Inn, where the first meeting of the Fell and Rock Climbing Club (FRCC) was held in 1906 and Black Bull, home of Coniston Bluebird Bitter. Further west there is The Strands Inn, Nether Wasdale, with its own micro brewery and home made pies, at the head of Wasdale valley there is the legendary Wasdale Head Inn. Even if the snow melts, there is always a good pub and real, usually local Cumbrian, beer not far away.