Keen to branch out and develop the skills to climb higher peaks? Mountain writer Mark Horrell has five objectives that should be on your to-do list…
It took Mark Horrell ten years to progress from being a regular UK hillwalker to being a competent mountaineer with the skills and experience needed to reach the summit of Everest, a journey he documented in his book Seven Steps from Snowdon to Everest.
We asked him to recommend a series of mountains further afield that more experienced hikers should visit if they are interested in reaching a challenging altitude.
1. Jebel Toubkal, Morocco
We have different reasons for getting out into the hills – whether it's for physical exercise, to camp under the stars, to escape the rat race, or to feel at one with nature – but we all do it because we enjoy it. Climbing to high altitude should be no different. There's no reason it needs to be an ordeal, even when it's challenging.
My best advice to anyone who dreams of climbing a big mountain is to do it in small steps, one mountain at a time. As with anything in life, it gets easier the more you do it. So start small and work your way up gradually. Always remember that the journey is more important than the destination.
At 4,167m, Jebel Toubkal in Morocco's High Atlas mountains is the highest peak in North Africa. It provides a good opportunity for a hillwalker to get used to high altitude, without having to learn any of the technical skills you would need to reach a similar altitude in the Alps. It also has Marrakesh as its base, a city which is as vibrant and colourful a place to relax as anywhere in the world (though you need to be careful you don't end up buying a carpet).
In the summer, Toubkal is an easy (if thirsty) trek on a good trail. It can be done in three days (two days to the refuge and back, and one day for the ascent), though it's a good idea to extend your trek by two or three days to acclimatise to the altitude. The ascent itself is a 5-7 hour hike up and down from the refuge at 3,200m.
If you're an experienced winter hillwalker who is familiar with ice and axe crampons, then you can avoid the sweltering heat of summer by climbing Toubkal in winter instead, when there is always snow, but nothing very technical.
2. Everest Base Camp, Nepal
Nepal is a land of amazing contrasts, from lowland plains, jungle and wetlands in the south, to the lush forested hillsides and deep valleys of the mid-lands, to the vast snowcaps of the Himalayas in the north, containing the highest mountains on Earth.
It's a place that has fascinated hikers and mountaineers ever since it opened its borders to tourism in the 1950s. It is the country where the concept of fully supported trekking was invented, and it's well set up for multi-day hikes that can be completed in a variety of styles, depending on your budget and preference.
It's the best place to go to get experience of spending long periods at a very high altitude, and the cold temperatures that go with it. The scenery will live long in the memory and leave you yearning for more.
The Everest Base Camp trek is completed 'teahouse style', in cosy lodges that provide hot meals and basic accommodation. It starts in Lukla at the comparatively low altitude of 2,800m, and takes you though many different climate zones in the course of its journey to the viewpoint of Kala Patthar at 5,643m. Starting off in farmland, you pass through colourful rhododendron forest, alpine conifer forest, grassy moorland of dwarf rhododendron and juniper, and finally the ice and boulder fields of the Khumbu Glacier.
You need a minimum of two weeks to complete the trek safely and comfortably, but trekking in Nepal is always more fulfilling if you give yourself three weeks to visit some of the quieter places. A longer version of the Everest Base Camp trek will allow you to explore the lakes of the Gokyo Valley and take you over the high passes of the Cho La and Renzo La. The Gokyo Valley was also the location of a famous yeti sighting in the 1970s, though you need to be lucky to see one.
3. Kilimanjaro, Tanzania
For many hillwalkers, the idea of climbing the highest mountain in Africa sounds incredibly daunting and something they will need to train hard for, but if you've climbed Toubkal and trekked to Everest Base Camp, there's no reason it needs to be. In fact, it's the next logical step up.
Some people approach 5,895m Kilimanjaro as a tough physical challenge, a tick in the box to say they've done it; some do it to raise money for charity. Many are so exhausted by the time they reach the top that they can't even remember what it was like up there; it's no fun, and they have no intention of doing anything like it ever again. It doesn't have to be like that. It's nice if a charity can benefit from your climb, but it's not compulsory, and you don't have to do it in a rhino outfit.
Summit day on Kilimanjaro is a long day. Starting from 4,650m at midnight, you climb through the night and hopefully reach the summit shortly after dawn. Most people then descend to one of the lower camps such as Horombo (3,700m) or Millennium (3,800m), reaching it some time in the afternoon.
"if you want to continue your progression to higher altitudes, sooner or later you're going to need to pick up some climbing skills"
If you're a fit hillwalker who does regular exercise, and you know you can push yourself on long days, and if you've been to Everest Base Camp and can cope with the hardship (headaches, nausea, etc.) that sometimes go with high altitude, then you have nothing to fear from Kilimanjaro, and the whole experience should be fun.
Ascents of Kilimanjaro involve climbing through primeval jungle and cloud forest to the bare, high plateau that surrounds the mountain at around 3,500m. Walking days are short, and with the right trekking company, the camping will be comfortable, with tasty food and good service.
Summit day is an unforgettable experience, with the sun rising from behind the jagged peak of Mawenzi to reveal a sea of cloud far beneath you. As with all high-altitude trekking, it's easier and more enjoyable the more time you give yourself to acclimatise. A good option on Kilimanjaro is to start by climbing nearby Mount Meru (4,566m), which is surrounded by a wildlife reserve where you're sure to see some interesting animals, including giraffes and buffalo.
4. Mera Peak, Nepal
All of the above treks will take you to a high altitude without having to learn any technical skills. They are essentially just treks that can be completed by any fit hillwalker. But if you want to continue your progression to higher altitudes, sooner or later you're going to need to pick up some climbing skills – nothing too much, but just enough to get you over the tricky sections.
Mera Peak is a mountain in Nepal that is classified as a 'trekking peak', but this is a misnomer. Mountaineering in Nepal is famous for its impenetrable bureaucracy. The process of applying for a permit to climb an 'expedition peak' can make Brexit seem quite straightforward to untangle (if you're sensible, you find a reliable trekking agent to do this bit for you). By contrast, climbing a trekking peak is supposed to involve little more than buying a trekking permit.
Don't be deceived though. To get up onto Mera Peak's 6,461m central summit, you have to climb a 30m ice wall by front-pointing with your crampons and hauling yourself up a fixed rope using a jumar. Before you get that far, you need to ascend for two days up a glacier.
On the plus side, Mera Peak is a good beginner's peak on which to improve your snow skills. It's a good idea to have some experience of using an ice axe and crampons before climbing it, but you don't need much, and many people improve those skills when they are there. Mera Peak also provides experience of sleeping at extremely high altitudes, with two camps over 5,000m and the highest at 5,800m. For many people, this is one of the most challenging parts.
Reaching Mera Peak involves a fantastic three-week trek over high passes on high clifftop trails, in a region that is quieter and more remote than the Everest Base Camp trail. On a good day, from the summit you can see five of the six highest mountains in the world, with Everest centre stage.
5. Aconcagua, Argentina
Aconcagua (6,959m) has a reputation for being the highest mountain in the world that you can just walk up. In some ways this is true, but this fact causes many people to underestimate it. While non-technical in nature, Aconcagua is not a trek, but a proper mountaineering expedition. It's a logical progression from Mera Peak, but it's a huge step up from Kilimanjaro.
The scenery is stark. It lies in a desert region of the High Andes. There are very few trees, and just a few high-altitude plants such as the yellow-flowered leña amarilla providing a splash of colour. But it's mainly just rocks, sand and scree.
It's not just the altitude that makes Aconcagua challenging, but the load carrying. Porters are relatively inexpensive in Tanzania and Nepal, so on both Kilimanjaro and Mera Peak, you never need to carry more than a day pack, and the porters will carry the rest. Not so on Aconcagua, where you must carry all of your equipment for summit day and the camps in between, including tents and food. Climbers acclimatise with a series of load carries, carrying a 20-25kg pack up to the next camp to leave some equipment, then descending again to sleep.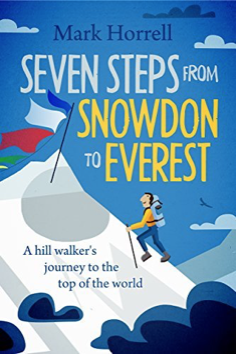 There are no glaciers on Aconcagua's two main routes, the Normal and False Polish, but there is usually some snow, so crampons and ice axe are necessary. The mountain can get some pretty nasty weather, and the real show stopper is the wind, which can make a summit day blisteringly cold with frostbite a serious risk.
If some of this sounds off-putting, then it's worth knowing that Mendoza, the gateway city for Aconcagua, lies in the heart of one of Argentina's main wine-growing regions. You are likely to get better Malbec in base camp at Plaza de Mulas than anything you can pick up in Sainsbury's.
In any case, a bit of hardship is inevitable the higher you climb, and if you make it to the top of Aconcagua, you can call yourself a true mountaineer.
If you want to learn more about Mark's own experiences on these and other mountains on his way to the summit of Everest, then his book Seven Steps from Snowdon to Everest is available as an ebook or paperback. You can find out more on his website and sign up to his weekly blog.
Full disclosure: Alex Roddie, TGO's Online Editor, edited several of Mark's books and continues to work with him. However, he receives no financial compensation after the books have been published.