Summer holidays are coming, and with them an important question: where to go on holiday so that all the family, including the little ones, have fun? Go paddling together! The right equipment will help you to enjoy a carefree ride.
This is a sponsored post from our friends at Gumotex.
The Czechs have been connected with paddling since time immemorial. The very word evokes a rich tradition, and a variety of rivers and ponds offers the ideal playground both for romantic souls and competitors. There's something for everyone on a boating holiday. If you are a complete beginner, choose a calm river, lake, or sea bay. More advanced ones can go on wilder water and get the adrenaline flowing a bit. You can go for a day, weekend or whole week. But you can't do it without proper equipment.
You don't have to worry with a helmet and a life jacket
Safety is the most important consideration, and you should be particularly cautious about smaller children. Every paddler – without exception – should have a helmet and a life jacket.
"You can use a bicycle helmet, and a life jacket is more affordable than you think. Your child should try it on before the journey. They will get used to it and feel confident that it will buoy them in case of need," Lucie Kadlecová, marketing manager of the favourite Czech manufacturer of inflatable boats, GUMOTEX, recommends. You can find a life jacket with a dolphin pattern on the Gumotex web page. Great for kids!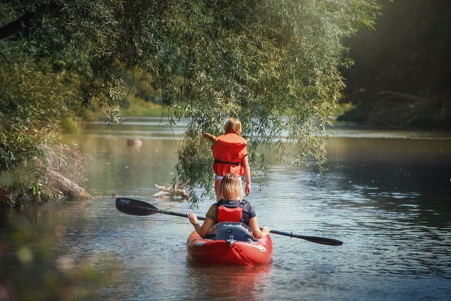 A raft or a kayak? Look for stability and comfort
After taking care of safety, it's time to choose the right boat. You can hire one through a rental service or, if you plan to get out on the water more often, you can buy your own. Modern inflatable boats are durable and will last for many years. They are also small – they easily fit into a car boot – or you can even carry them on your shoulders as a backpack.
Inflatable kayak THAYA stands out from these boats. Its rigid bottom is made from thousands of fibres, making it durable enough to stand on. At the same time, it is spacious so there is enough room for your backpacks. This inflatable kayak is an ideal choice for recreation on the water. If you need to fit more people into a boat, choose between rafts. The ONTARIO boat can fit up to six people with perfect stability. A great option even if your children are real rascals!
Be safe on the water, and always follow the RNLI's guidance on water safety, available here: https://rnli.org/safety.