Jen Benson and her husband Sim were broke, so they sold everything, bought a bell tent and took to the road with their young family. Jen recounts the story of their 'wild year' under canvas…
The decision to spend a year camping in Britain with a baby and a toddler might not sound like an obvious one.
But in 2014, shortly after the arrival of our second child, we sold all our furniture, swapped our family car for an ageing pickup truck, and moved out of our comfortable rented house and into a bell tent.
Our departure from normal life followed months of battling rent and bills on a single income (as a student,I wasn't eligible for maternity pay), a battle we were clearly losing.
I spent my days in a fog of sleep deprivation caring for our two young children whilst my husband, Sim, worked every available hour trying to make ends meet.
That summer, in desperate need of an escape, we went camping in the Peak District, rejoicing in two whole weeks of being together. On the final night of the trip, facing our imminent return to the stresses of normal life, the first fragments of an idea began to form.
Money was tight but, having funded our university studies working in outdoor shops, the one thing we did have was plenty of camping kit.
We had often camped for two, three, even four weeks at a time – would it be so difficult, so different, to simply carry on? And, with that, the idea
of a wild year was born.
With the decision made and eviction looming, planning began in earnest. Selling everything from our old life to fund our new one, we bought a cotton canvas bell tent big enough for the four of us, and an old -fashioned Frontier Stove for cooking and heating.
We packed provisions in waterproof boxes and whittled down our kit to what we could fit in the truck. In November, when our son was six months old and our daughter three, we set out together to explore Britain's wild places from within.
Cold comfort
That first winter taught us many important lessons: that big tents in high winds act more like sails than fortresses; that mud gets everywhere; that the back of our pickup truck wasn't watertight; that a good laundrette is surprisingly hard to find.
We learnt that libraries are an invaluable source of entertainment and shelter when it rains for two weeks straight, and that it's perfectly possible to sleep comfortably in a tent in sub-zero temperatures by trapping shared body heat beneath a big down duvet.
We also learnt how to slow down, to fully appreciate those moments for which there had been no time in our busy life before. Now, the daily grind involved beans and a hand grinder, preparing the first coffee of the morning.
Christmas that year was a time of simple togetherness, surrounded by the silver ribbons of birches, with tiny, feathered carollers serenading us from the branches.
Afterwards, bathed in unexpected January sunshine, we had south Devon's beaches to ourselves, watching gannets and turnstones, keeping the Kelly Kettle going for hot drinks.
Even in these short, dark days we found nature still very much alive, going about its own business all around us.
But through the long, last dregs of winter, we longed for spring. Living so much outside, we noticed more than usual the gradual lengthening of the days and the first bright buds appearing on the trees.
I have always loved spring; always felt its resurgence as my own. But that year it was especially glorious, flooding our winter-parched senses with colours, scents and sounds.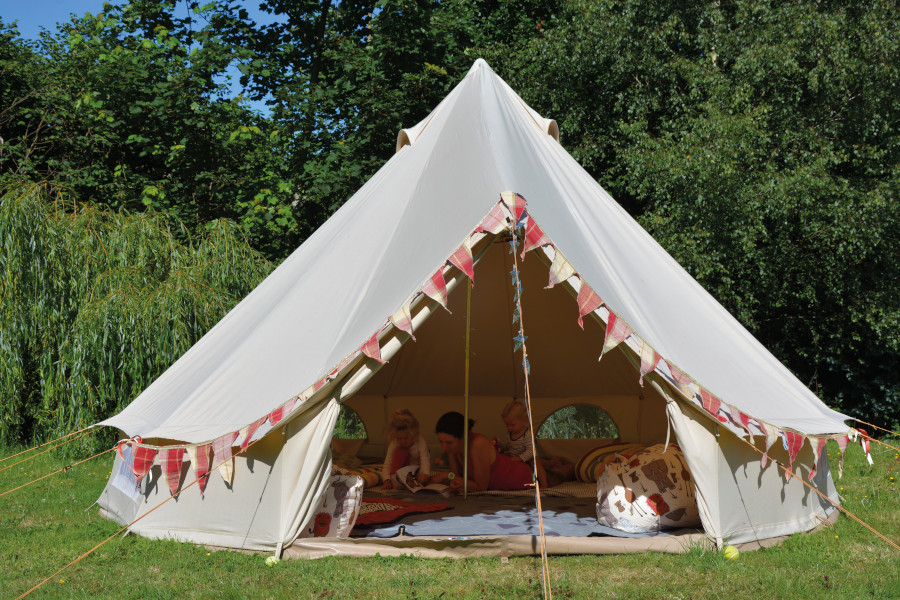 On the road
With spring's arrival we made our way slowly north, winding back the season as we went, finding Derbyshire's verges bright with daffodils and primroses long since over in the south.
There were other things emerging, too. Celebrating our son's first birthday and his first steps; noticing our daughter's independence as she made her way out into the world a little further each day; finding requests for freelance outdoor work steadily increasing, I realised this way of life, for all its challenges, was nurturing us all into being.
A month in the Lake District – first Langdale and then Eskdale – took us to landscapes sculpted by ice. Sometimes we ambled at the pace of small children, seeing our surroundings anew through their eyes.
Other times we took it in turns to escape, finding higher, emptier places, letting the airy exposure and technical terrain focus our thoughts upon each moment, far away from planning and parenting and financial pressures.
Friends in green places
As the summer holidays approached, we wondered how we'd manage on our budget of £10 per night, living semi-permanently on busier campsites. But the kindness of other people was a constant thread throughout our wild year.
A friend of a friend, who lived in the Welsh Marches, needed someone to look after their garden whilst they were away. In return we could camp in a nearby field for two whole months.
It was our own private idyll and we immersed ourselves in the place, luxuriating in long summer days filled with the rattle and buzz of insects, cooking outside on the woodburner, plundering the hedgerows for berries.
When it was time to move on, the orchard bordering the field was heavy with unripe apples, pears and damsons. We left, looking back longingly at the bounty which, if we could only stay a few more weeks, would be all ours.
Instead, we made our way across a landscape mellowing in the fading light, pausing for a while in Exmoor before making our way back to Devon and the final weeks of our first wild year.
Eighteen months after we moved into a tent, we were able to rent a house again. The second winter was much harder than the first. The weather was more serious, and the novelty of our big adventure had worn off – now we felt simply homeless.
But still, it was worth it. It allowed us the space to step back and share everything equally as partners in work, parenting and free time in the hills. Money is still tight, and freelancing is precarious and not for everyone, particularly in the face of an oncoming cost-of-living crisis.
But, if things did come to the worst again, our trusty bell tent is still going strong.
Read more about Jen's wild year
The Wild Year, published in May 2022 by Aurum Press, is Jen Benson's debut memoir and tells the story of family life under canvas across Britain. Along with her husband, Sim, Jen is the author of several guidebooks. The Wild Year is available in hardback, e-book and audiobook.