Our round up of the best budget sleeping bags for backpacking, with good value options from the likes of Mountain Equipment, Alpkit and more
You can spend hundreds and hundreds of pounds on a sleeping bag. Some designed for extreme cold cost well over £1000. However, there are many good budget sleeping bags that are just as comfortable as more expensive ones. They are usually heavier and bulkier for the same warmth due to lower specification fabrics and fills but otherwise have the same features.
For car camping the weight and bulk of a sleeping bag doesn't matter. For backpacking it does. Here we've selected examples of bags in a range of temperatures that are light, compact and suitable for hillwalking and wild camping.  All the bags have a tapered mummy shape.
Sleeping bags are often described as suitable for different seasons. These make for convenient categories but there's no agreement as to the actual temperature ratings they cover. You often see bags described as 'four-season' with comfort ratings of +2°C. This is nowhere near warm enough for cold winter nights. Temperature ratings are more accurate. Note too that calling a bag four-season is misleading. Even the best bags don't cover that range of temperatures. A bag warm enough for subzero temperatures is likely to roast you on a summer night.
If you have a slightly bigger budget then its worth checking our round up of the best three-season sleeping bags.
Temperature Ratings: The European Standard
The ISO 23537 rating provides a means of comparing sleeping bags for warmth. Most companies use it or an equivalent. It should only be used as a guide, however. It doesn't mean you will be warm at the comfort limit temperature or even the comfort one. Cold sleepers should add a few degrees or more to the temperature ratings.
ISO 23537 gives these temperature ranges for a sleeping bag:
Comfort: the temperature range at which a "standard woman" in a relaxed posture should be comfortable.
Transition/Comfort Limit: temperature range in which a "standard man" in a rolled-up body position should be comfortable.
Extreme: In this range, feeling very cold is to be expected. There is a risk of hypothermia. A sleeping bag should only be used in this range in an emergency.
The ratings are calculated with a mannequin covered in heat sensors. The mannequin is dressed in thermal long-sleeved top and leggings plus long socks and placed in the sleeping bag on a sleeping mat.
The key rating is the Comfort one as this gives an idea of the lowest range of temperatures for warmth for most people. Hot sleepers may find the Comfort Limit temperature okay. Overall, though, I'd say that if you have to curl up to stay warm you're pushing the limits of a bag.
The Extreme rating should be ignored. Most people will feel unpleasantly cold long before this temperature is reached. Researching this feature I found some sleeping bags where only the Extreme rating was given. I'd avoid any bags where this is so. I'd also be wary of those that emphasise the Extreme rating and call themselves four-season bags when the comfort temperature isn't adequate for winter.
Take a look at How do sleeping bag ratings and temperatures work? for more info.
Other Factors
Temperature ratings are a good guide as to the warmth of a sleeping bag but there are other important factors. The key ones are sleeping mat and shelter. The fill of a sleeping bag is crushed under you, so a good mat is needed to prevent you losing heat to the ground. A double-skin two person tent with all the doors zipped shut will add a few degrees warmth. Single-skin tents and tarps are not as warm. Wearing dry clothing in a bag also boosts warmth.
Sleeping bag fill: Synthetic or Down?
Budget sleeping bags are available with both synthetic and down fills. Both have advantages and disadvantages.
Synthetic Fill
Advantages
Lower cost
Retain some warmth when damp (though still cold when sodden)
Reasonably quick drying
Disadvantages
Heavier than down for the same warmth
Bulkier to pack
Shorter life
Only comfortable over a narrow temperature range
Down Fill
 Advantages
Lighter weight
Lower packed bulk
Long life
Comfortable over a wider temperature range
Biodegradable
Disadvantages
Initial expense
Slower drying (though water-resistant down dries almost as fast as synthetics)
Harder to clean
Best budget sleeping bags for 2023
Here's our pick of the best budget sleeping bags currently on the market. We've split them into synthetic and down in case you had a preferred choice. We've given the temperature ratings for the specific bags in focus but it's worth bearing in mind that many of these options will also come in cooler/lighter and warmer/heavier models
Mountain Equipment Starlight II
Vango Ultralight Pro 200
Snugpak Softie Expansion 3
Therm-a-rest Saros 20F
Big Agnes Anthracite 20
Alpkit Pipedream 200
Sierra Designs Get Down 20
Robens Gully 600
Sea to Summit Treeline TII
Forclaz Trekking Sleeping Bag MT900
---
Mountain Equipment Starlight 1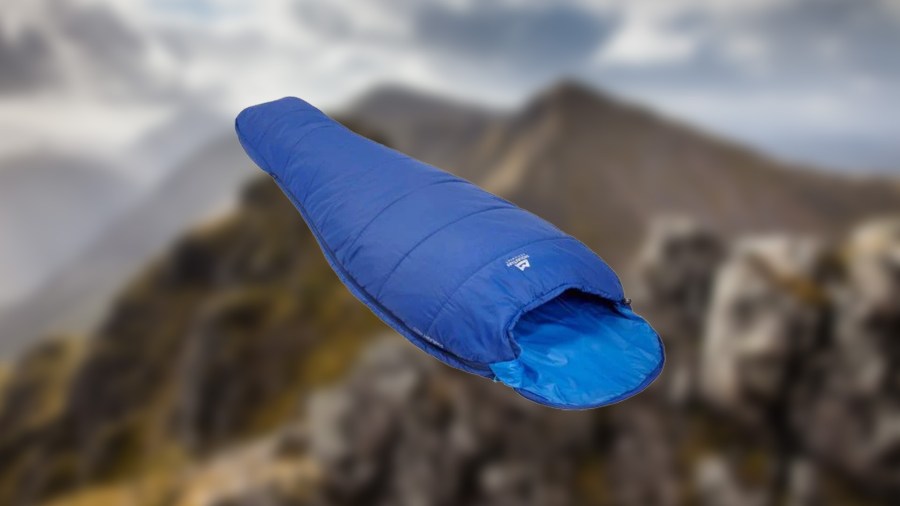 Price: $142 | £110
Weight: 1 lb. 9 oz | 925 g
Fill: synthetic
Comfort rating: 9°C | 48°F
Mountain Equipment is one of the top sleeping bag makers and the Starlight range of synthetic filled budget sleeping bags has all the features of its much more expensive bags.  The Starlight 1 has a comfort rating of 9°C. (Mountain Equipment also give their own "Good Night's Sleep" rating, which is 5°C for this bag. I'm listing the comfort rating as that's the one that's comparable with other bag ratings). It's filled with Mountain Equipment's own Polarloft polyester insulation in an offset layer construction so there are no seams directly linking the inner to the outer, which can lead to cold spots. The bag also has a durable 30D nylon shell, a shaped hood and foot box, a full-length zip with a baffle, and a warm collar. Weighing less than a kilo at 925g it looks excellent for summer backpacking.
The other Starlite bags are worth considering for colder temperatures. The Starlight II has a comfort range of 3°C, weighs 1250g, and costs £120. The Starlight III has a comfort rating of -1°C, weighs 1550g, and costs £140.
Available at: mountain-equipment.co.uk
Vango Ultralite Pro 200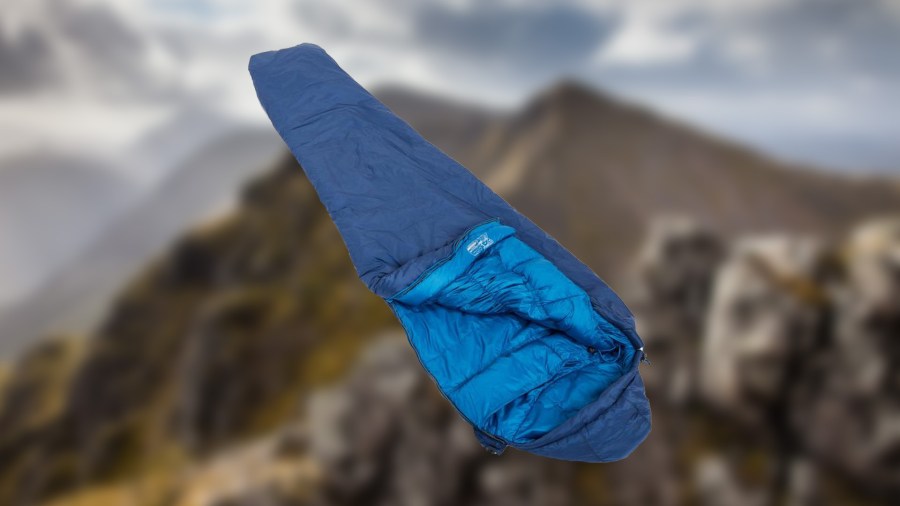 Price: £105
Weight:  2 lb. 42 oz | 1.10 kg
Fill: synthetic
Comfort rating: 4°C | 39°F
Vango has a large range of well-priced budgetsleeping bags. The Ultralite Pro 200 is quite light and packs fairly small. It's filled with Vango's 4T insulation and has Trilateral Construction, which means there's an independent floating layer of insulation not compressed by stitching, which reduces cold spots.
The bag also has an elasticated lining that makes the bag hug the body, again reducing cold spots, while retaining freedom of movement. There's an adjustable hood and adjustable shoulder baffle plus an arrow shaped foot box. The two-way full-length zip has an insulated baffle inside.
Snugpak Softie Expansion 3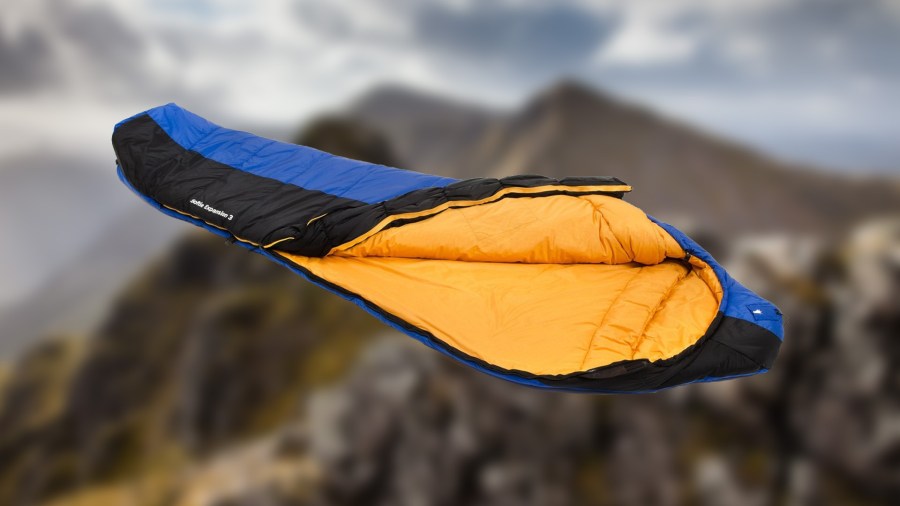 Price: £120
Weight: 3 lb. 30 oz | 1.50 kg
Fill: synthetic
Comfort rating: -5°C | 23°F
Snugpak has been a leader in synthetic fill sleeping bags for many years and has a large range of bags at reasonable prices, all using its own Softie polyester insulation.
The Softie Expansion 3 also has a layer of Reflectatherm, a metallised fabric that reflects heat and is said to provide at least 15% extra warmth.
The Expansion in the bag's name refers to a built-in insulated side panel which can be used to increase the width of the bag for more room to move or to cool the bag down. The Softie Expansion has a comfort rating of -5°C and weighs 1.5kg.  Other features are a shaped hood and foot, two-way side zip, and windproof and water-resistant Paratex shell fabrics

Therm-a-rest Saros 20F / – 6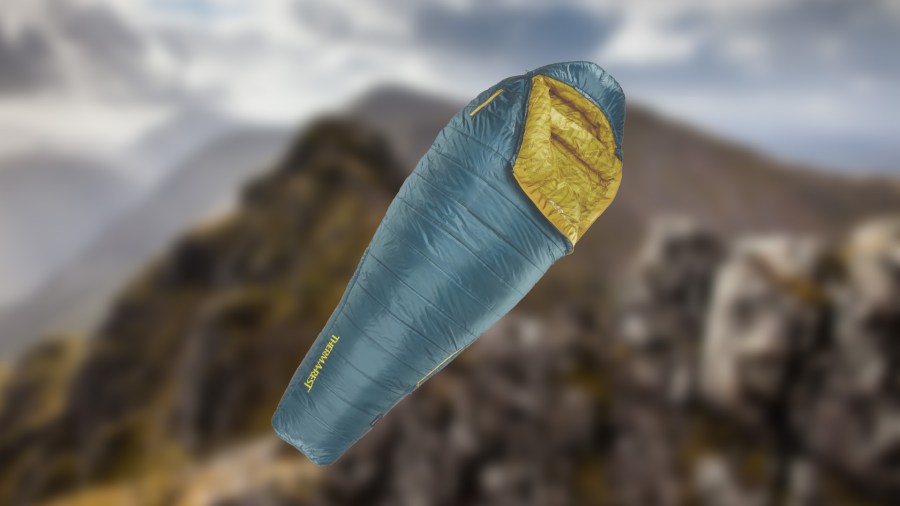 Price: £179
Weight: 2 lb. 79 oz |1.27 kg
Fill: synthetic
Comfort rating: -0°C | 32°F
This is a budget sleeping bag from Therm-a-rest is filled with their eraLoft synthetic insulation. This is designed to have the ability to withstand being compressed and lofted without losing performance over time.
The fibres also all have hollow cores. That makes them lighter but no less insulating. In fact, The hollow core fibers trap more air than solid fibers, creating a layer of insulation that helps to retain body heat. Air is an excellent insulator, and the more air that can be trapped within the fibers, the more effective the insulation will be.
The Saros is designed to accommodate all kinds of sleeping positions, giving plenty of space for you to move around within it, and the insulation has been zoned throughout the bag, so there's more insulation where you need it and less where you don't. So there's more insulation around the neck and at the feet for instance, but less on the base where you're instead more reliant on insulation from your sleeping mat. 
This version weighs 1.27kg and has a comfort rating of 0 degrees (-6 is the comfort limit). There's also a lighter version for warmer nights and also a heavier version for colder nights. 
More info: thermarest.com
Big Agnes Anthracite 20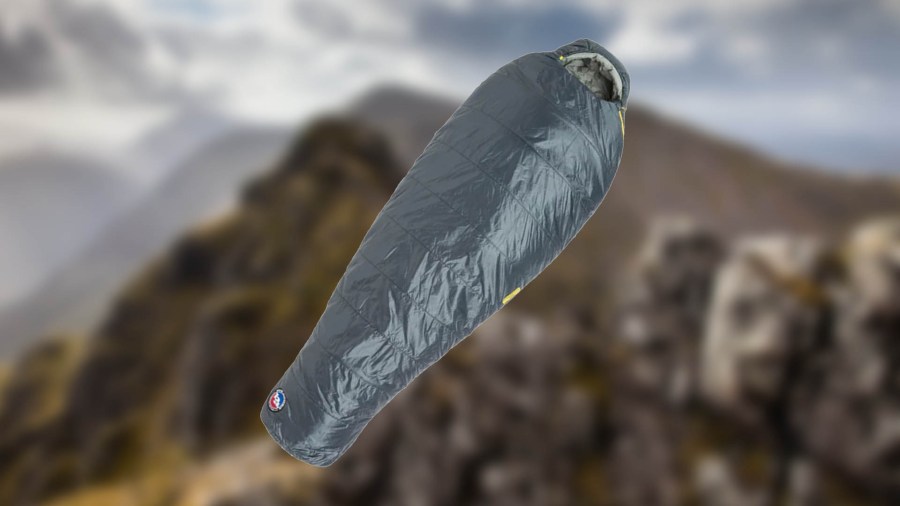 Price: $140 | £169
Weight: 2 lb. 73 oz | 1.24kg
Fill: synthetic
Comfort rating: 0°C | 32°F
This sleeping bag from U.S. brand Big Agnes has been manufactured with eco-friendly materials including a recycled plastic fill and recycled plastic lining and shell. It also uses a water repellent treatment that's free from eco hazardous chemicals. 
It has a comfort rating of 0 degrees so it'll suit most three-season camp outs and the weight is 1.24kg – that's not the lightest but it's still a portable enough weight for backpacking. There is also a lighter version of this that's designed for warmer nights out. 
As the insulation is made from synthetics, this will be useful as an option for any campouts in damp weather as the fibers will still be able to provide warmth even if they happen to get wet. 
Details include two-way zippers, baffles along the zip and at the neck and a hood toggle that can be used one-handed. The All-Gender models are also designed to be paired with Big Agnes's female designs.
Available at: bigagnes.com
Alpkit Pipedream 200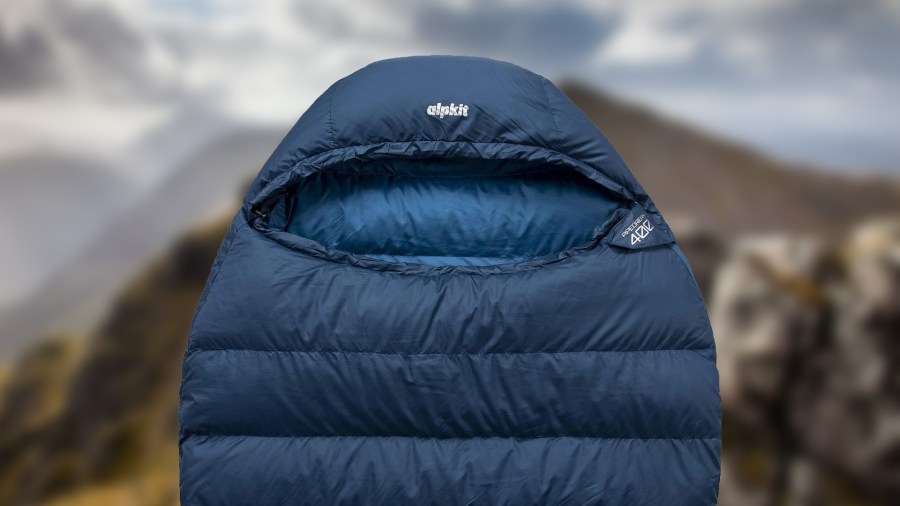 Price: $200 | £150
Weight: 1 lb. 20 oz | 545g
Fill: down
Comfort rating: 11°C | 51°F
At 545 grams the Pipedream 200 is an ultralight sleeping bag that would be superb for anyone undertaking long-distance walks or fast and light trips from late spring to early autumn. Filled with 750 fill power DownTek PFC-free water repellent down it has a comfort rating of 11°C.  The Pipedream has stitch-through baffles to save weight, a damp-resistant PFC-free DWR treated polyester outer, a shaped hood and foot box, and a three-quarter-length zip. It's available in two lengths. The Regular length can be compressed to a tiny 15 x 12cm
Available at: alpkit.com
Sierra Designs Get Down 20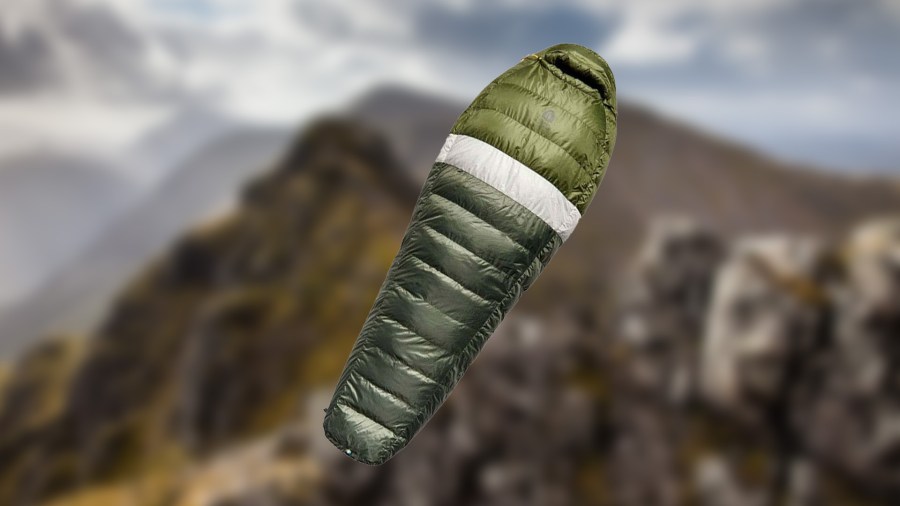 Price: $200 | £170
Weight: 2 lb. 5 oz | 932g
Fill: down
Comfort limit: -1.6°C | 29°F
The Get Down 20 is an excellent down sleeping bag at a low price. Filled with 510 grams of 550 fill power hydrophobic down it has a shaped hood and foot, a ¾ length zip, a 20D polyester shell, and box-wall construction to eliminate cold spots. The comfort rating is -1.6°C.  At 932g it's lightweight and it packs down small. The Get Down is available in two lengths.
Available at: sierradesigns.com
Sea to Summit Treeline TII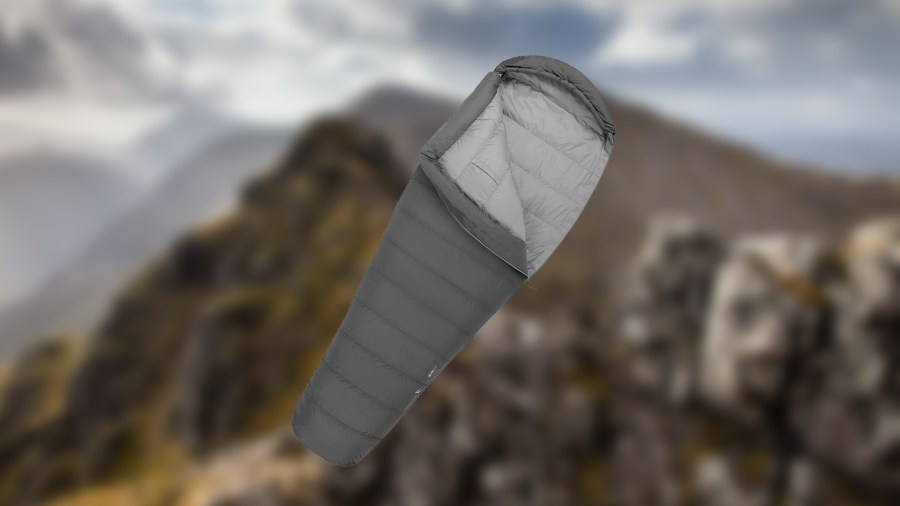 Price: £195
Weight: 2 lb. 13 oz | 970g
Fill: down
Comfort rating: 2°C | 35°F
This is a lightweight down filled sleeping bag that is designed to keep you comfortable on any three-season camps that don't drop below freezing (the comfort level is 2°C and the limit is -3°C).
The down this uses has a 600 fill power. That's not bad, but generally 800+ is seen as good thermal efficiency. It meets the criteria of the Resposible Down Standard so you can count on it being ethically sourced. 
Sea to Summit describe this as having a 'relaxed' mummy shape, meaning there's room to wriggle around in this. 
Features include a two-way zip that's designed to be snag-free, there's a handy internal pocket for stowing your phone or headtorch and it's been designed to pair with Sea to Summit's Women's Altitude, Journey and Venture sleeping bags.
Unlike many of the other sleeping bags in this round up, this has two toggled drawcords, meaning you can cinch the sleeping bag in around your face and at the next too.
Available at: seatosummit.co.uk
Forclaz Trekking Sleeping Bag MT900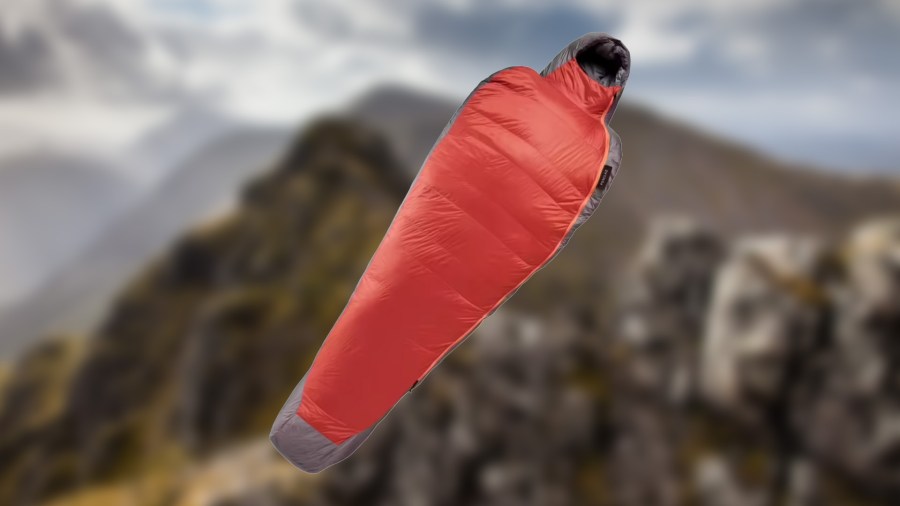 Price: £160
Weight: 1 lb. 87 oz | 850g
Fill: down
Comfort rating: 0°C | 32°F
Forclaz is a French brand that's part of the Decathlon group and, as such, it's exclusive to the global giant's stores. Their Trekking MT900 sleeping bag has an optimum comfort temperature of 0 and a comfort limit of -6 making it suitable for most three-season trekking. It's filled with duck down feathers with a good fill power rating of 800 cubic inches. It meets the responsible down standard, so you can count on the feathers being ethically sourced. 
It features a two-way zip so you can open up the bottom half of the bag for ventilation. The hood is ergonomically shaped, bringing the insulation right around the shoulders and neck and it comes with a compressible sack and a storage bag.
The weight for a size M model is 850g which makes it one of the lightest sleeping bags in this round up. There are also lighter versions of this available but they are designed to suit warmer temperatures.
Available at: decathlon.co.uk
Robens Gully 600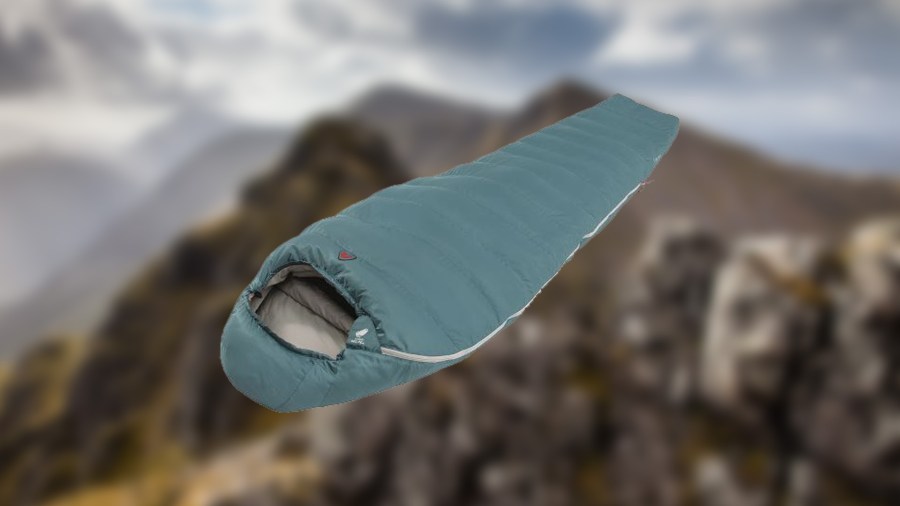 Price: £166
Weight: 2 lb. 97 oz | 1.35kg
Fill: blend
Comfort: 1°C | 33.8°F
Mixing down and synthetic fill is a way to get the advantages of both. Robens has done this with its Gully series of bags. These have a 50/50 mix of down and Roben's MicroThermo Ball synthetic insulation on the top and just the latter on the bottom.
MicroThermo Ball is a designed to mimic down and consists of polyester clusters rather than a sheet of insulation. The down/synthetic mix is called ThernoHybrid Down and gives more warmth for the weight than MicroThermo Ball alone.
The Gully 600 has a shaped hood and foot box, neck baffle, and a full-length zip with insulated baffle.
For more info on sleeping bags check out these related articles