A warm protective winter hat
Cotton Tilley Hats have been my choice for long-distance walks and summer walking for nearly thirty years now. They're very much sun hats though and I've always put them away come the autumn. However, Tilley does have warm hats as well and this winter I've been trying a new one, the Woodland Cadet Cap, which is insulated, windproof, and waterproof and has a stiff peak and earflaps. The outer is made from stretch 68%/32% nylon/polyester ripstop with a polyurethane membrane the inner from quilted 65%/35% polyester/cotton. The Large size weighs 100 grams.
The Woodland Cadet Cap is comfortable and warm. Tilley says the stretch fabric and careful cut is designed to mould to your head over time. I've worn the cap enough to see this is happening – the crown is no longer completely flat. The quilting isn't very thick but combined with the waterproof membrane and windproof outer it makes for a hat that has kept my head warm in some severe winter weather. Indeed, in calm weather not much above freezing I've started to feel too hot in it and my head has started to sweat.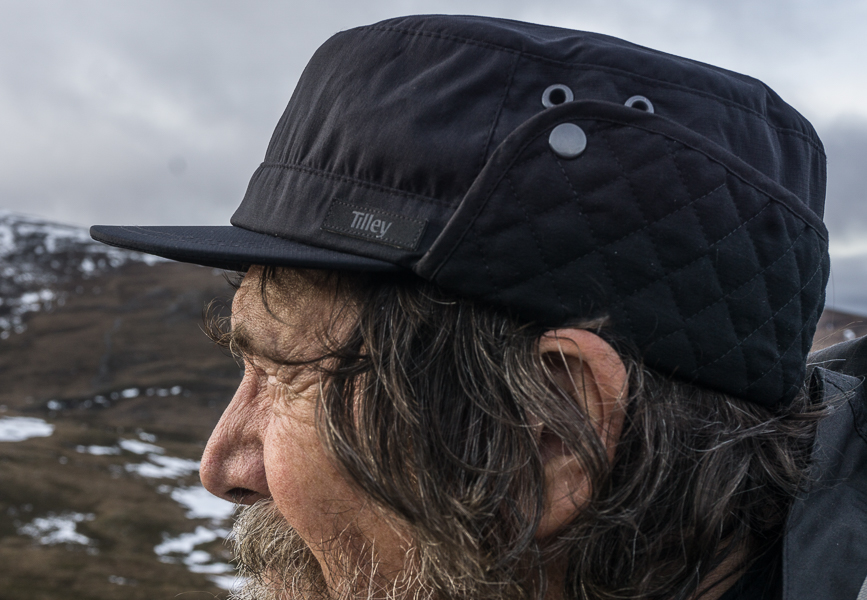 The hat has a large peak that gives good protection but does catch the wind. It's rigid and can't be flipped up out of the way. The earflaps can be folded up and press-studded out of the way, though I've found that if it's warm enough to do this it's too warm to wear the hat anyway, so I've mostly worn it with the earflaps down. These just cover my ears – a little extra length would be good. There's no neck cord or any means of attaching one, which is a drawback as in strong winds the earflaps lift a little, leading to chilly ears, and in very strong winds the hat can blow off. There are ventilation eyelets near the top of the crown through which a cord could be threaded but there really should be one at the ends of the earflaps. I've ended up wearing a hood over the hat more often than I would with one with a neck cord.
Whilst the fabric is waterproof the seams aren't sealed so the hat won't keep out the heaviest  wind-driven rain. In those conditions you'd probably be wearing a hood anyway.
Overall the Woodland Cadet Cap is a good cold weather hat suitable for most conditions. With a neck cord it would be excellent.
£80