Chris Townsend is a world-leading authority on outdoor gear. In his weekly column, he assesses new innovations and tests exclusive early samples of new kit. 
A tough tent for year-round mountain camping
Macpac's Minaret two-pole tunnel tent has been around for many years in much the same form – any changes being mainly to the fabrics used. The latest version is made from silicone coated 30 denier double ripstop nylon with a hydrostatic head of 3,000mm. This is a bit heavier and with a higher hydrostatic head than the fabric used on many lightweight tents. The groundsheet is also a bit tougher than many. It's made from abrasion and tear resistant densely woven nylon with multiple PU coatings that give it a hydrostatic head of 10,000mm. The inner fabric is 40D breathable nylon with a double fabric door, one nylon, one mesh. The poles are 9.6mm DAC Featherlite. Four 20cm alloy hollow nail pegs and 8 alloy 16.5cm U pegs are provided. Again these are more substantial than the pegs provided with many lightweight tents. The result is a tough tent that should prove durable but which at 2.3kg is heavier than some alternatives made from lighter fabrics.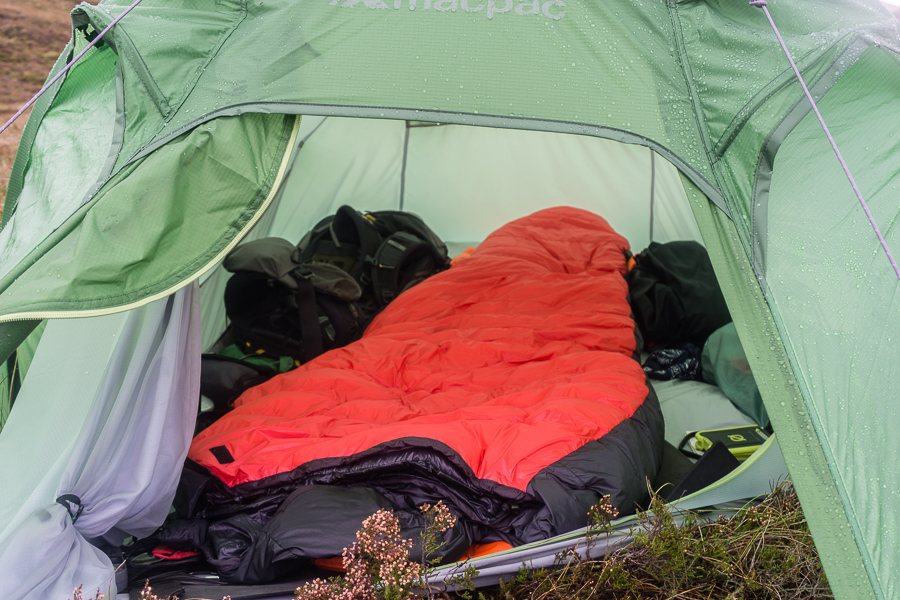 The Minaret has an unusual asymmetrical inner shape that means the inner is longer on one side than the other. The average length of the inner is 210cms. The width is 115cms in the middle, tapering a little to both front and rear. Height in the middle is 100cm, tapering to the rear. I found the room great for solo use but I think two people might feel a little cramped especially if both were tall. I'm only 5' 8" (172cms) and my head just touches the roof when sitting up. And lying on the short side of the inner my sleeping bag touches both ends.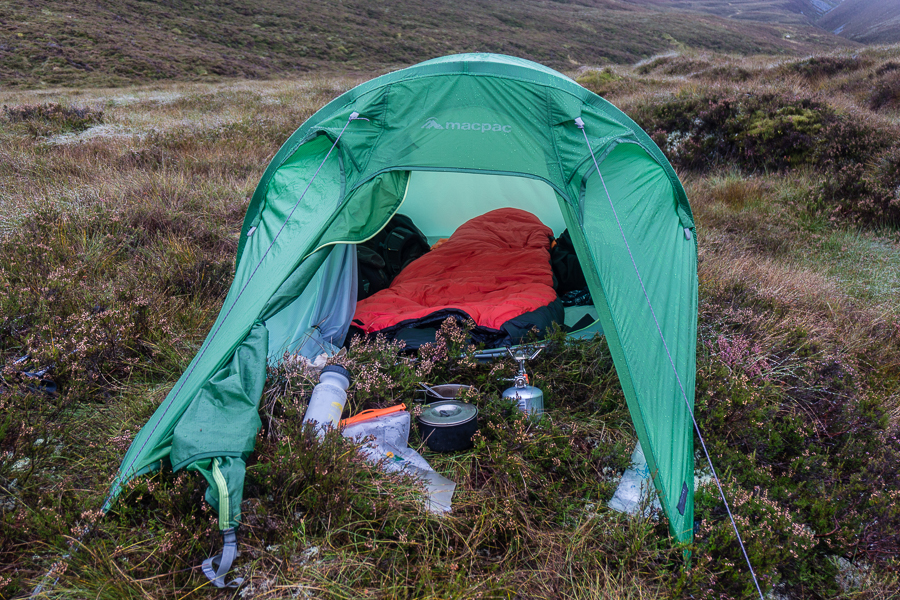 The porch is roomy enough for storing gear and there's just enough space for cooking. If you need more the groundsheet can be unclipped from the outer and pulled back. The inner door slopes back slightly so condensation on the flysheet can drip into the inner. I found I needed to be careful when opening the outer door in rain too as drops could flick in off the wet flysheet.
The Minaret can be quickly pitched by one person. Four pegs are all that's needed. However in all but calm weather I'd always use all twelve pegs. The tent came with four guylines. There are eight attachment points for guys and you could use one guyline per pair of these, which would probably tension the tent best. However I didn't feel the provided guylines were long enough for this so I just attached them to the upper points.
In use the Minaret has proved very stable. It stands up well to strong winds, especially if the rear is pitched into the wind. I think it's suitable for year-round mountain use though I haven't used it in snow yet, I expect it would easily slide off the steep slick walls. The Minaret comes with a tube of sealant and Macpac advises sealing the seams. I haven't done this as I wanted to see how waterproof the tent was anyway. So far it's kept out many hours of heavy rain. That's with a new tent of course and it would be wise to seal the seams for prolonged use to ensure they stay watertight.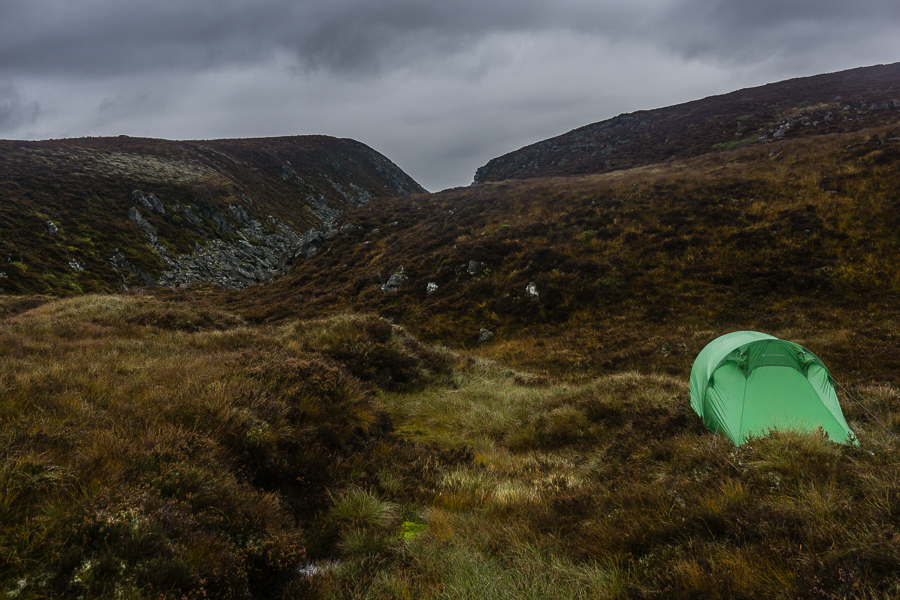 On calm humid nights condensation has been copious, as usual with small nylon tents with excellent storm protection. There are two vents at each end but when the wind's not blowing these don't make any difference. However no condensation came through the inner and my gear stayed dry inside. With two people I think care would be needed not to press sleeping bags against the walls or the foot and possibly transfer condensation from the outer.
For year-round high mountain camping the Minaret is excellent. It is quite heavy but for the weight you get a storm-resistant tent that should prove very hard-wearing. I think it's better used as a solo tent than for two.
£450