Waterproof, washable, fabric maps
This is an unbiased review by our Gear Editor Chris Townsend, which SplashMaps have supported with sponsorship.
A map you can scrunch up and stuff in your pocket, wear round your neck, and stick in the washing machine? That's SplashMap. Made from recycled bottles, SplashTex Map Fabric is waterproof, washable, and 'virtually indestructible'. There's a whole range of maps covering Great Britain and many places overseas. You can have a personalised map too, 'centred wherever you like, anywhere on the planet'. There are also Toobs – tubes of stretchy fabric with a map printed on them that can be worn as a scarf.
I've been trying the SplashMap Cairngorms, a personalised map centred on my home, and the Harvey Toob – Cairngorms. The Cairngorms map is a square of fabric covering the area from Braemar in the south-west to the edge of Aviemore in the north-east with a scale is 1:40,000. The personalised map is 1:25,000 and measures 72 x 72cm. There's also the option of a 1.3 x 1.3m one and even a 1.75 x 2m shower curtain. Route planning in the shower… I like that idea! The Toob is a Harvey Mountain Map covering the northern Cairngorms. The maps and Toob can be squeezed into small balls so they take up little room.
It took me a little while to get used to using the SplashMap. I'm not used to flexible maps! Once I got the hang of simply shuffling the fabric through my hands until I found the section I wanted I did like not having any folding and unfolding to do. Opened out, SplashMaps can catch the wind like any sheet of material, though they are a bit easier to control than a standard map as you can just grab and compress them with no fear of them tearing. However, it's not necessary to open them out much, so in that sense they're more wind-resistant than standard maps.
Orienting the map and following routes are both easy – you can draw on the map if you wish. Taking a bearing with a compass isn't quite so simple. Something stiff under the map is needed.  I found putting the fabric over my knee or a rock or the top of the rucksack worked.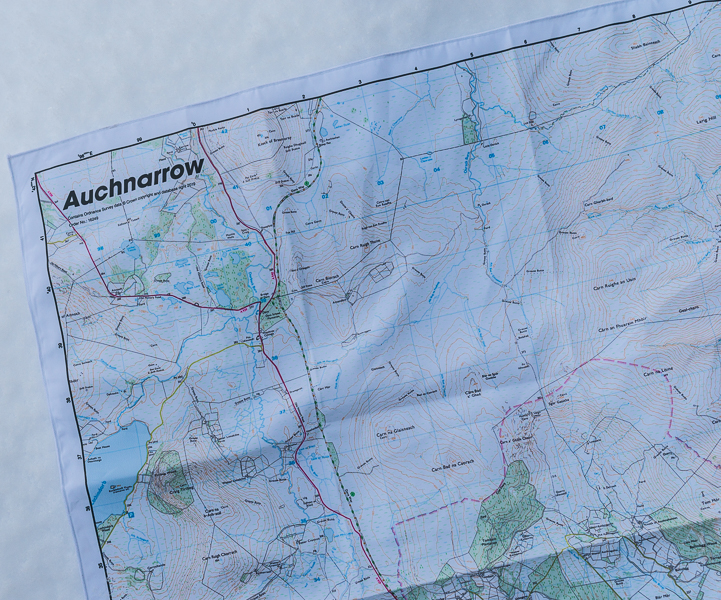 I've found the personalised map excellent. It's an OS 1:25,000 map and is up-to-date and as easy to read as a standard OS map. The symbols key is limited though. It's just a small square of fabric attached to the map. To identify more than the basic symbols you need to refer to the OS website or an OS map.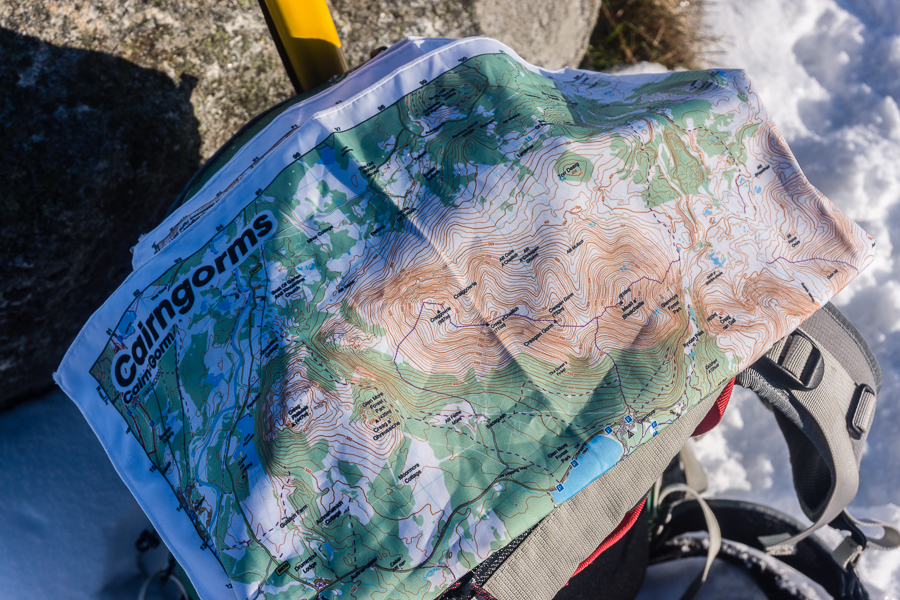 The Cairngorms map, compiled from OS Open Data and OpenStreetMap, isn't as up-to-date as the personalised map and there are some curiosities – for example Eanaich Cairn is in much bigger letters than its parent mountain Braeriach and the path through Ryvoan Pass is incomplete. It's still usable but I think a personalised map is a much better choice. I contacted SplashMap about the out of date data and they've assured me it will be corrected in the next print-run.
I haven't washed a SplashMap yet, but I have dumped one into water. The fabric is non-absorbent so a quick shake and it's virtually dry. You certainly don't have to look after these maps.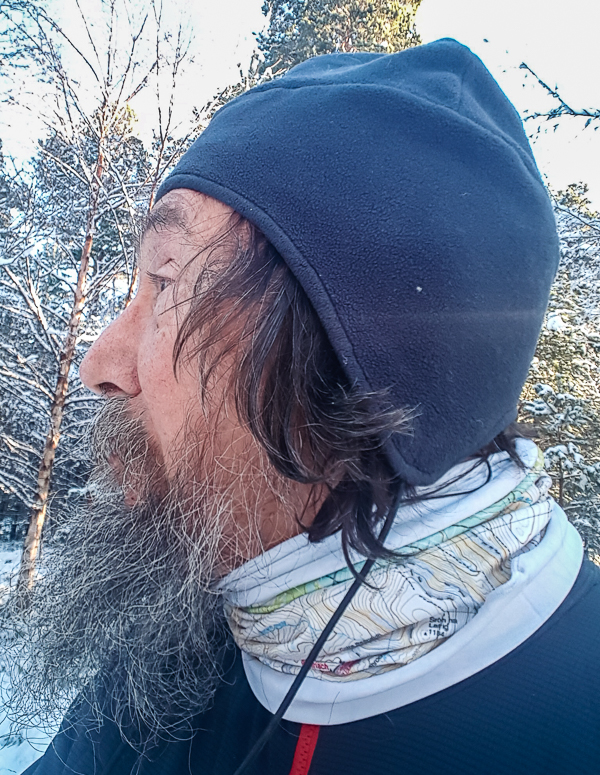 The Toob makes an effective scarf and can be used as a map, though not at the same time. I think it's best as the former though. It works just like any other neck tube and is very warm.
SplashMaps are fun to play with and they look great. Could they replace other maps? Maybe, especially the personalised ones.
SplashMap Cairngorm      £22.50
Personalised map  £28.99
Harvey Toob – Cairngorm  £27