An unusual ultralight nesting cook set and stove
Pots and mugs are simple items. Not in the case of Soto's Thermostack Cook Set Combo though. This neat little set of three nesting cups, as Soto calls them, is surprisingly complex and comes with an instruction manual! I've never seen one of those with a cook set before. It's designed for solo use, the cups having capacities of 350ml, 400ml, and 750ml. They're made from different materials – stainless steel, titanium, and aluminium. There are two plastic lids – the smaller one fits the two smaller pots – a tiny pot lifter, and a cosy into which the whole set fits. The 750ml and 350ml cups have volume markings and the latter has a removable plastic joint that acts as a grip when drinking. The complete set is very light at 308 grams.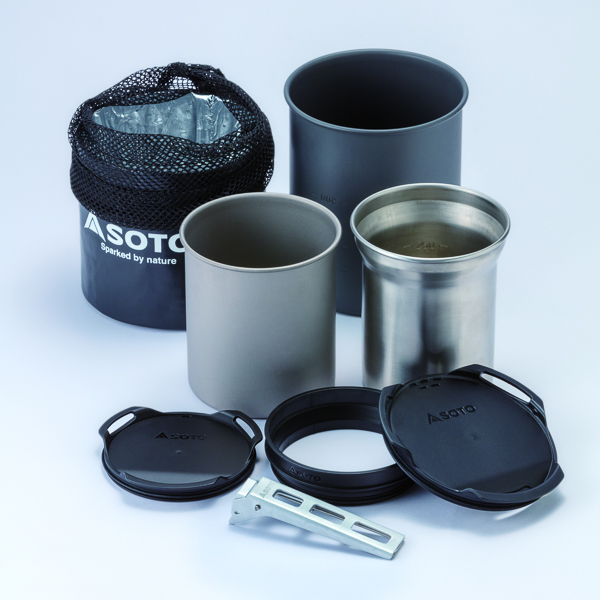 There are various options for using the set. The 750ml pot is obviously the one for preparing meals. It can be placed in the cosy to keep food warm and for holding without needing the pot lifter. The two smaller cups form an insulated mug when stacked together. In warm weather 80 grams can be saved by leaving the heavier 350ml cup behind and using the 400ml one as a single-wall cup.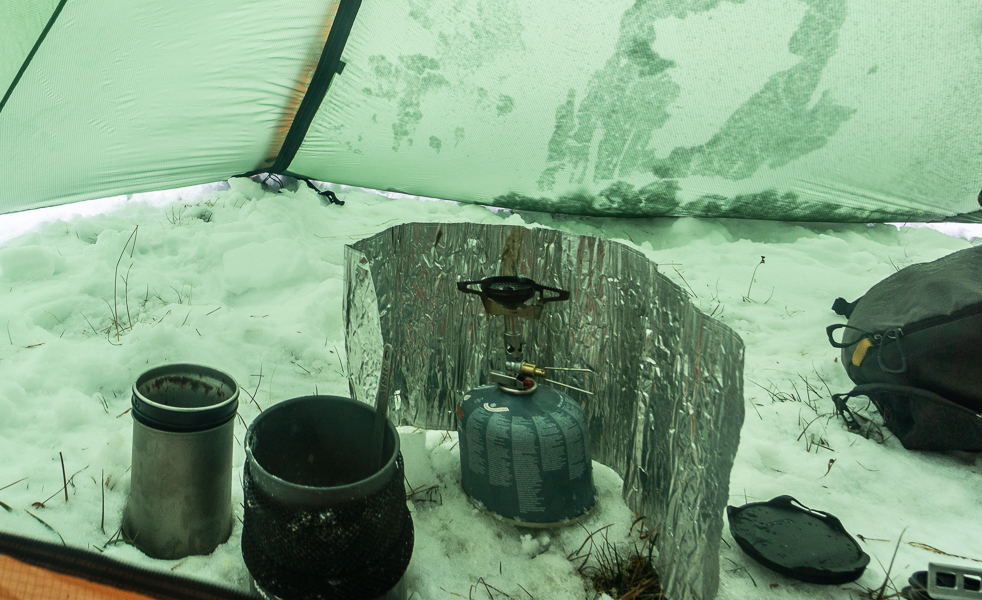 Using the set on a couple of winter trips I've found it works well. Care is needed because the cups are tall and narrow so easily tipped over. Cooking food in them requires constant stirring too and a very low flame or it burns on the bottom (yes, I did burn some porridge!). The cosy does keep food hot for quite a while and is pleasant to hold. The double-wall mug is effective too. The lids need to be rested lightly on the cups so they can be quickly removed. Fitted tightly and they can't be removed to use the lifter when the pot is hot. Also, if the 400ml pot gets really hot without much water in it the lid can start to melt. I'd rather have metal lids and a bit extra weight. I generally prefer wider pots for ease of use and better stability, but I do like this little set as it's so compact and ultralight and the heat retention options are really good in cold weather.
I used the Thermostack Cook Set with the Soto Windmaster stove. I first reviewed this last summer (see here) when I hadn't had the chance to try it in freezing conditions. I have now and in temperatures of -2°C it worked well. It is quite wind resistant but in very strong winds a separate windshield speeds up boiling times and reduces fuel use. On a very windy morning the flame never blew out, but I think I'd have waited a long time for water to boil if I hadn't eventually used a windshield. Overall, though, I think this is an excellent stove.
Thermostack Combo  £60
Windmaster                 £60