Shaped insoles for comfort and stability
The insoles that come with most boots and shoes are soft, flexible and unsupportive. They also tend to collapse and flatten quickly. Replacing them with a better quality pair that actually supports the foot is a good idea and something I regularly do. Since last autumn I've been using a new model from Germany, the Solestar Hiking. Solestar has made a name for itself with insoles for cyclists. This is the first one for walkers and mountaineers.
The first thing I noticed about the insoles is the very pronounced shape, especially on the inside of the arch. Handling them I then noticed how stiff they are, only flexing right at the toe. The idea of the shape is to hold the foot in the optimum neutral position, which is best for stability and efficient walking. The stiffness is to ensure the shape can't collapse or soften over time. To achieve this the insoles have a rigid lightweight glass-fibre core that runs from just behind the toes almost to the heel. The fibre-glass is covered by breathable and odour-resistant synthetic materials. However as the fibre-glass isn't breathable moisture can build up on warm days, though no more so than in other stabilising insoles I've tried. Unlike other insoles the Solestars have never stunk, even after a day in sodden footwear (the shoes did though).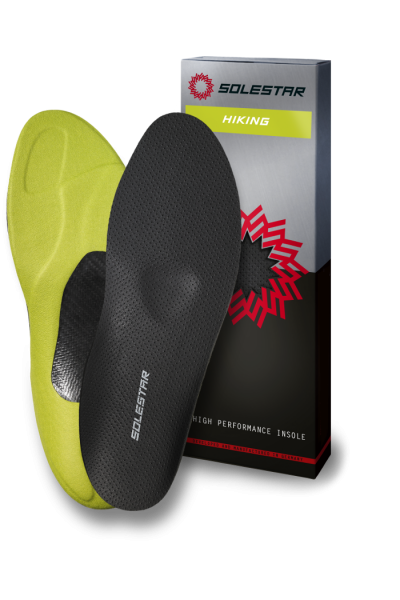 The Solestar insoles need to be the right size for your footwear. Unlike some insoles they can't be trimmed to fit. The test pair fit well in some of my footwear but not all. Due to the stiffness they're best suited to fairly stiff footwear. I prefer very flexible footwear but I found that the shaping of the insoles meant that stiffer footwear felt more comfortable than usual. In particular one pair of fairly stiff trail shoes that I've had for several years but had never used for more than short strolls as they didn't feel comfortable walking any further were really transformed by the Solestar insoles and I've worn them for all day hill walks and my feet have been fine.
Once I was used to them I found the Solestars comfortable and supportive. They certainly held my feet in place well and increased the comfort of footwear.
There is one disadvantage though. At present they're only available online from Germany. They do come with a guarantee – if you return them within six weeks you get your money back.
€79