A lightweight two-person backpacking tent
Two-pole tapered tunnel tents have been popular since flexible poles first became available some forty plus years ago. The design has stood the test of time because it's easy to pitch, roomy for the weight and reasonably stable in strong winds. Nigor's latest tunnel tent, the Kamao 2, is a lightweight two-person tent. There really is room for two as well, unlike some tents. It also makes a roomy tent for one and at 1.9kg isn't too heavy for short solo trips.
The Kamao is made from top quality ultralight materials. The flysheet is made from 10D silicone ripstop nylon with a 3000mm hydrostatic head, which is fine. The groundsheet is 40D ripstop nylon with a polyurethane coating and a hydrostatic head of 10,000mm. This is good for a lightweight tent – many have floors with lower hydrostatic heads. A high one is best though because of the pressure the material is under when you lie on it. The inner tent is made from breathable 15D ripstop nylon. As well as a solid inner door there's a mesh one for ventilation in warm weather without letting midges in. The poles are DAC NFL 8.7mm aluminium ones and ten ultralight aluminium hook pegs are supplied. The latter are ok on hard ground but I'd add a few wider pegs for softer terrain. Fifteen pegs are needed if every pegging and guying point is used anyway.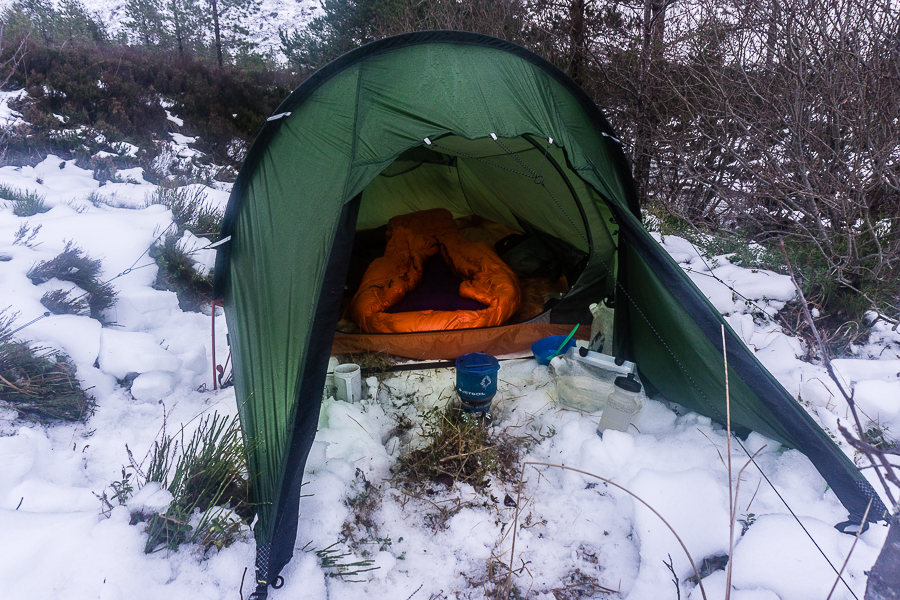 The inner measures 220 x 135cms, which is enough for two full-length sleeping mats side by side. There's only then room for a few small items but the vestibule is huge, with room for two packs and footwear while leaving space to cook and get in and out. Headroom at the front is 110cm, which is fine unless you're tall.
The flysheet door has a zip with four pullers so it can be opened in several configurations. When it's windy the bottom section can be left closed to act as a windbreak for a stove leaving open air above so steam can escape and not condense on the flysheet. There's a big wired hood over the door so the zip can be left undone at the top for ventilation in all but the stormiest weather. There's a similar hood at the rear with a mesh panel under it. This hood is deep enough that I don't think rain would enter even in strong winds. I've certainly not had any leakage here. There's a matching mesh panel at the rear of the inner with a solid cover that can be zipped over it if it gets too draughty.
The inner and outer are linked to make pitching fast and easy. You can separate them for drying or for using the flysheet on its own. Like other tunnel tents once the poles are inserted into their sleeves and the front and rear pegged out the tent is up. This requires just four pegs. However for a taut pitch the loops at the ends of the poles should be pegged out too and the six guylines if it's windy. The poles are colour-coded and slide easily through their sleeves. However the attachment points for the pole ends aren't very adjustable and I sometimes found it difficult to get the poles into the sockets. Longer adjustment tapes of two or three holes for the pole ends would ease this. Even with this difficulty the tent can be pitched in five minutes by one person.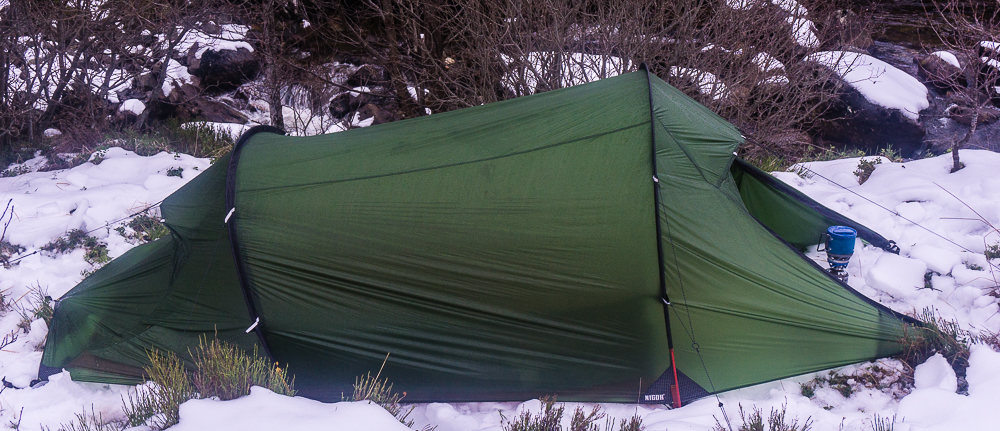 In use the Kamao 2 feels stable and secure. Nigor describe it as a three-season tent. In UK conditions I think it's suitable for year-round use. As with all tunnel tents it's best pitched with the rear into the wind. Side winds can shake it. Ventilation is good when it's breezy if the mesh panels aren't covered but of course when it's still and damp there will be condensation. After one calm rainy night the flysheet was dripping with condensation by dawn even though I had left the flysheet door open. However the inner stayed dry. The separation with the outer is good so the two never touched.
The Kamao 2 is well-made and well-designed. It should last well. It's roomy for the weight and the large vestibule is excellent. A good tent then, but at a price.
£750