An ultralight windproof top
What is a soft shell? The range of garments called this grows bigger all the time. I'm not sure that the term has any sensible meaning now. This latest smock from Mountain Equipment is described as a soft shell. It doesn't stretch though and provides little warmth. It's actually an ultralight windproof shell and should be compared with other wind shells rather than soft shells.
The Aerofoil is made from a stretch double-weave polyamide fabric that's softer and has a nicer feel than many wind shell fabrics. The inner has a ribbed structure while the outer is smooth. This helps transmit moisture quickly to the outside. It doesn't get clammy next to the skin unlike some smoother shinier wind shell fabrics. It's not 100% windproof – with some effort I can just blow through it – but it's wind-resistant enough for all but the most severe winter weather, when a garment this thin wouldn't be a suitable outer shell anyway.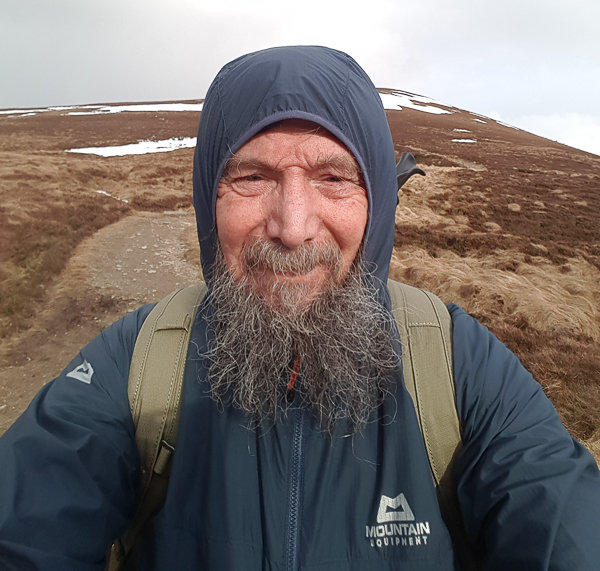 Although called a jacket it's an over-the-head garment with a long front zip. There's a hood with a strap and buckle adjustment at the back and a stretch rim. The cuffs have a stretch trim too while the hem has an adjustable drawcord. On the chest there's a small pocket, just big enough for a smartphone, into which the garment can be stuffed to make a tiny bundle. The Large size weighs 112 grams. It fits comfortably over a fleece top.
In use the Aerofoil has proved a good wind shell. I like the soft fabric and the comfort against the skin. The rear adjustment on the hood is effective and the hood stays on in strong winds. The low weight and bulk make it a great choice for three-season hillwalking and backpacking.
£100