A rugged smartphone for the hills
Phones have become a standard piece of outdoor equipment over the last decade. I've taken a smartphone on every walk I've done since 2010 when I got one for my Pacific Northwest Trail hike. I chose a smartphone because I wanted one device for use as a GPS, camera, Internet connection, and even at times a phone. Most phones aren't designed for outdoor use though and I've always treated them as fragile and have gone through a series of protective bags and cases. I've often thought that a phone I didn't have to treat with such care would be a good idea. Tough phones did exist but were always big and bulky, designed more for construction sites than mountains. Functions were rudimentary too. I wanted all the advantages of a smartphone plus ruggedness.
Enter the Land Rover Explore Outdoor Phone. This looks much like other smartphones, albeit slightly chunkier, but is much, much tougher and better designed for rough usage. It's resistant to rain, humidity, salt water, dust, sand, dirt and vibrations. It's drop tested to 1.8 metres and comes with a built-in tough screen protector. It's designed to work in temperatures between -30°C and 60°C.  The screen works with wet and gloved fingers. The case has ridged matt metal sides that are easy to grip firmly, unlike the sleeker-looking but thinner and shiny edges of most phones. The design takes elements from the Land Rover Discovery front grille and headlamp to show the connection between the phone and the vehicle.
To test all this I took the Explore on my 32 day walk on the GR5 trail through the French Alps. I didn't bother with a case or bag but just carried the phone in a pocket. I used it in rain, on very hot days and in temperatures around freezing when it had been lying on the ground all night. It always worked fine and I really liked not having to treat it as fragile.
Of course this ruggedness is only useful if the phone's functions work well. In this respect I think the Explore is okay. My own phone is a Samsung Galaxy S7 and I found the performance of the Explore very similar. It comes with the Android operating system, which I know well. For GPS, camera, social media, email, and web searches it's fast enough for me. The specifications don't compare with the latest smartphones but I didn't feel I was missing anything. It does have quirks. It is slow to start up, taking at least a minute before the home screen appears. The battery indicator isn't totally reliable – sometimes the phone went dead when it said there was 20% life left and when recharging the fully charged light comes on at 90%. I didn't find these more than slightly irritating though.
The Explore comes with ViewRanger installed and a voucher for some maps. I installed the GR5 mapping and used it frequently during my walk, sometimes for a precise location in forest sections, sometimes to see where I'd camped, and occasionally for locating the trail. It always worked well.


Also installed are Google apps like Chrome and Gmail plus Play Store so it's easy to download any other apps you might want – I installed Sky Map and Snapseed amongst others. There's an app called Explore Hub too with links to other apps useful in the outdoors such as BBC Weather.
The Explore has a customisable page called Dashboard that can give information such as barometric pressure, altitude, sunrise and sunset times and more. It has an electronic compass too. This is useful though some of the data such as weather and sunrise/sunset require a phone signal to update. The others use GPS.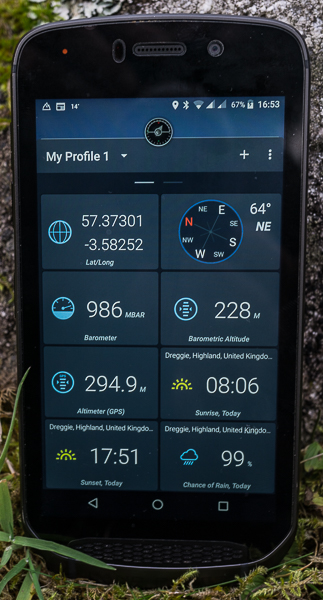 The screen has adaptive lighting. This didn't adapt to bright sunlight however and in order to see the screen I had to turn it off and even then use my body to shadow it. This is the biggest nuisance when using it in places like the Alps with much strong sunshine.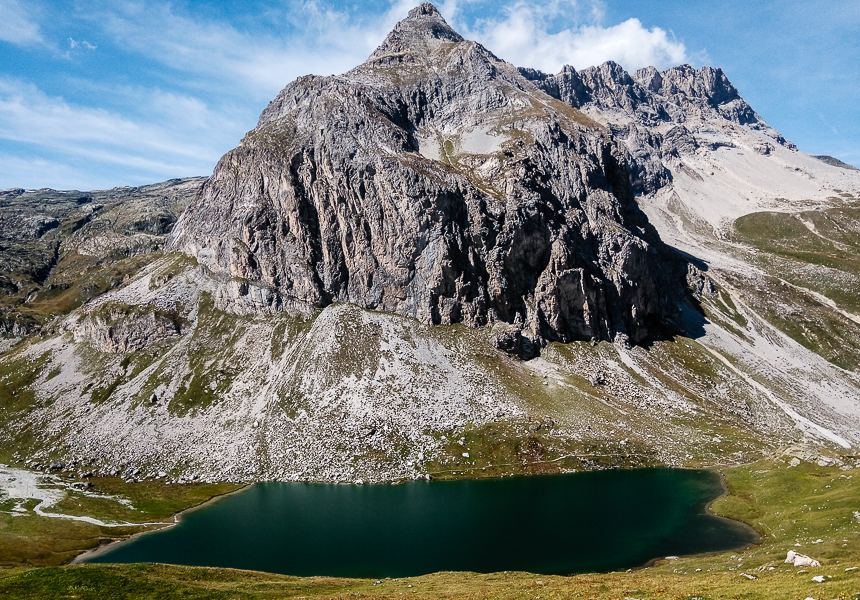 The Explore has a 16mp rear camera and a front 8mp one and can take raw files or JPEGs. In good light the pictures are fine for a small sensor phone, especially if processed in Snapseed. All the pictures in my piece on the gear I used on the GR5 in the November issue of The Great Outdoors were taken with the phone. I did sometimes find it didn't take a photo when I expected it to – pressing harder or for longer then resulted in it taking a whole series of identical shots (this is something the Galaxy S7 does too). The above pictures shows the Lac de Grattaleu in the Vanoise National Park. In low light and very contrasty light the results weren't quite so good, again like other smartphones I've used.
Battery life is okay. The phone has a 4,000 mAh battery. With the GPS running and taking half a dozen or more pictures the battery lasted through a day as long as the screen was mostly off as that's the biggest power drain. (I also have notifications and wi-fi turned off too – no point in the phone using energy to search for non-existent connections and send notifications I'm not going to look at).
The phone comes with an Adventure Pack, which has a 3,620 mAh battery that gives 75% more battery life plus a GPS booster, and a case with a carabiner. I took the Adventure Pack on the GR5 but not the case, which didn't seem necessary and I didn't trust the clip attaching the carbiner as it came undone a couple of times when trying it at home. I wouldn't use it to hang the phone from a rucksack strap. I know the phone is shockproof but it seems an unnecessary risk. The case is quite bulky too. I did take the Adventure Pack and I really like the design. It attaches to the back of the phone by magnets – no cables, no separate device – so you can just continue to use the phone as usual. The GPS signal boost wasn't noticeable as the GPS has always worked quickly anyway. It does seem to drain the battery though. I found the Adventure Pack lasted longer if attached overnight in camp with the phone turned off and ran down fastest if I was using the GPS. I'd like to see a version that was just a battery.
The Explore is quite light for the size. It weighs 161 grams, just 7 grams less than the slightly smaller and much less rugged Galaxy S7 – and I always use the latter with a 41 gram shell. The Adventure Pack weighs 198 grams, which is quite heavy for a power pack of this capacity. I have a 7,000 mAh one that weighs 180 grams. However I think the convenience of the attachment and the ruggedness of the Adventure Pack justifies the weight. The case and carabiner adds another 70 grams.
Overall I think the Explore's toughness makes it a good choice for the outdoors. As a smartphone it's okay. It's the durability that's the big attraction.
£599
or
From £33 per month (£149 upfront) www.vodafone.co.uk