A lightweight pack for multi-day trips
---
The latest pack from US company Granite Gear is the Lutsen, which comes in 35, 45 and 55 litre sizes. I took the 45 on the TGO Challenge in May and have used it quite a few times since.
The Lutsen comes in men's and women's fit and two adjustable back lengths, Small/Medium and Large/X-Large. I tested the latter, which weighs 1.43kg. This is quite light, especially for a pack as fully featured as the Lutsen. The back system consists of a stiff curved framesheet and a mesh covered thick ribbed foam back panel. The shoulder yoke fits between frame and back panel. It attaches with Velcro and this can be separated, with a little effort, to adjust the length for a precise fit. The padded hipbelt also has Velcro panels for adjusting the fit. Once adjusted there should be no need to alter the shoulder yoke or hipbelt again.
I've actually tried two Lutsen 45 packs as I did have problems with the first one after a week on the TGO Challenge when the shoulder yoke partially ripped out after the pack got soaked in torrential rain. It didn't rip out completely and the pack was still usable though not quite as comfortable. I couldn't get it to hold in the correct position again though. This first pack was a second-hand one, as I'd been told when it was supplied for test, as the zip on one of the hipbelt pockets was damaged. Maybe that wasn't the only fault. Certainly I've had no problems with the replacement pack, which has now been on several trips.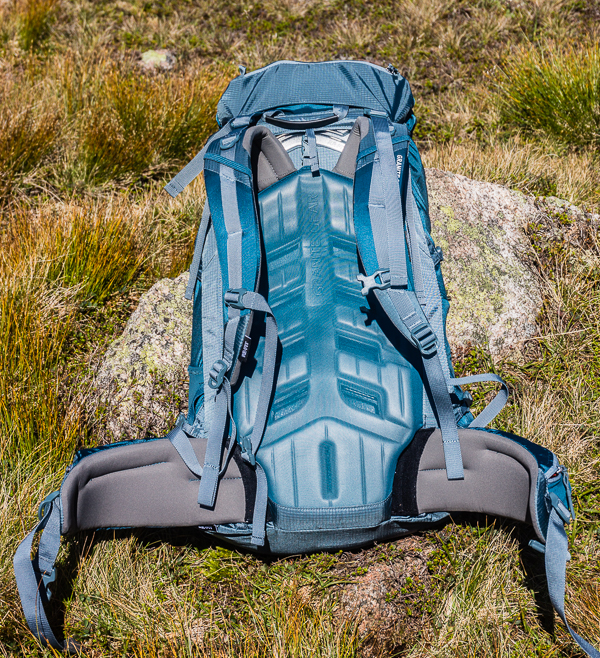 The Lutsen back system is designed to handle loads up to 40lbs/18kg. I've found it fine with a few kg more. The shaped hipbelt is well-padded and hugs the hips well. The firm shoulder straps are comfortable too.
The packbag is well-designed and roomy – 45 litres is conservative for the capacity when compared with similar packs. It's made from two weights of high tenacity nylon and feels tough. There's an adjustable removable lid with two external zipped pockets. Under this is a roll top so the lid can be removed to save 90 grams or else stored inside when the pack isn't full. There are large stretch mesh pockets on the front and sides and two hipbelt pockets, one of which has a soft lining and a water-resistant zip for use with electronics like a phone or GPS unit. The pack also has front and side compression straps and twin ice axe loops.
I easily packed all my gear plus five days food inside for the start of the TGO Challenge. Crossing rough terrain in the Western Highlands I found the Lutsen 45 comfortable and stable – ideal in fact for such a trip.
The Lutsen 45 was supplied for test by Ultralight Outdoor Gear.
£184.99