Chris Townsend is impressed by the comfort and warmth of the Berghaus Extrem Ramche 2.0 insulated jacket
---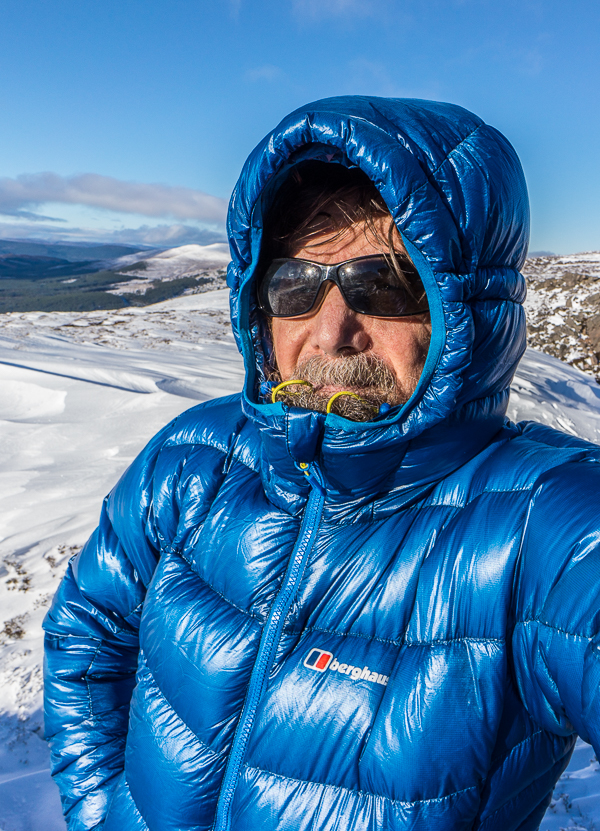 Berghaus pioneered the use of hydrophobic down a few years ago and the original Ramche was one of their first garments filled with it. The latest version utilises the strangely titled 'Hydrodown powered by NikWax', which is said to provide water repellency for up to 16 hours. The down is certified as ethically produced.
As well as down, the Ramche 2.0 has an internal reflective aluminium mesh that is meant to increase the warmth by up to 10%.
Construction
The construction plays a part too. Rather than having the same pattern of baffles and down distribution over the whole garment the Ramche 2.0 has Berghaus's Body Mapping Technology, which results in wider baffles with internal walls to prevent heat loss on the front and back and narrower baffles with stitch-through seams on the shoulders, arms, sides and hood. The shell is an ultralight 7 denier polyamide that Berghaus says is 100% stronger than equivalent fabrics.
Testing it in the field
All this sounds excellent but does it mean anything in actual use? I think it does. I can't tell if the reflective mesh makes any difference – it's not noticeable – or what effect the body mapping design has. But I have found the Ramche 2.0 very warm for the weight – 473g for the Large size tested. I was very glad I had it with me on a bitterly cold day in the Cairngorms when I pushed my luck in minimal clothing. Climbing upwards in calm freezing air I'd stripped down to just two base layers on my torso when I reached more exposed ground swept by a strong cold wind. Not far ahead I could see some boulders so I decided to head for those for shelter before stopping to don more clothing. Struggling through soft snow it took me longer than I'd thought to reach the rocks and when I did I was feeling very cold. Not bothering with any midlayers I pulled on the Ramche 2.0. I started to warm up almost instantly and within a minute I felt fine. I don't think a thinner down jacket would have had the same effect.
Features
The Ramche 2.0 also has a practical design. It's a bit longer than many lightweight down jackets and has an extended back that easily covers my backside. The cuffs have Velcro tabs and there's a drawcord in the hem.
The zipped handwarmer pockets are just about usable when wearing a hipbelt – the bottom is cut off though. Inside there's another zipped pocket and an open-topped mesh one in which you can stuff gloves or a water bottle to stop them freezing.
RELATED: Chris tests out a new down jacket by Sub Zero
The hood is very warm and has a stiffened peak with a stretch rim inside it plus front adjustable drawcords that run partway up the front and then round the back. The hood is helmet compatible though, which means it's huge. I find that if I tighten the drawcords when only wearing a light hat then the visibility is very restricted. To counter this I've been flipping the stiffened hood back.
I haven't tested the claimed sixteen-hour water resistance. I can't imagine wearing this jacket in rain anyway – it would be far too warm. I have worn it in sleet and wet snow for a couple of hours and it's been fine.
The Berghaus Extrem Ramche 2.0 is a lovely jacket. Very warm and very comfortable. The price is quite high but if you want a really warm down jacket at a low weight it's a good choice.
£350