Chris finds this waterproof jacket made from eVent to be a good, well-constructed, year-round option.
The waterproof/breathable fabric eVent has faded from view in recent years, which is a shame as it's an excellent material. Now it's back again in this latest jacket from ThruDark, an outdoor clothing company set up by former special services members two and a half years ago and which offers a complete range of clothing from base layers to insulated jackets.
The Skirmish is a lightweight waterproof jacket 'adapted for resilience' and with 'no compromise on durability' and the fabric certainly feels tough for a jacket at this weight. The jacket is nicely constructed with attention to detail. It's made in Italy.
The design is fairly minimal, which helps keep the weight down. There are no handwarmer pockets, just two small external chest pockets and one small inner one. ThruDark says the jacket is 'intended for fast and light missions where your route is well known or can be downloaded to a digital device." There are other jackets in the range with map pockets and not everyone likes or uses these anyway. I wouldn't suggest going without a map or with just a digital device however well known the route. However, if you use a smartphone or GPS for navigation one does fit neatly into a chest pocket for easy access. That's what I do these days, carrying a printed map in a pack pocket.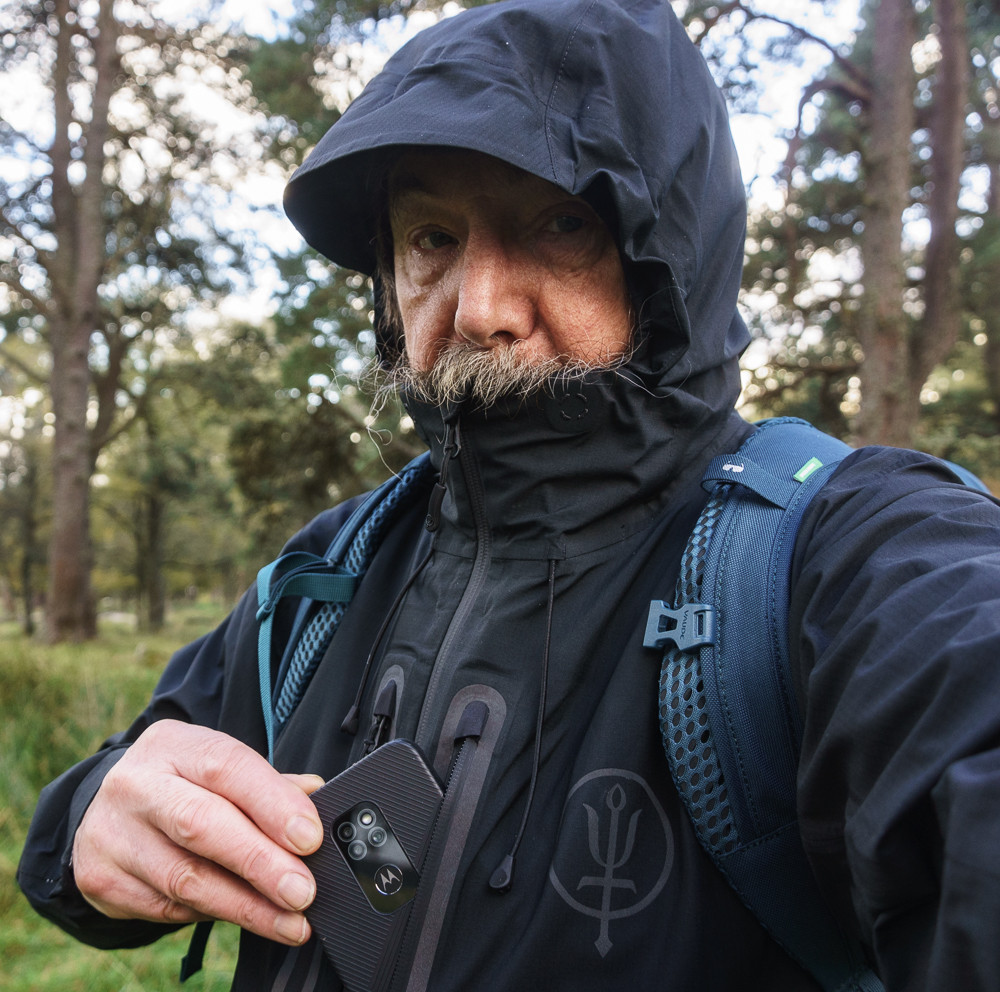 The hood is good, the best I've used on the waterproof jackets I've tested this year. It adjusts with front drawcords and for once these are easy to use even with cold or wet fingers. I sometimes wonder if some garment designers ever try out their products in the rain and wind. The drawcords are operated by big round cord locks situated below the hood which have a raised surface that's easy to locate and to press. They work well. The hood isn't sized to go over a helmet and doesn't need a volume adjuster. The peak is large and semi-stiff. I think a bit more stiffness here for when it's very windy would be good but mostly it works fine.
There are no underarm zips for ventilation, just four small holes in each armpit. It's hard to say if these make any significant difference. eVent has good breathability anyway. There's also a long horizontal vent on the back, with mesh inside. This of course is covered by a pack and not effective if you're carrying one. The cuffs are narrow and half-elasticated. I'd rather have wider adjustable ones – I only tighten them in the very worst weather. The front and pocket zips are water-resistant ones. There's a wide stiffened flap behind the front one that should keep out any rain that penetrates the zip. The pockets are made from eVent so if any rain does make its way into the pockets it won't get inside the jacket.
Sizing is a bit more generous than on some garments I've tried recently. The Large size fits comfortably over a fleece and a base layer.
The Skirmish is a good jacket for year-round walking. It's not too heavy to carry in summer and not too light for winter storms. The price is on the high side, but it is well-made and designed from a top fabric.
RECOMMENDED: This product has been awarded our 'Recommended' endorsement, meaning our reviewer believes it is a strong product which works well for its intended purpose.