Alex Roddie reviews capable snowshoes for the Scottish mountains.
I have a love/hate relationship with snowshoes. I bought my first pair about five years ago, after arriving in Aviemore after a heavy dump of snow and realising that I wouldn't get very far without them. The only pair I could find were cheap, mostly plastic, and not the best choice for big hills.
In the weeks before I set off for my winter Cape Wrath Trail in February 2019, deep cold and heavy snow blanketed the Scottish Highlands. Although I didn't relish carrying the weight, I knew that I might well need snowshoes, and my research indicated that MSR's Lightning Ascent ticked all the necessary boxes.
(Important note: the Lightning Ascent has recently been updated. I've added a few thoughts about the differences in the conclusion below. The version I tested was the old 2018 model, which is still available from some outlets.)
Read more about Alex's winter Cape Wrath Trail here.
What the Lightning Ascent snowshoes offer
The Lightning Ascent is an aggressive, technical snowshoe designed for the mountains. It's also relatively lightweight at under 2kg a pair.
The Lightning Ascent is available in three sizes: 22 inches, 25 inches, or 30 inches. What's the difference? A larger snowshoe offers greater flotation, which means it is better for deeper, softer snow, or for carrying a heavier load. Heavier users carrying big expedition packs might be better served with a larger snowshoe. I selected the 25-inch model. Additional 5-inch 'tails' for extra flotation can be purchased, but I did not test these.
The snowshoe is built around a lightweight aluminium frame, which features numerous aggressive teeth around the edge. The bit that actually provides the flotation is a tough plate of flexible TPU-coated nylon, which is riveted to metal tabs attaching it to the frame. The footplate is hinged and has a decent aluminium toe crampon with four points. These points bite into steep slopes as you climb (less technical snowshoes often lack crampons). Another feature intended for steep ground is the Televator heel lift. MSR claim this helps reduce fatigue when climbing steep slopes, although I find using the heel lifts can feel less stable, so I rarely use them.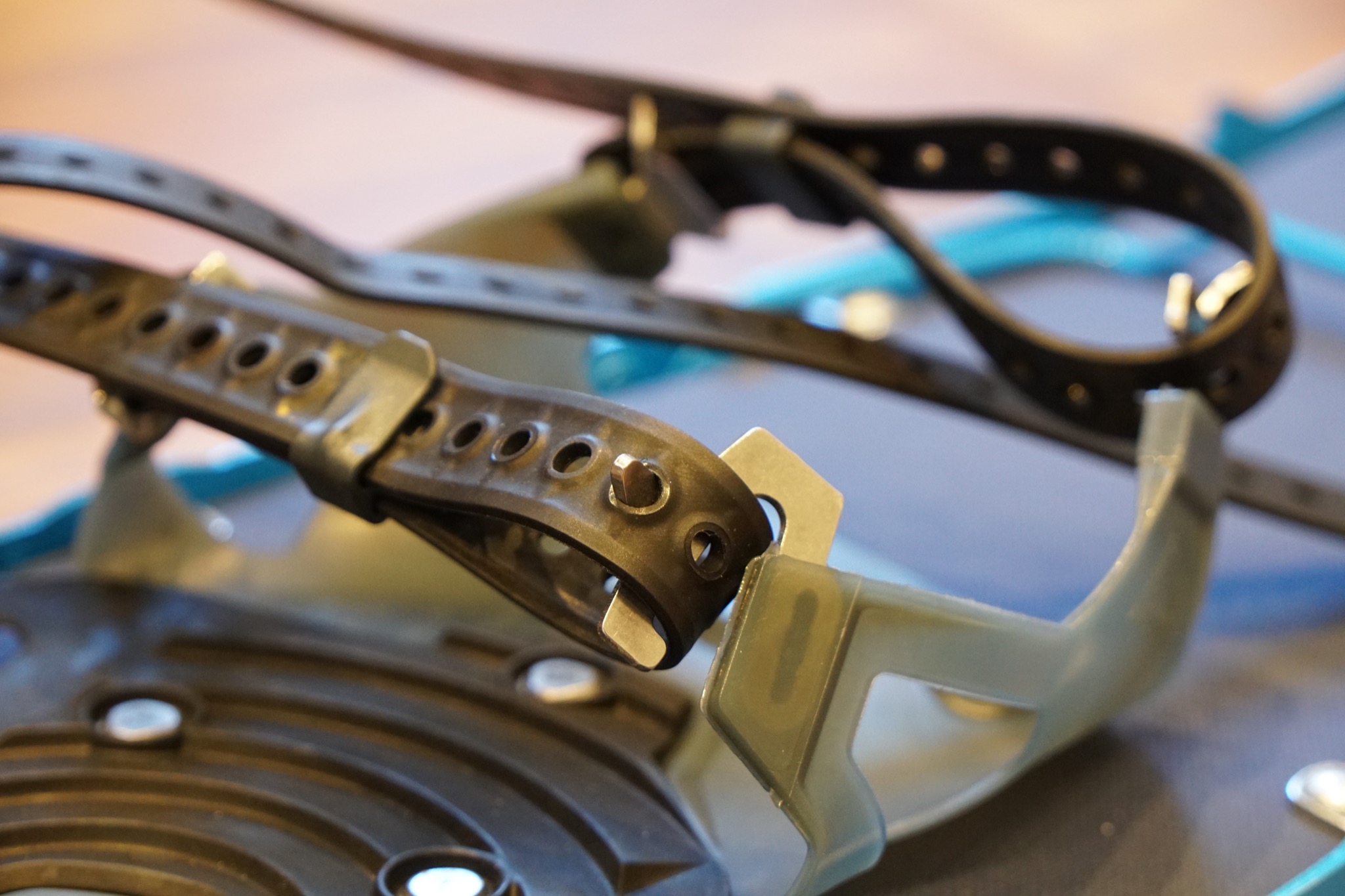 Finally, the bindings: the 2018 Lightning Ascent uses PosiLock bindings, or a system of four adjustable straps that cradle your boot. These are compatible with pretty much any kind of footwear.
On the hill
There's no way of sugarcoating this, so I'll just come out with it: these snowshoes were an absolute swine to carry on the trail, due to their size and bulk. I had one lashed to each side of my pack, and carried them for around 80 miles from the start of my trail at Ardnamurchan Point. However, when the time came to actually use them, the Lightning Ascents came up trumps.
I needed snowshoes on high ground near Glenfinnan. Deep fresh snow blanketed the Munro circuit of Sgurr nan Coireachan and Sgurr Thuilm, which I walked on a rare day of glorious sunshine. At times the snow was knee-deep, especially in drifts, and although I could have completed the walk without extra flotation, it would have been tough – and my safety margin would have been reduced.
The 25-inch Lightning Ascents offered a good blend of flotation and grip. I found that the aggressive frames often provided good enough grip by themselves, but the crampons added even more security, particularly on steeper icy sections. They worked on frozen turf, too. Despite the snowshoes' bulk on the pack, when worn they felt quite lightweight.
I found the bindings fiddly to adjust and attach, despite practising and fitting them to my boots beforehand. Partly this is because the hook buckles felt cumbersome while wearing gloves. Sometimes a strap would slip off the hook while I was attaching the next strap. I didn't have any problems with the binding system freezing, though, and it's possible to get a precise fit.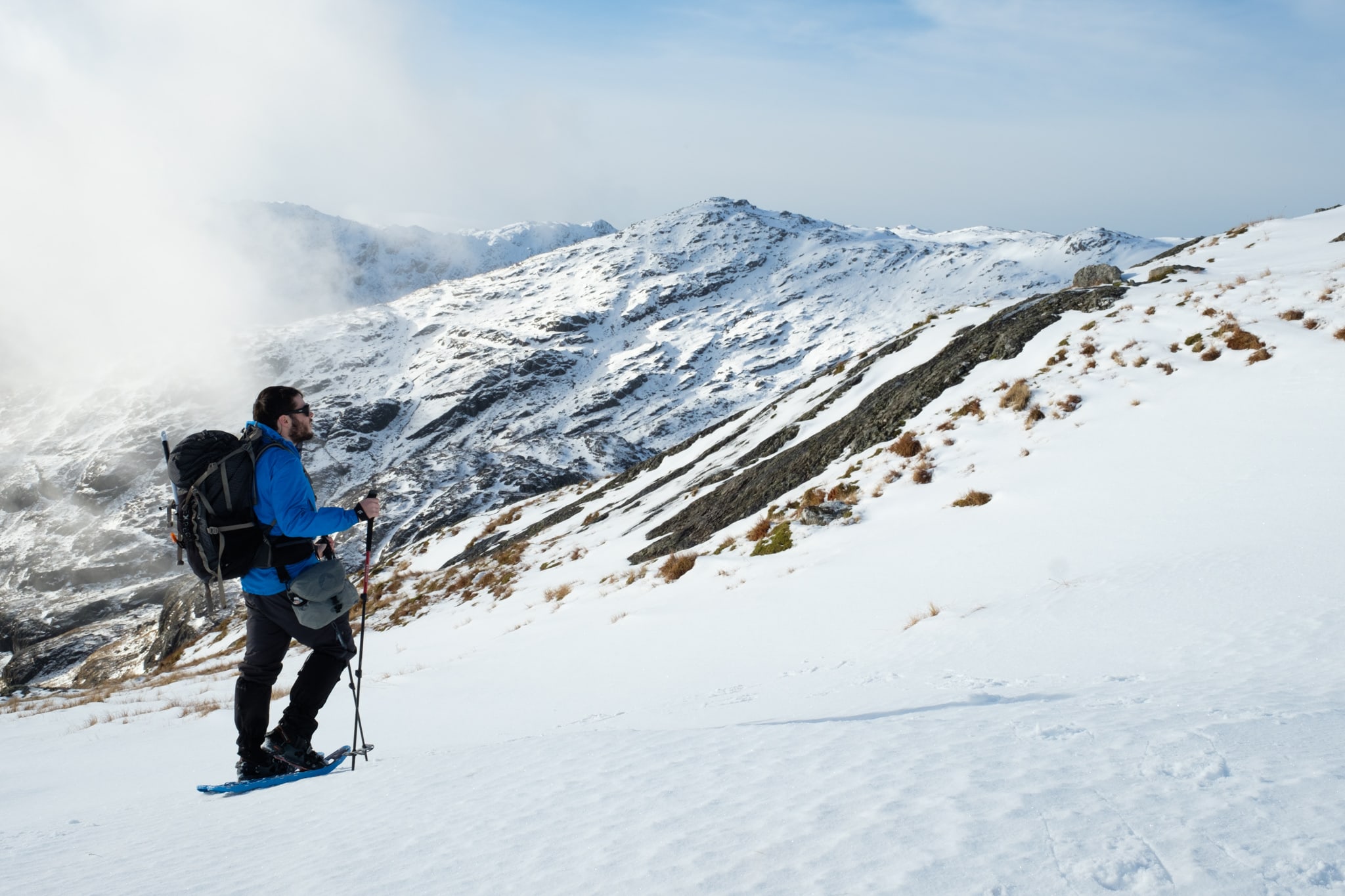 Later on during the day, I came across more open, scoured slopes with a greater proportion of old, icy snow and fewer drifts. This is when I switched to crampons. If extra flotation isn't needed, crampons are a better choice – they offer better grip and feel far more nimble.
I have since used these snowshoes for several other days out on the hill. Due to their size and bulk, I'm reluctant to carry them unless I think they will be genuinely needed. They are, however, fairly lightweight when you consider their capabilities.
Who are these snowshoes for?
If you need highly technical and durable snowshoes for mountaineering and winter hillwalking, the Lightning Ascent is a good choice. Although lighter options exist, they tend to be less technical and less suitable for steep ground. The Lightning Ascent offers an excellent compromise between weight and functionality.
What's the difference between the 2018 model I tested and the new version? MSR have improved the bindings. The new Lightning Ascent uses the 'Paragon' binding system: 'Comfortable, freeze-resistant mesh strap wraps securely around a wide range of boots for ultimate security, while toe stops offer fast, precise foot alignment.' The flexible mesh cradle is far simpler and quicker to attach, meaning less frustration on the hill. It may, however, prove to be less adjustable than the old system. The weight has gone up slightly, to 1970g per pair (25 inches). Otherwise both models are the same.