Alex Roddie reviews a flexible boot for three-season hillwalking.
KEEN boots are renowned for their comfortable fit, and having previously reviewed the 2017 revamp of the Targhee EXP Mid I had an inkling of what to expect from the Venture Mid Leather WP.
The original Venture Mid launched earlier this year, and KEEN have now released a new version with waterproof full-grain uppers. It's a fairly light leather boot with an attractive design. You get metal lacing hardware, including the 'KonnectFit heel-stability system' (KEEN parlance for a bit of wire that tightens the fit around the heel), a KEEN. Dry waterproof/breathable lining, a sole unit that looks reasonably grippy with 4mm lugs, and a good degree of flexibility. The included insoles are rather spongy but do have a slight degree of arch support, which is better than you'll find in most boots.
Toe protection is decent but there is no rubber rand around the edges of the sole – these are clearly lightweight hiking boots designed for agility and comfort, not ultimate durability. Out of the box, they felt really comfortable and accommodated my wide forefeet well. I felt happy taking them out on the hill with no breaking-in period.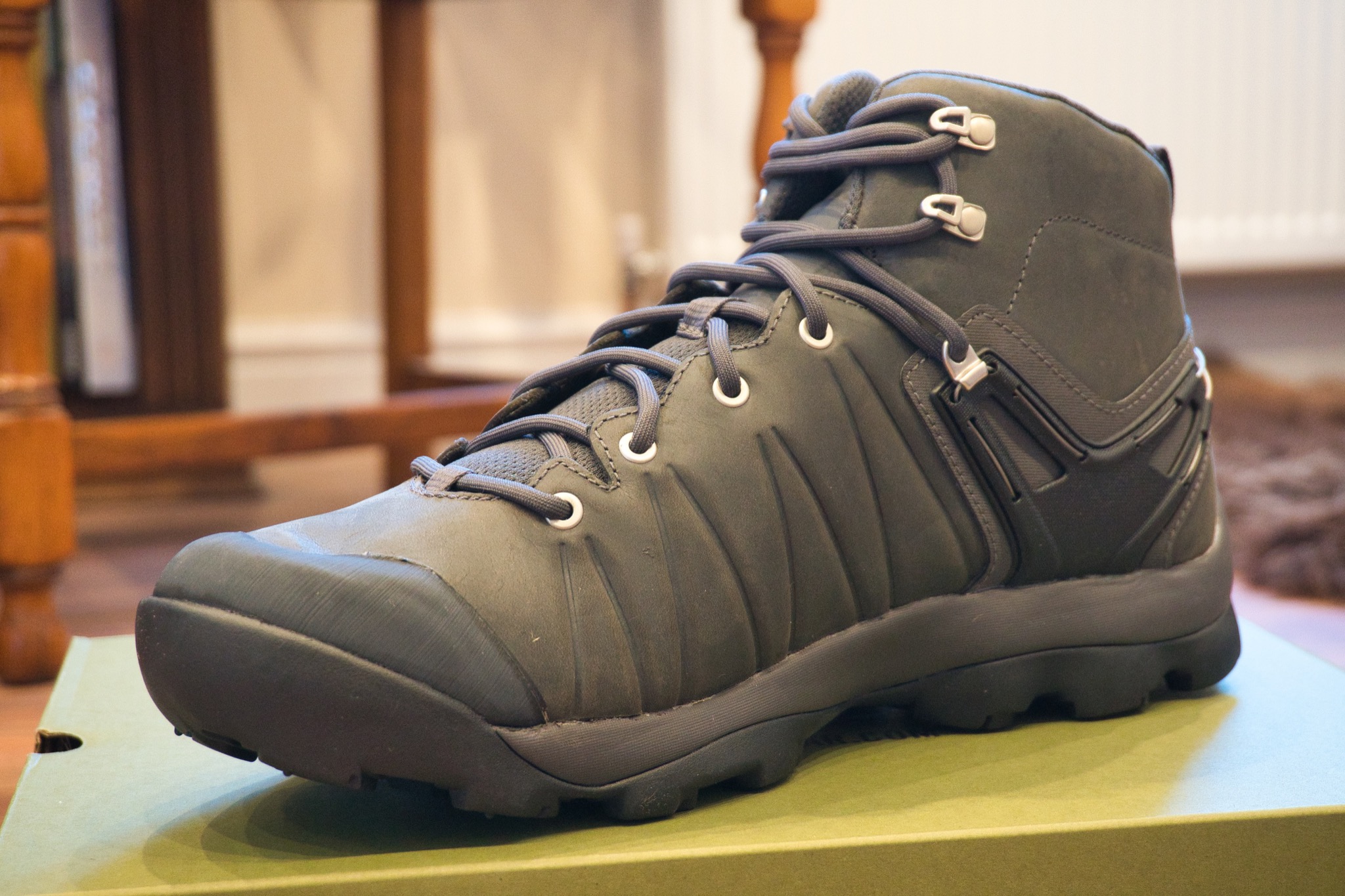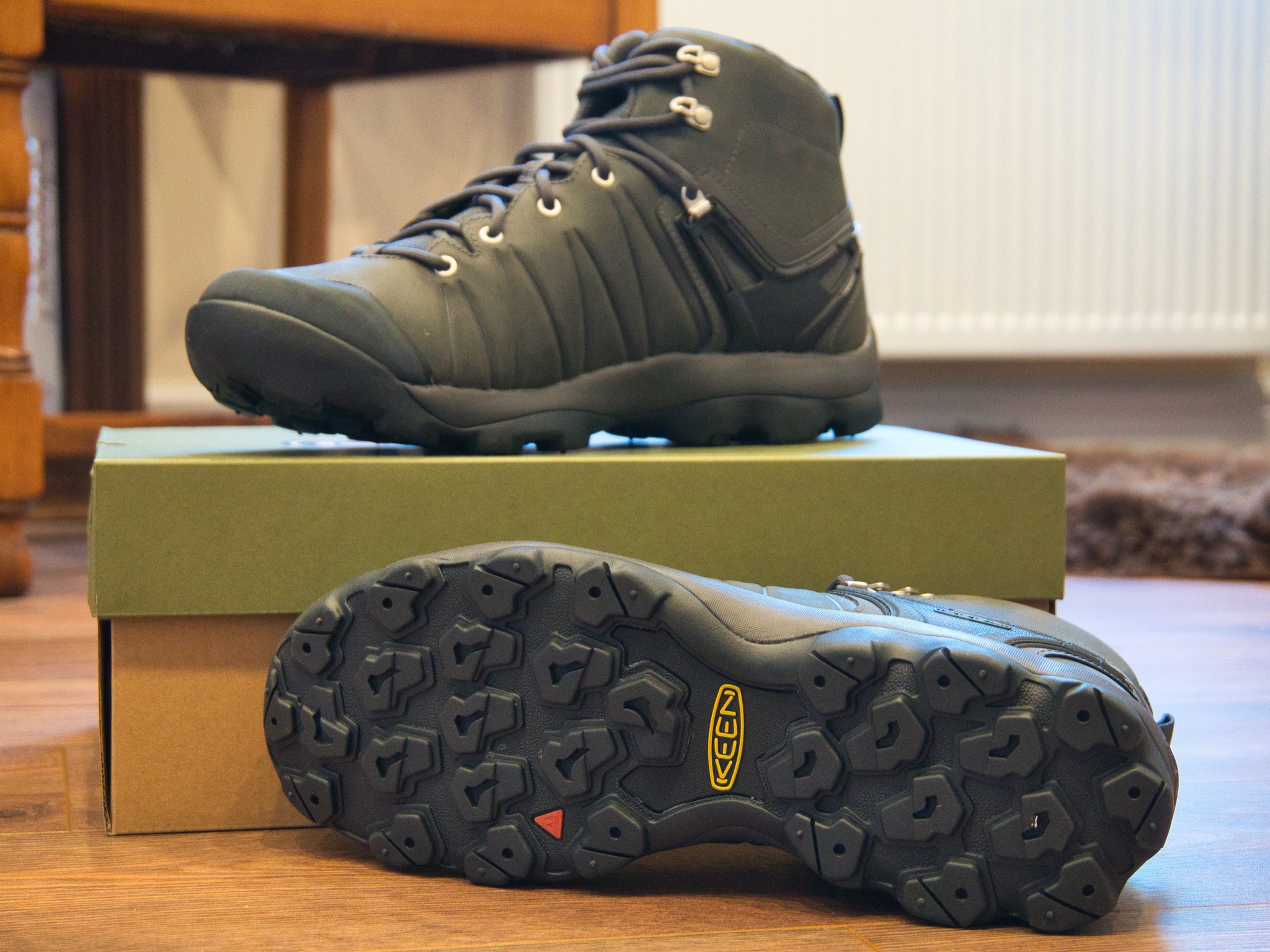 To put these boots through their paces I headed into the Mamores for a hillwalking round of moderate length over Stob Ban and Mullach nan Coirean, two challenging peaks involving a bit of everything. My day started off squelching along a boggy path in torrential rain. Later, climbing steep switchbacks, the ground underfoot was much firmer but things soon became rocky when I hit the main ridge. A few bouldery steps on the way up to Stob Ban, buffeted by wind, might just about count as scrambling – I certainly opted to use my hands for stability once or twice in the challenging conditions.
Bog stomping, greasy rock, clambering over ledges, balancing above precipitous drops, and finally a thigh-busting descent back into the glen: this walk was a near-ideal test for three-season walking boots. So how did they perform?
Comfort was good, although not up to the standard set by the Targhee. Although I didn't get any blisters and my heel stayed 'locked in', as promised by the marketing, I had a harder time getting a truly comfortable fit around the ankles. My left ankle was fine but by the end of the day my right ankle was feeling a little pinched. Loosening the laces there didn't improve things. Maybe these boots could benefit from some breaking in after all, but I think the tongue design should take a share of the blame: it's a stiffer, thicker tongue than on the Targhee EXP.
This is one flexible boot. After a few very wet kilometres the leather seemed to relax a little, and they felt surprisingly similar to trail shoes on my feet – far more flexible than any other leather hiking boots I've worn. The leather uppers offer virtually no stiffness, and the boot can bend freely, which helps to promote a natural-feeling gait. There is a little lateral stiffness in the sole, which helps on scrambly steps, but not much. If you are looking for a traditional supportive leather boot with a degree of stiffness then look elsewhere – these feel more like lightweight fabric boots. I like that, but it did come as a bit of a surprise.
The soles performed well, except on greasy rock where they felt less secure than I'd like (something I also found with the Targhee EXP). They gripped well on steep, soft ground. However, the lugs are only 4mm deep and somewhat rounded at the sides; after a single hillwalking round I've already observed some wear. I don't think these soles will last long before the lugs are worn down and a lot less grippy. The lack of a protective rand will also expose the leather sides to a greater level of wear, especially in rocky terrain.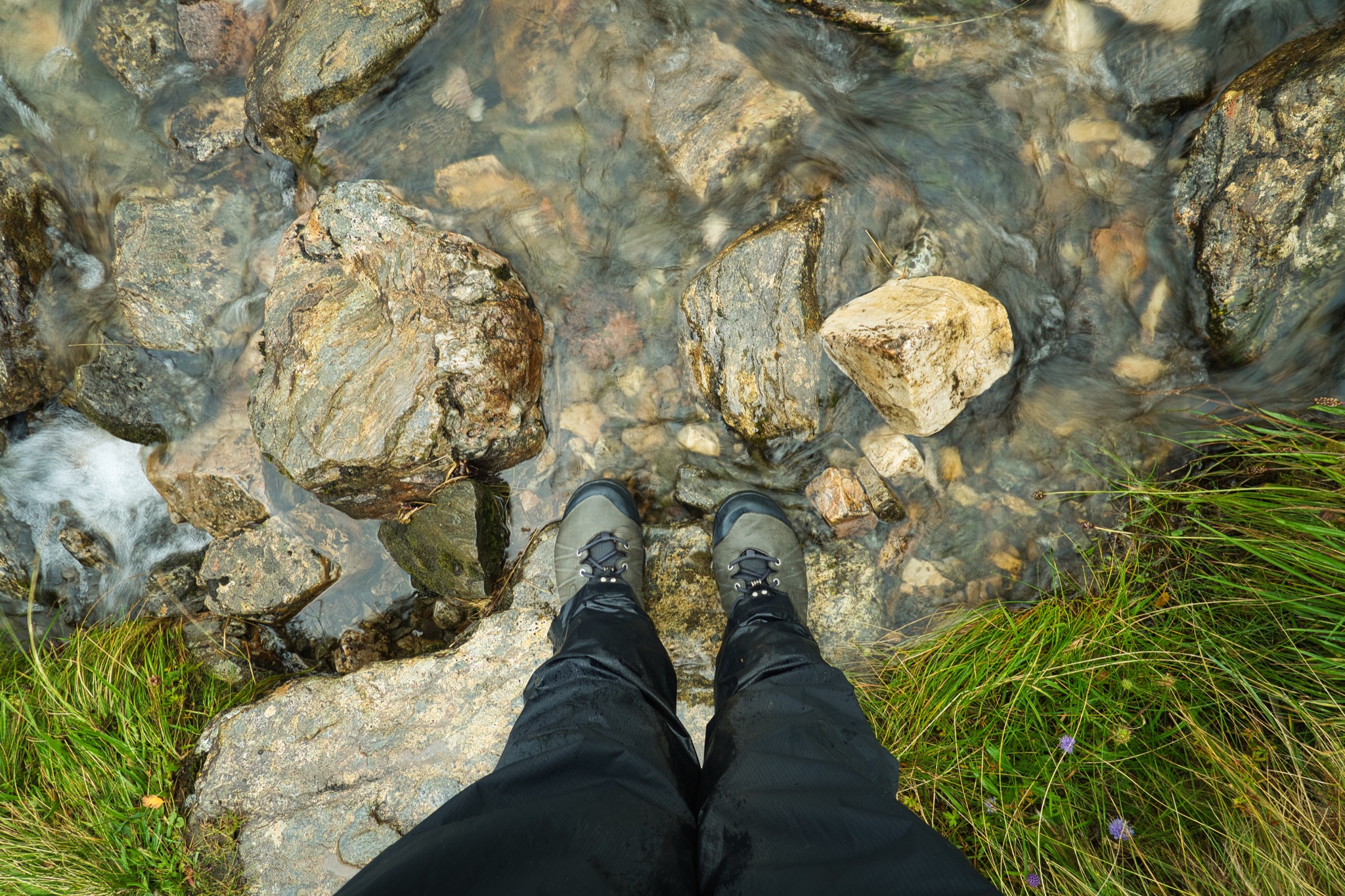 As you'd expect from a new boot, waterproofing was never in question. I wore gaiters and managed to avoid any moisture getting in through the cuff, but my feet never felt damp from condensation either (temperatures were cool). Top marks there – for now. Waterproof linings often degrade and fail as boots are used, something I certainly found with the Targhee EXP Mid, which started to leak badly after less than a year. So while I can confidently state that the Venture Mid Leather is waterproof now, how long that'll remain the case is anyone's guess. I think it'll perform better than the Targhee, though: the leather is high quality and there are fewer seams to leak. Like any waterproof boot, I'd find them too hot in warmer weather.
While KEEN say the Venture Mid Leather is equipped with 'Eco Odor Control and Cleansport NXT', claimed to keep feet fresh during fast-paced adventures, but I can't say I noticed this make any difference whatsoever – my boots still ponged after a day of tramping through bogs and over hills!
Overall, the Venture Mid Leather WP is a competent lightweight leather boot, highly flexible out of the box and with a good overall level of comfort, despite the slight ankle pinching I experienced. They're waterproof, the sole performs quite well when new (despite less-than-perfect performance on greasy rock), and the price point of £140 is attractive. However, I have concerns about long-term durability. The Venture Mid Leather WP can certainly perform on the hill but I think it's a better choice for general low-level walking.
keenfootwear.com/p/M-VENTURE-MID-LEATHER-WP.html
The Great Outdoors Transparency disclaimer
The products mentioned in this review were provided free of charge by the brands. However, this does not affect our impartiality in any way. Unlike some of our competitors, who only review items from brands that advertise with them, advertising relationships aren't a factor in our gear reviews here at The Great Outdoors.
We have a long and proud history of robust, authoritative and trustworthy testing. Our highly experienced testers know what works and what doesn't, and we aren't afraid to tell our readers the truth about a product. If an item has flaws, we'll tell you. Equally, if it's outstanding, we'll do our best to highlight its good qualities. Honest reviews are very important to us at TGO, and we take this responsibility seriously.