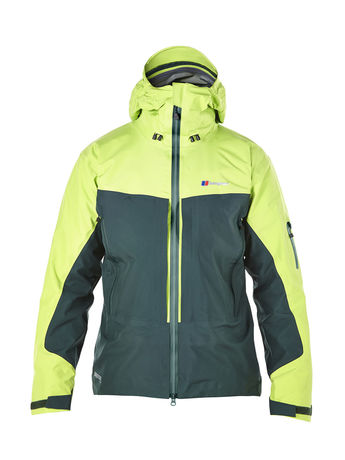 Kirk Watson tests out the Berghaus Kangchenjunga as a year-round waterproof jacket
---
Fit: The jacket fits well and stretches down over your backside to keep you warm. The hem can be adjusted by a simple-to-use drawcord. Cuffs and arms are also well-fitting.
Material: The Gore-Tex Pro Generation II fabric is impressive: very waterproof, breathable and hardwearing. The zip in the front is a YKK AwauaGuard, which is easier to operate than the older versions of waterproof zips and there is a flap behind so that as the jacket ages it will still stay waterproof. The quality of the build is great and again a good bit of thought has gone into strengthening this jacket where appropriate, mainly thanks to its use of two different weaves. I like the Velcro cuffs, a usual weak area in jackets. Looks pretty bomber.
Hood: The wire-peaked hood is good and sits on your head well, a bit like a cap. It stays in place and gives you good vision around. If needed, a helmet fits well underneath.
Pockets: It has four pockets in the front: two YKK AquaGuard mapsized ones reached from next to the main front zip and two handwarmer pockets. Inside there are two internal stretch fabric pockets. This high volume of pockets makes it a little bulky at the front. Then again, some folk like their pockets!
Venting: The two hand-warmer pockets work as venting due to the netting inside. Just remember to close them in heavy rain.
Price: An expensive jacket but you do seem to get a lot for the price.
Conclusion: A very well-designed mountain jacket that will last you a long time and keep you warm and dry in all four seasons.
For more information visit 
Reviewed in October 2015 issue