Chris Townsend looks at the suitability of this travel pack for hillwalking
Packs designed for travel are often soft suitcases with shoulder straps. They're not intended for hillwalking and are often not very comfortable for long walks or stable on rough ground. The Peak Design Travel Backpack is an exception to this. I've used it on rough terrain and even for some easy scrambling and found it carries well and feels fine. It is heavy for a pack this size though and the price is quite high.
The quality of the pack is superb. Construction is excellent and the pack is made from tough fabric. I think it should prove very durable, which would justify the high weight and cost to some extent.
The design is unusual for a walkers pack and a little more complex than most travel packs. It's panel-loading with a plethora of zips, fourteen in total. The main compartment can be accessed via zips on the front, the back, and each side. Another long zip on the front opens up expansion panels that increase the volume from 35 to 45 litres. A small zipped pocket on the top front is lined with soft fabric and designed for items like glasses. Behind the open-topped side pockets there are hidden zipped pockets designed for items like passports or wallets. Inside the pack there are two zipped pockets on the front panel and two more on a zip-out divider. The latter have zips on both sides and so can be accessed whether you open the pack from the front or back.
If the 45 litre capacity isn't enough for all your gear or you have items too long to go inside such as trekking poles there are straps concealed in the front that can be attached to any of a dozen attachment loops.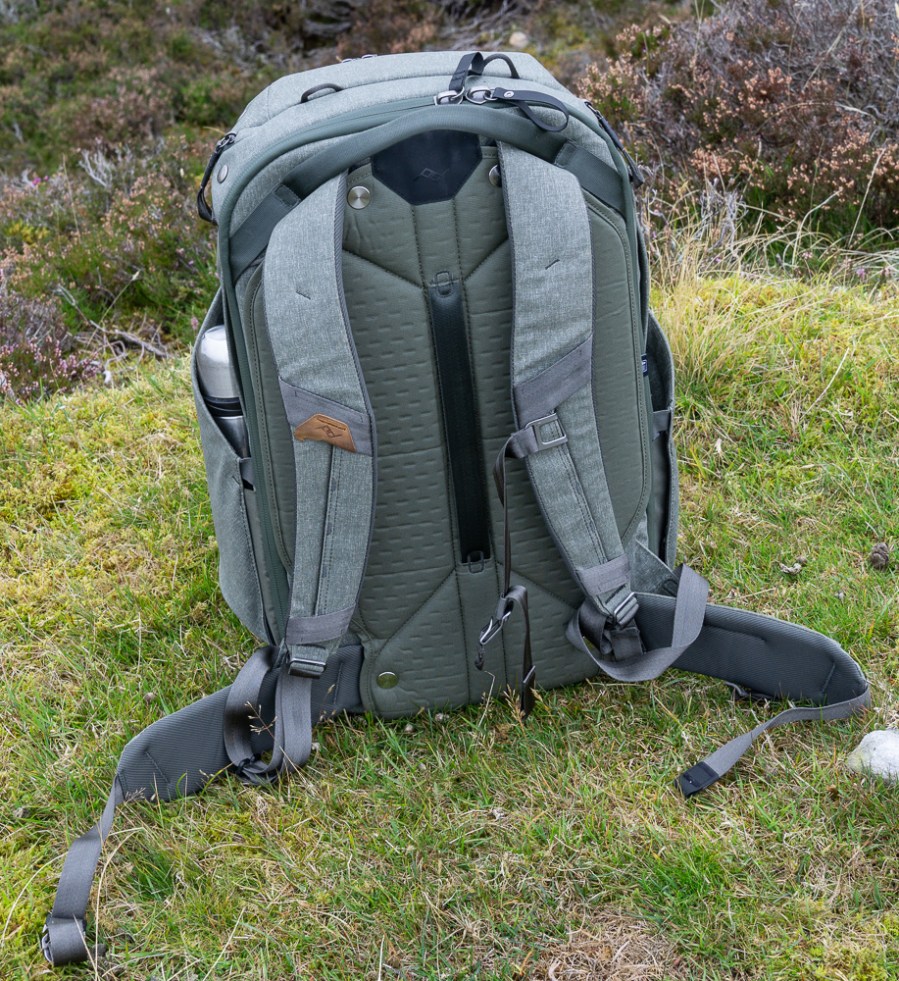 The shoulder straps and hipbelt are well-padded. The latter is quite narrow but adequate for a pack this size. Both can be stowed-away behind the rear padded panel when not needed.
In use I found the ease of access wonderful. Every item of gear was quickly accessible however I put down the pack. Nothing has to be unpacked to get at anything else. It's a very functional design.
There's nothing wrong with this pack for hillwalking other than the weight. I'm not sure anybody would buy it just for hiking, though if they do they'll get a superb pack. I can see it as excellent as a combined travel and hiking pack. For a train journey round Europe with some walks along the way it would be excellent.