Chris Townsend likes this unusually-shaped and roomy sleeping bag.
How do you sleep? On your side? Back? Front? The standard mummy-shaped sleeping bag assumes the last. It also assumes that the sleeper lies with their legs together. Now some mummy bags are roomier than others, but they're all designed with these assumptions. People like me who don't sleep on their backs and who often sprawl with one elbow or knee bent have to adjust to the confines of mummy bags. I've always preferred roomy ones because of this even though I know they're not as thermally efficient as close-fitting ones. The last twenty years has seen quilts that you wrap around you gaining popularity and I'm sure one reason is because they're more comfortable than mummy bags and allow freer movement.
Design
NEMO reckon 70% of people sleep on their sides (I've no idea how accurate this figure is) and have designed the Riff sleeping bag for them. Rather than a traditional mummy NEMO says the Riff is spoon shaped – I think it's more like an hourglass – with more room at the elbows and knees. The Riff also has other unusual features. On the front are two long zips, called ThermoGills, for ventilation. Unzip them and you have uninsulated fabric sections that let warm air out without allowing drafts in. Rather than a standard internal draft collar there's an external insulated flap called a Blanket Fold. At the foot the fabric is waterproof/breathable so if you push against damp tent walls your feet will stay dry. The down is hydrophobic too and has a high fill power. The Riff also has a long two-way zip with internal draft tube, an adjustable hood, and a pillow pocket for clothes or a small pillow. It comes with a compression stuffsack weighing 85 grams. This isn't waterproof so I used a drybag instead.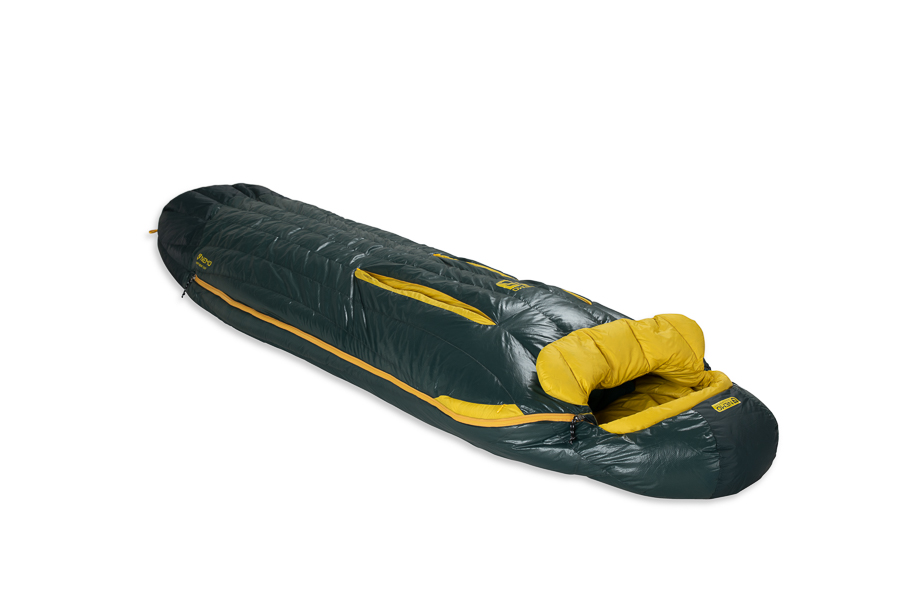 In Use
The Riff comes in two versions, rated to -1 and -9°C, both available in men's and women's regular and long sizes. This summer I've been trying the Riff 30 (meaning Fahrenheit – it's an American thing) and I must say I loved the freedom of movement. I could stretch, roll over, stick my elbows and knees out with no restrictions. Overnight temperatures have ranged from 5 to 14°c. In the first I had the ThermoGills closed and my head in the hood, though the latter wasn't done up. In the second I had the vents open, the zip partly undone and my head out of the hood. Some nights I woke up a little warm and undid the ThermoGills – you have to undo the main zip to do this – other nights I woke a bit chilly and did them up. They do make a difference. Overall, I reckon I'd be fine at the rated -1°C and would need the bag completely unzipped at 15°C. I am a warm sleeper.
The only feature I'm not very keen on is the Blanket Fold. On warmer nights I found this couldn't be easily pushed out of the way when I wanted to be a bit cooler. It's only a minor point but I would rather it was inside the bag.
I think the Riff is an excellent design for anyone who finds mummy bags restrictive. It's lightweight and packs up quite small. The roomier shape means it's not quite as warm for the weight as a narrower bag, but I think the comfort more than makes up for that.
RECOMMENDED: This product has been awarded our 'Recommended' endorsement, meaning our reviewer believes it is a strong product which works well for its intended purpose.