Dart Lightweight Liner hiking gloves are vital kit, and I generally carry two pairs with me when I'm out in the hills. They weigh next to nothing and always having something dry to put on my hands has saved many a cold and wet day. At first glance, the Darts have all the necessary features of the ideal liner glove.
Price: $29 | £20 (Available from sportsshoes.com)
The fit is very slim, but the glove retains full freedom of movement because of the inherent stretch in the extremely light fabric. There's just enough insulation to keep the chill off my hands on a cool morning or take the sting of the cold away from my fingertips when the temperature drops near the summit. The Dart layers well with other gloves, giving them an insulation boost and allowing me to maintain some protection for my hands in colder weather if I need to remove the bigger glove to work with something that requires more dexterity.
The fabric face is very smooth, and the Darts stay in place when removing the over glove. It's Polygiene-treated for odour resistance and I've machine washed them many times, so they do stay fresh. When wet, a clenched first will squeeze most of the water out, and on warm hands the Darts dry very quickly. 
However, the excellent fabric performance is undermined by an over complicated construction. There are as many as four full-length stitched seams on the fingers brought together at the fingertips, which is bulky and can catch on fingernails. The thumb attachment seams restrict the amount of stretch across the palm and places extra stress on the stitching.
Over time, I tried wearing the Darts inside out to reduce the seam issues. This proved a reasonable workaround, but the Darts don't layer as well with the fabric reversed as there is a more friction on the inner surface. 
A simpler construction might see Montane increase comfort and take full advantage of the fabric's excellent performance for less than the £20 price.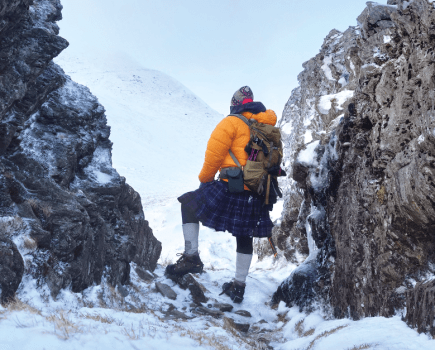 Tested by Peter Macfarlane
Peter wears a size Large in gloves. He suffers from cold hands, and so he wears them almost every time he leaves his house. His review pairs were tested daily over many months from front door to mountain top and everything in-between. The gloves have seen extensive use on the Scottish hills and trails with ice axe and pole use on the Munros and their dexterity has been tested doing everything from camp cooking, fitting crampons, making emergency repairs to a deer fence using tools and wire, and changing a mountain bike tyre on the trail. All weights are for a pair and from Peter's digital scales.