Chris Townsend feels let down by the design of this waterproof jacket's hood, but likes the soft fabric.
Sometimes testing gear can be frustrating. That's the case with the lightweight Whisper Rain Jacket from Merrell. It's made from a lovely soft fabric but has one of the worst designed hoods I've seen for many years. Correcting the design would be easy too and would result in a good three-season waterproof jacket.
Fabric
The fabric is a soft polyester with a knit inner. It's very quiet, hence the name, and feels pleasant next to the skin, unlike many waterproof materials. It's stretchy too so the jacket moves with you. I found it waterproof and reasonably breathable. All in all, it's very comfortable to wear, feeling more like a softshell than a waterproof. The fabric has a PFC free DWR treatment and is 41% recycled.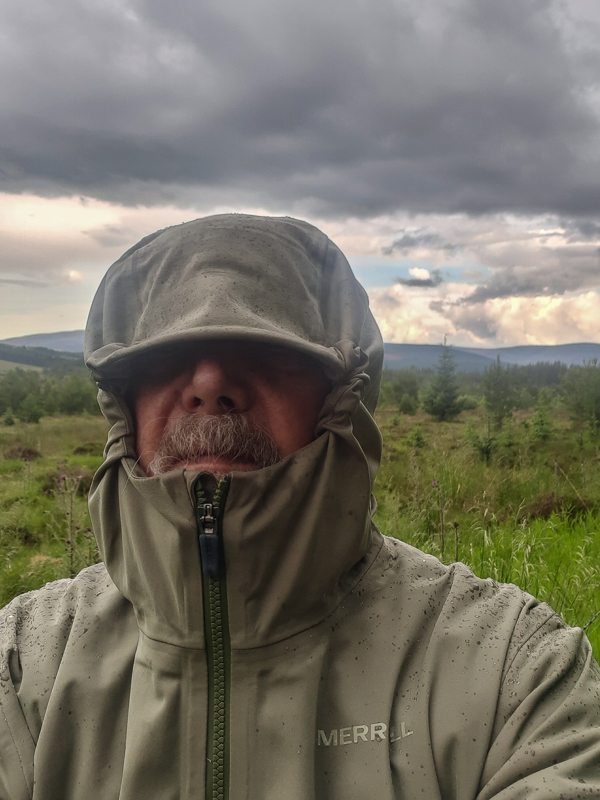 Hood
The jacket is let down by the hood, which is very roomy. Merrell don't say it's helmet compatible, though I suspect it is. Now this needn't be more than a minor hassle if the volume can be reduced. But on the Whisper it can't. The only adjustment is by two front drawcords. Tighten these to stop the hood blowing off or rain entering and the stiffened brim falls over your eyes. I spent some time trying to adjust the hood so this didn't happen. I couldn't do it. As this was on a day with heavy showers so I really did need a hood I finally turned the brim up so I could at least see a little. Wear a hat, especially one with a peak, and this isn't a problem of course but a jacket hood should fit okay on its own. With a volume adjuster this hood would be fine. The front drawcords are concealed inside the jacket so you have to open the front zip a little way to tighten them but this isn't a big deal.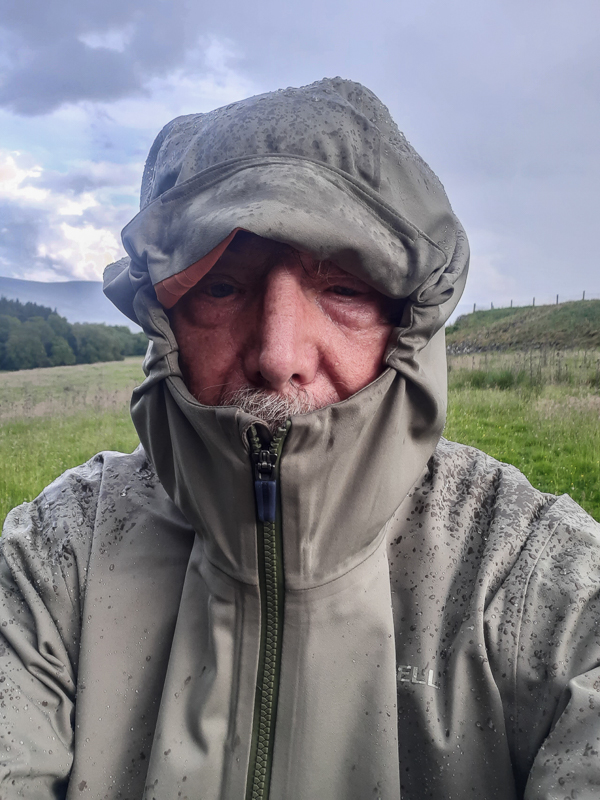 Design
The rest of the design could be better too. There's no flap to protect the front zip. It's a good quality toothed one and I haven't had any leakage – but then I haven't worn the jacket much due to the hood. A flap would give me greater confidence in the jacket staying waterproof. The cuffs are plain with no adjustment so they can't be tightened round your wrists. Again, this isn't a big problem, and I'd rather this than elasticated ones that can't be opened, but having the option to close them would be good. The pockets are fairly roomy but cut off by a hipbelt. The zips are covered by stiffened flaps.
I wanted to like the Whisper due to the soft fabric but I hated the hood. A volume adjuster would make so much difference. Please add one Merrell!