La Sportiva has a full range of TX approach shoes with the TX2 evo featuring excellent sticky Vibram rubber, and this model is no different. With a climbing zone under the big toe, a flexible forefoot but stiffer heel and a thin midsole, they give a lot of feedback, or 'groundfeel', and feel precise on rock.
Price: $149 / £150 (Available from alpinetrek.co.uk)
Weight: 716g | Materials: suede leather | Features: Vibram Idrogrip sole, PU tech lite rand, caged lacing system | Sizes: UK 3-9 including half sizes | Men's version: yes
The tread on the sole is also set up to be resoled, in an effort to prolong use, along with several recycled and environmentally friendlier components throughout the shoe. However, the sole design doesn't do as well on muddy or heathery descents, with the lack of a heel shank or deep lugs. 
The caged lacing system is borrowed from one of La Sportiva's climbing shoes, and it gives a lot of flexibility whilst making sure your feet feel very secure on the move. The suede upper is a comfortable wear and provides some waterproofing; but these shoes are not waterproof, and the tongue is padded mesh, so it will allow water in. The rand covers the toe and heel; however it doesn't come round very far, so if you end up on rough rock or scree this might start to wear against the suede.
These small design economies do mean they are the lightest pair in the test, and it almost feels like you're not wearing shoes at all when using them! A nice touch for climbers is the elastic cord around the heel which allows you to attach them together and then to a bag or harness. 
Because of the sole and the fit, the TX2 Evo is my shoe of choice for scrambling when I'm looking for maximum grip. I'm always impressed with what they stick to.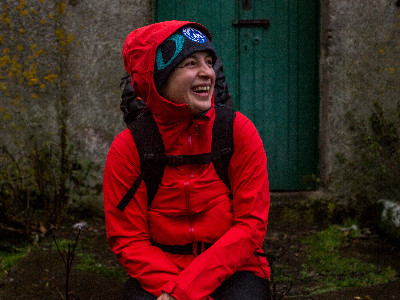 Tested by Kirst Pallas
Kirsty has size 5 feet, with a wide forefoot and low volume. These models were all tested in Scotland whilst waiting for winter to return, in fairly muddy and wet conditions. Ground covered included rocky terrain, bog, and general off path scrub. Shoe weights are per pair, measured on Kirsty's scales.