Chris Townsend tried a lightweight waterproof jacket and has mixed views
The Klättermusen Asynja is a lightweight waterproof jacket designed for summer use. It's made from Klättermusen's 3-layer recycled polyamide fluorocarbon free Cutan fabric which has a hydrostatic head of >20,000mm and a moisture vapour permeability of >20,000 g/m².  Waterproofness is provided by a polyurethane membrane. Like many outdoor companies Klättermusen no longer uses fluorocarbon DWR (durable water repellency) treatments because of the environmental hazards. Unfortunately fluorocarbon free DWRs are generally not as long-lasting as fluorocarbon ones and need replacing more often. I was disappointed to find that the DWR on the Asynja started to wet out after only a few hours wear in the rain. Of course, this doesn't mean the garment was leaking, just that the outer was absorbing moisture, which reduces breathability. The fabric has a soft handle and a slight stretch and is comfortable to wear.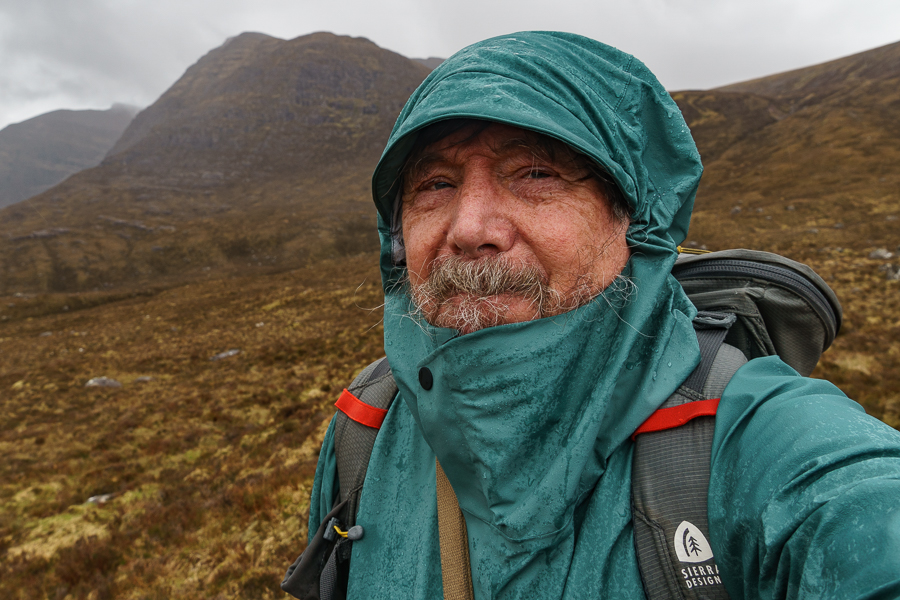 The Asynja is a short jacket with an extended back. There are two angled chest pockets that are roomy enough for maps and sit above a pack hipbelt. The zips are protected by wide flaps. The hood has a stiffened peak and a rear drawcord. I found I had to tighten the drawcord until the hood felt slightly uncomfortable to stop the peak falling over my eyes when not wearing a hat. Front drawcords would solve this. Once adjusted the hood gave good protection and moved with my head. The shaped cuffs have a shockcord closure that makes it easier to get a precise fit than with the usual Velcro. There's shockcord at the hem too. The front zip is covered by a wide flap with studs at top and bottom. I haven't had any leakage through the zip, but I'd rather see a few more studs to protect it from rain.
In use the Asynja has performed well, which is to say it's kept me dry in heavy rain and proved quite breathable. I like the pockets and the cuffs but not the hood. I just didn't like having to tighten it so much to ensure good visibility. Along with the poor DWR this is a shame as otherwise the Asynja is a nice comfortable jacket. Outside of winter conditions it should cope with all wet weather if you're happy with the hood and don't mind restoring the DWR more often than you might with other jackets.