Chris Townsend likes this pair of very flexible, lightweight boots.
Keen launched its new Bellows Flex footwear in the spring and supplied me with a pair of Ridge Flex boots to test. I wore them for many walks, short and long, until the weather warmed up and they began to feel a little hot. Recently, the very hot weather having vanished in thunderstorms and torrential rain, I've worn them again and not found them too warm in temperatures up to 15°C, which I reckon is my limit for comfort – my feet do run hot – in any footwear with a waterproof/breathable membrane.
Design & Materials
With Bellows Flex footwear Keen introduced a synthetic accordion-like section where the forefoot flexes. Keen says that when tested against hiking boots in the same category Bellows Flex boots required 60% less energy to bend, leading to increased efficiency and comfort with each step. Keen also points out that the Bellows Flex prevents the creasing and cracking of ordinary materials that can occur in the flex area.
The Ridge Flex boots are made from leather sourced from tanneries that operate on a closed loop basis to reduce water and energy usage. The tongue and the ankle cuff are mostly mesh, well-padded with foam on the inside. The upper is also treated with a PFC-free non-toxic water repellent to repel water and dirt. The bellows insert is made from durable TPU (thermoplastic polyurethane). The boots are lined with Keen's proprietary waterproof/breathable membrane and have a pesticide-free Eco Anti-Odour treatment. There's a soft, fairly thick and cushy footbed, an EVA midsole, and a Keen ALL Terrain outsole with 5mm deep lugs. A shank built into the sole gives good lateral stiffness.
In Use
The fit is wide at the forefoot and quite narrow at the heel, which means they fit me well. I can spread my toes and my heel stays in place when the boots are laced up firmly. The laces are a bit short though. I've often not bothered with the top lacing hooks in order to make tying the laces easier.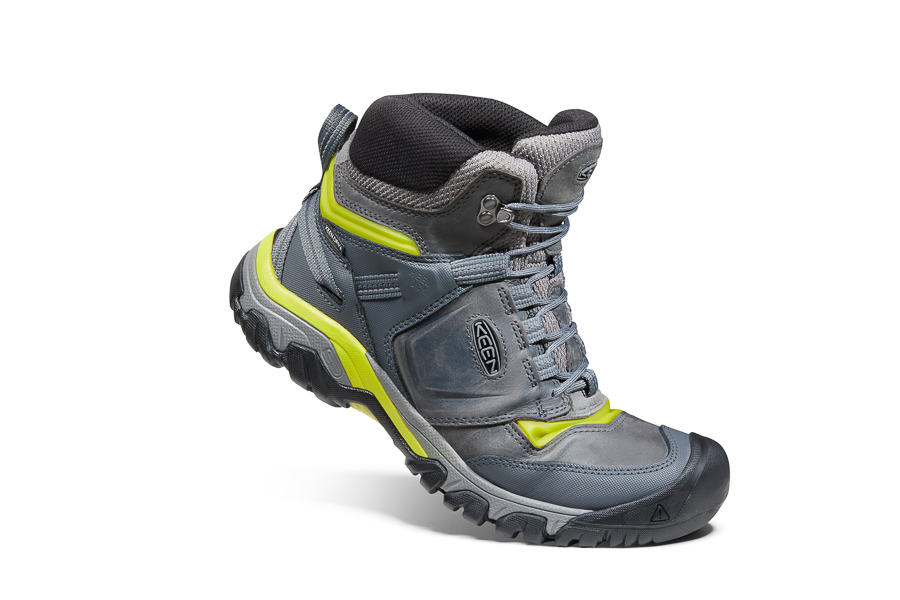 The boots really do flex very easily with virtually no resistance. I've worn trail shoes that are stiffer. I find them easy to walk in and certainly more comparable in comfort to a flexible trail shoe than to most boots. I guess they do save some energy, like all flexible lightweight footwear, though how much I can't say.
The sole grips really well on a variety of terrain. Cushioning is good under the heel but a little thin under the forefoot – if you suffer from sore feet these probably aren't the boots for you. On rocky ground I can feel stones through the sole. The solid toe bumper means you can kick rocks without feeling it.
At 1.17kg for a pair of men's size 9 the Ridge Flex boots are quite light. They're great for all but steep snow and ice (I've worn them on gentler snow slopes, and you can fit microspikes to them) and suitable for year-round use if your feet don't overheat in summer. For me they're mostly spring and autumn boots plus cool wet days in summer and winter days when I don't need to kick steps in snow or wear full crampons.
If they fit, always key with footwear, these are good lightweight boots at a reasonable price. The test pair came with bright yellow TPU sections, as in the pictures. If you prefer less noticeable boots ones with black TPU are available.
RECOMMENDED: This product has been awarded our 'Recommended' endorsement, meaning our reviewer believes it is a strong product which works well for its intended purpose.