Chris Townsend finds the Keela Pinnacle an excellent winter waterproof and great value for money.
In severe winter weather, a heavy-duty waterproof jacket makes a big difference to comfort and even safety. Most winter waterproofs are expensive, however. The Keela Pinnacle is an exception. It provides all the protection of more costly jackets and has excellent features.
The drawback for the lower cost? Well, the breathability of Keela's Aquaflex isn't as good as more expensive fabrics. That said, when storms last many hours I find dampness occurs inside any material, especially when walking uphill. I don't think the difference in breathability is actually all that significant. What matters is that the Pinnacle jacket stands up to winter storms as well as anything.
The design is excellent for winter storms too. The hood has a stiff peak with a wired rim plus front and rear drawcords. The hood is helmet compatible but can be cinched down well over a hat or bare head. In really severe weather the collar can be pulled up over the mouth and nose so just your eyes are uncovered. Add goggles and you have as good protection as you can get and still see.
The hand warmer pockets are cut off by a pack hipbelt but there are two mapsize chest ones. All the pockets are made from Aquaflex so if any rain or snow enters it won't get inside the jacket. The front zip has a flap inside to repel any moisture that gets through. I haven't had any leakage here, At the top of the zip there's a soft chinguard. Under the arms, there are short zipped vents, which are easy to use, unlike some. All the zips are water-resistant ones and have long pullers that are easy to grasp wearing gloves.
The cuffs are quite wide and so allow some ventilation to the arms. They have wide Velcro straps that are easy to use with gloves.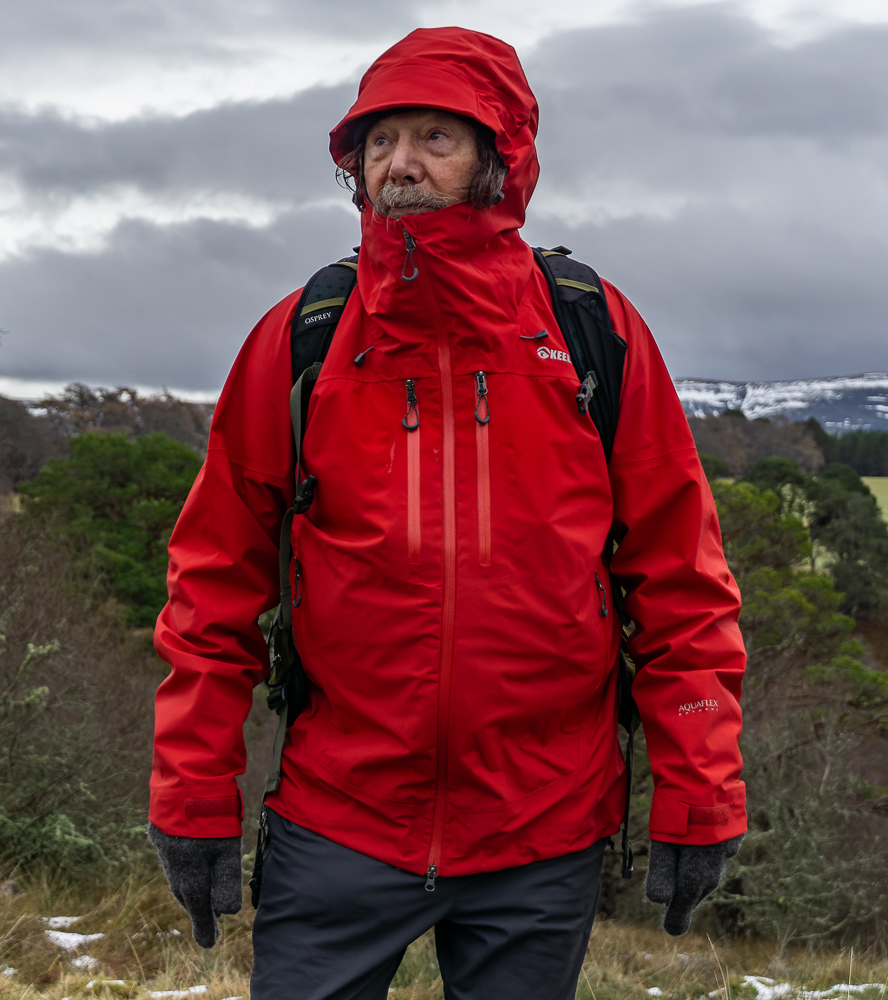 At 660g the Keela Pinnacle is quite heavy even for a winter waterproof jacket. This is a jacket to wear all day rather than carry in case of need. The thick fabric feels very protective and reassuring in a big storm though. It's quite quiet too, unlike many heavyweight jackets. I find it comfortable. The Large size is big enough to wear over a synthetic insulated jacket, as I have needed to do on occasion. The roomy fit means the jacket doesn't restrict movement. The sleeves are long so I can pull my hands inside them if necessary.
The Keela Pinnacle is an excellent winter waterproof at a very good price.
BEST BUY: This product has been awarded our 'Best Buy' endorsement, meaning our reviewer believes it to be one of the best items of its kind available.