The Haglöfs L.I.M FH GTX Mid hiking boot is a snug fitting and comfortable, especially for a narrow to mid-width foot. I am usually a UK8.5 but the largest female boot is a UK8 and it is long enough. 
The upper is noticeably padded, especially in the ankle and tongue area. The padding is very neat around the foot, but it feels a bit too padded and the mid-height cuff rubs a little on my ankle bone.
The lacing system is minimalist with fabric eyelets until the final single top eyelet, which is metal. Note, this is not a hook as with most boots. My concern is that fabric eyelets wear out before the boot does. However, the boots lace well and offer an even tension.
Out on the trails, the boots are cushioned, bouncy and comfortable, offering less ground feel as a consequence. Still, they are enjoyable to wear on hard-packed tracks and tarmac.
The grip  on the Haglöfs L.I.M FH GTX Mid is basic but adequate so long as conditions are fairly dry, the lugs performing less well in deep mud or on very wet rocks and tree roots. 
The uppers are waterproof thanks to the Gore-Tex membrane, which will wear in time. There is an anti-abrasion rand at the toe and heel but very little in the mid-foot, which will also impact durability of the uppers. Finally, the rear finger hook is really useful for pulling on the boots.
If you like lightweight  and flexible footwear, and stick mainly to paths and trails, these Haglöfs boots are worth considering.
See other women's walking boots in our guide to the best walking boots for women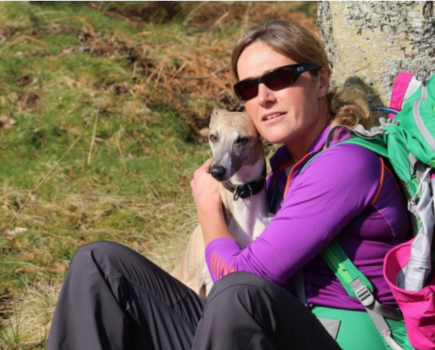 Tested by Fiona Russell
Fiona has a narrow UK8.5 foot. She tested the boots on a range of terrain, from hard-packed trails to muddy and wet hill and mountain slopes. She often walks off the path and through thick vegetation.